Man arrested after allegedly swinging a sword at members of the public in Buangkok
Videos of the incident showed the man swinging what appeared to be a sword at one person, before slipping to the ground where he was held down by passers-by.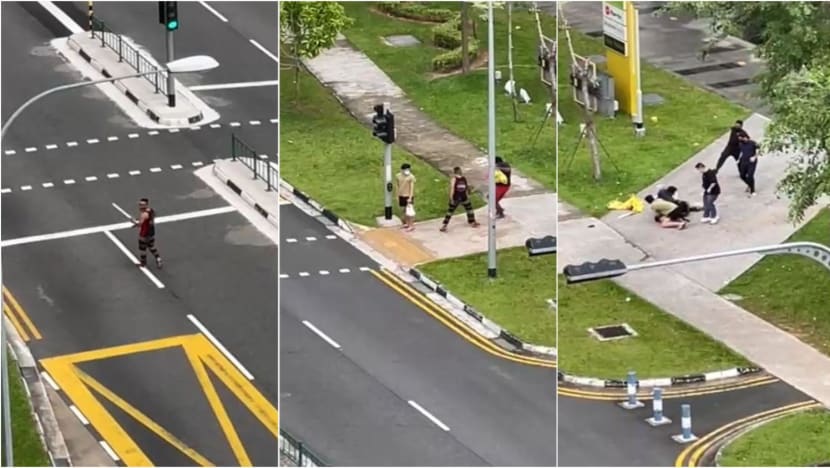 SINGAPORE: A man was arrested for criminal intimidation and possession of an offensive weapon after he had allegedly swung a sword at people in Buangkok, police said on Monday (Mar 14). 

The police said they responded to a call for help at about 1.55pm on Monday after a man was seen wielding a sword in the vicinity of Buangkok Square. 
The man had allegedly swung the sword towards members of the public, the police said. Two people sustained minor injuries. At least three cars were also damaged, said police. 
The man was then detained by five members of the public before he was arrested by responding police officers. 
"The man was subsequently arrested for criminal intimidation and possession of an offensive weapon," said police. 
The sword has been seized as a case exhibit. Police added that investigations are ongoing. 
A video sent to CNA showed what appears to be a man wielding a sword in public. 
The CNA reader, who asked to remain anonymous, said they had heard shouting and started filming from the window of their apartment.
In the 3-minute video, the man was seen walking in the middle of the road and hitting three cars with his sword as they drove past him.
He crossed over to the pavement and swung his sword at a pedestrian. 
The attacker then slipped and fell. Four men quickly pinned him on the ground and a fifth person was seen kicking the sword away. 
According to the eyewitness, about eight police cars and an ambulance arrived at the scene after. "The man with the sword was unconscious by then," they said, adding that there was blood and superficial wounds on the man and two others.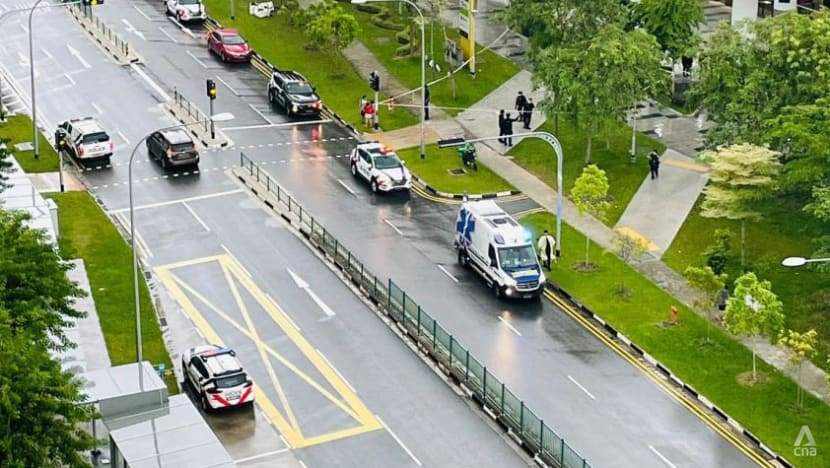 Anyone found guilty of possessing an offensive weapon in a public place may be jailed for up to three years and caned not fewer than six strokes.
For criminal intimidation, the man could be jailed for up to two years, fined, or both.
This story came from a reader tip-off. If you would like to send in information, photos or videos about something newsworthy, submit your news tips on CNA Eyewitness.