SINGAPORE: Bus and train fares in Singapore are set to increase for the first time in two years towards the end of December, amid rising operating costs and a drop in ridership, the Public Transport Council (PTC) announced on Wednesday (Nov 3). 
The PTC said it decided to grant the maximum allowable fare adjustment quantum of 2.2 per cent to help operators mitigate the costs of running public transport services.
From Dec 26, fares for adult commuters paying by card will increase by 3 cents for journeys of up to 14.2km, and 4 cents for journeys longer than 14.2km. 
This means a trip between the Sengkang and Raffles Place stations, which is about 14.2km, will cost S$1.67 for adult commuters using travel cards, up from S$1.64 currently. 
Meanwhile a trip from Boon Lay to Pasir Ris on the East-West Line will increase from S$2.13 currently to S$2.17 in the future. 
Fares for concessionary groups - such as students and senior citizens - will go up by 1 cent per journey. 
There will be no fare increase for monthly concession and travel passes, as well as those who pay cash for buses or purchase single trip tickets for trains, it added. 
"Around 2 million commuters, or more than half of all Singaporeans, will continue to enjoy subsidised fares of up to 70 per cent off adult fares," the PTC said.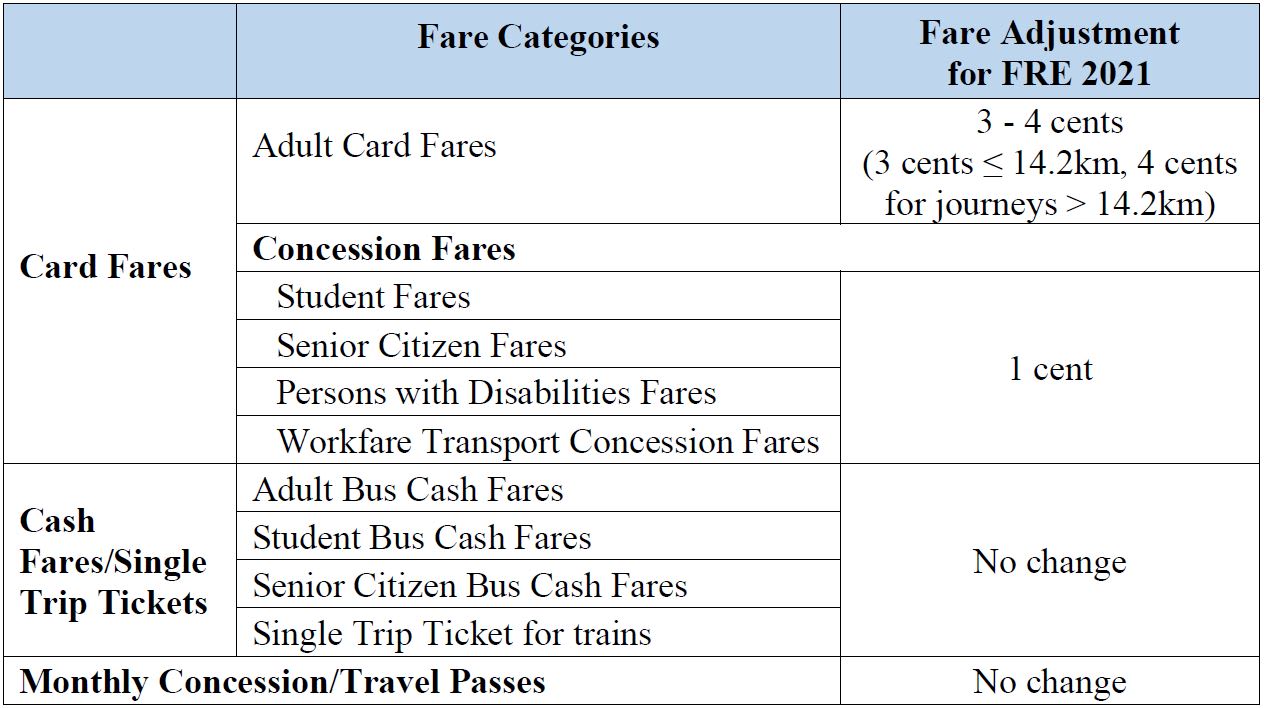 This is the first fare increase since 2019, when fares were increased by 7 per cent, or 9 cents per journey for adult commuters using travel cards. 
"The Public Transport Council's priority has always been to safeguard commuters' interests, while ensuring a financially sustainable public transport system. This means that bus and train fares would need to be adjusted from time to time," said PTC chairman Richard Magnus. 
"We seek commuters' understanding that it is not possible to keep deferring fare increases as they are needed to support the rising operating costs, such as energy and wages, for our public transport system," he added.
In a release, the Ministry of Transport (MOT) said it accepted the PTC's recommendations, adding it will also cap the concessionary card fares for low-wage workers and people with disabilities. 
Low-wage workers will continue to enjoy discounts of up to 25 per cent off adult fares. Fares for commuters with disabilities will continue to be pegged to that of seniors, or up to 55 per cent off adult fares.
MOT added that all commuters will also continue to enjoy lower morning pre-peak rail fares, with a discount of up to 50 cents for trips starting before 7.45am on weekdays. 
The PTC conducts its fare review exercise annually, taking into account factors such as energy costs and inflation. 
There were no changes to public transport fares following last year's review exercise, with the PTC citing the COVID-19 crisis and its impact on the economy as reasons for deciding against any fare adjustments. 
The council said then that the full fare adjustment quantum of 4.4 per cent would be rolled over to this year's exercise. 
"In the current fare review exercise, the PTC has taken into account the rising cost of providing public transport, the potential losses of public transport operators if not for government support, the impact on commuters, and help for vulnerable segments of our population," said Minister for Transport S Iswaran in a Facebook post. 
"The PTC will continue to do its best to safeguard commuters' interest while ensuring a financially sustainable public transport system," he added. 
MITIGATING COSTS TO OPERATORS
A key consideration during this year's fare review was public transport ridership, the council said on Wednesday.
It noted that ridership had fallen drastically following the outbreak of COVID-19 and remained low compared to pre-pandemic levels. 
In September, Mr Iswaran said public transport ridership was at about 60 per cent of what it was before the coronavirus outbreak. 
Figures from the Land Transport Authority's latest annual report showed public transport fare revenue dropped 30 per cent in the last financial year. 
The PTC said this drop in ridership affected one of the fare formula components - the network capacity factor, which measures ridership against the capacity added by expansion of the transport network. 
This component was not designed to track "short-term fluctuations in public transport demand and supply during exceptional periods", it said, adding that as such it excluded the factor between February and December 2020, citing the "exceptional circumstances" for most of last year. 
"Despite the fall in ridership, trains and buses have continued to operate largely at pre-COVID-19 frequencies and also kept to pre-COVID-19 operating hours, so that commuters can travel with minimal inconvenience," said the PTC. 
It added that to keep commuters safe during the pandemic, public transport operators have enhanced cleaning and disinfecting regimes, and taken other measures such as deploying service ambassadors on the ground to "promote good public safety practices in the public transport system".
"These have added significantly to their costs, even as fare revenue decreased because of lower ridership," said the PTC.
It added that rail operators SMRT and SBS Transit would both have incurred "significant losses" if not for "broad-based" support from the Government. 
The PTC said it decided to grant the fare increase to help public transport operators "mitigate the costs of running public transport services".
It added that these operators have been facing rising cost pressures amid Singapore's economic recovery, noting that energy prices in particular had risen by more than 30 per cent in the first half of 2021. 
The fare adjustment will translate to an increase in fare revenue of about S$34.2 million a year, said the PTC. 
It added this would mean a S$4.6 million increase in annual revenue for SBS Transit and a S$10 million increase in revenue for SMRT. 
"Fare revenues for bus and Thomson-East Coast Line (TEL) collected by LTA will increase by S$19.6 million, which will go toward reducing operating subsidies which currently stand at about S$2 billion annually across bus and rail," the council said. 
The Transport Ministry said the authorities will continue to heavily subsidise public transport. 
"The Government has been spending close to S$1 billion to renew and upgrade rail operating assets, and another S$1 billion to subsidise public bus services every year," said MOT, adding this translates to a subsidy of more than S$1 for each public transport journey. 
Beyond fare adjustments, PTC chief executive Tan Kim Hong told reporters on Wednesday that operators also need to do their part in looking at other ways of managing their costs, such as introducing more automation to reduce their reliance on labour as well as becoming more energy-efficient. 
The current formula for determining fares, which was introduced in 2018, will expire next year. 
When asked about the "broad direction" the next formula might take, Mr Magnus said it was about finding a "happy convergence" between affordability and covering the costs of public transport. 
Singapore University of Social Sciences (SUSS) economist Walter Theseira asked if there was a "more predictable way" of sharing costs with commuters. 
"Some systems, for example, bake in an expected inflation path into fares," he said. 
As more employers are expected to adopt hybrid work models - with workers splitting time between working from home and the office - ridership may not return to pre-pandemic levels. 
This would require significant changes to either the funding or operating structures of public transport, said Associate Professor Theseira. 
"If we are not prepared to raise the funding share from commuters, then we would need to implement significant cost cuts and service cuts, or raise the tax burden of public transport significantly," he said. 
The SUSS economist noted though that while it is too early to say what will happen to transport ridership here, many cities are already seeing activities return to pre-pandemic levels. 
SHARING THE GAINS
The PTC noted operators are required to make a one-off contribution to the Public Transport Fund as a form of "sharing their gains" with commuters.
As part of this year's fare review exercise, both rail operators will have to contribute about S$2.23 million to the fund. 
SBS Transit - which operates the North East and Downtown MRT lines as well as the Sengkang-Punggol LRT line - will have to contribute S$230,000.
Meanwhile SMRT, which runs four of Singapore's six MRT lines in addition to the Bukit Panjang LRT line, will have to give S$2 million to the fund. 
"To provide support for households to cope with fare adjustment, the Government will tap on the Public Transport Fund to make available 600,000 Public Transport Vouchers," said the PTC.
It noted this was the largest number of such vouchers - which are valued at S$30 and can be used to top up fare cards or buy monthly concession passes - set aside so far. 
The vouchers will be made available for resident households with monthly household income per person of not more than S$1,600.
In a joint release, MOT and the People's Association (PA) said the vouchers will be disbursed in stages. Households that received the voucher during the 2019 exercise will automatically receive the voucher notification letter via post.
"This is an exceptional arrangement in view of safe management measures," the two agencies said, adding that the letters will be sent to eligible households by the end of this year. 
The second stage, which will begin in early 2022, will allow households that meet the income criteria but did not receive a voucher in the first stage to apply for the vouchers online.
Subsequently, those who meet the criteria but prefer to apply in person or require additional help can apply for vouchers at their local Community Centres or Clubs, with Citizens' Consultative Committees assessing these applications accordingly.
All vouchers must be redeemed by Mar 31, 2023.