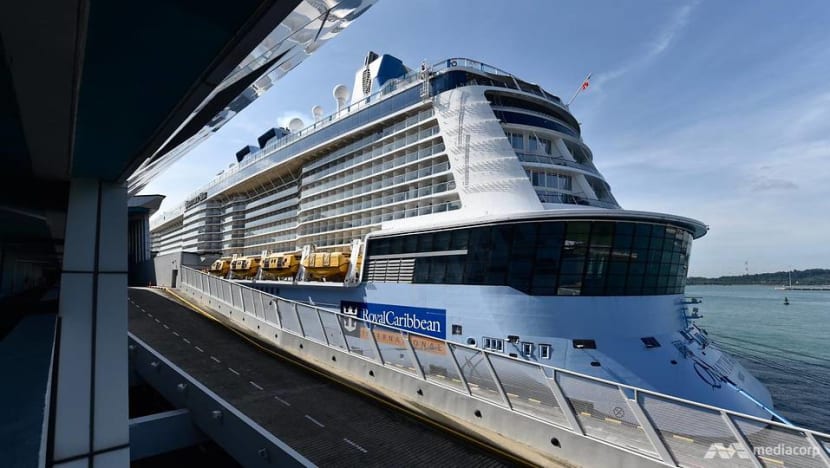 SINGAPORE: Badly hit by the COVID-19 crisis, the cruise line industry is bracing for a comeback – but in a more environmentally sustainable way. 
Prior to the pandemic, the global cruise sector was worth US$150 billion (S$200 billion), according to the Cruise Lines International Association. But as cruise traffic plunged, it estimated that the industry lost US$50 billion in six months between March and September 2020. 
Singapore now accounts for one-third of the world's cruises, the Singapore Tourism Board said in April, owing to the rising popularity of "cruises to nowhere" at a time of international travel restrictions.
Under the Singapore Green Plan 2030, an environmental blueprint laying out green targets over the next decade, the country aims to become a sustainable tourism destination.
But the popularity of cruises in Singapore – with 1.8 million passengers in 2019 – does not square with the country's eco-friendly tourism ambitions. 
A 2017 report by German environmental organisation Nature and Biodiversity Conservation Union suggested that a single cruise ship uses as much as 150 tons of fuel a day, releasing as much particulate matter as 1 million cars. 
And a 2014 study by non-governmental organisation Friends of the Earth estimated that the cruise industry was responsible for dumping more than 1 billion gallons of sewage annually. 
AN ENVIRONMENTALLY FRIENDLY CRUISE?
Still, cruise line operators say they are making efforts to become more environmentally friendly. 
Royal Caribbean, which has a fleet of 24 cruise ships, said its ships are built and retrofitted to improve energy efficiency and minimise their environmental footprint.
Quantum of the Seas, which sails from Singapore and is able to carry almost 5,000 passengers, is Royal Caribbean's first ship with a "full air lubrication system". The system boosts fuel efficiency by using air bubbles to reduce the resistance between the ship's hull and the ocean. 
"The new system, along with its newly designed podded propulsion system, bow thrusters and fin stabiliser pockets, helps reduce resistance to the hull, increasing its fuel efficiency," said a spokesperson for the cruise operator. 
About 60 per cent of Royal Caribbean's fleet is now equipped with "advanced emission purification" systems – commonly known as scrubbers – which treat exhaust gases by injecting water into the exhaust stream. 
This removes approximately 98 per cent of sulfur dioxide emissions as well as between 60 and 80 per cent of particulate matter and "some" nitrogen oxides, Royal Caribbean said.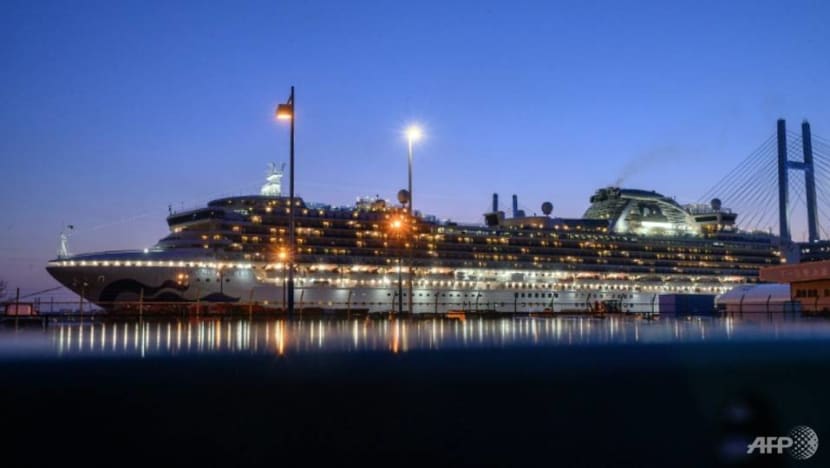 Princess Cruises, which operates a fleet of 14 vessels, said it has two new dual-fuel cruise ships being built that will be "powered primarily" by liquefied natural gas (LNG). 
Dual-fuel vessels are able to run on either diesel or LNG. 
Though it is also a fossil fuel, LNG has been touted as a cleaner alternative to traditional marine fuels as it emits less carbon dioxide and almost no particulate matter as well as nitrogen and sulphur oxides.
"Since 2002, Princess has invested significant resources in new technology, equipment and training, and we've made tremendous progress in reducing emissions, fuel consumption, water and energy usage," said a spokesperson for the cruise operator. 
Genting Cruise Lines, which operates Dream Cruises, said it is committed to "sound environment practices". These include increasing energy efficiency, conserving fuel and water, protecting marine life and preventing oil pollution, the company said.
"On Dream Cruises' Genting Dream and World Dream, the exterior hull coating system incorporates the most advanced silicone-based paint to decrease drag in the water," said Mr Michael Goh, president of Dream Cruises and head of international sales for Genting Cruise Lines. 
Some of its ships also have an "optimisation system" that suggests the most fuel-efficient way of utilising the engines, including the effects of weather and sea currents, he said. 
The company also follows the "highest marine industry standards" for waste management systems, he adds, noting scrubbers are also installed "in compliance with regulations".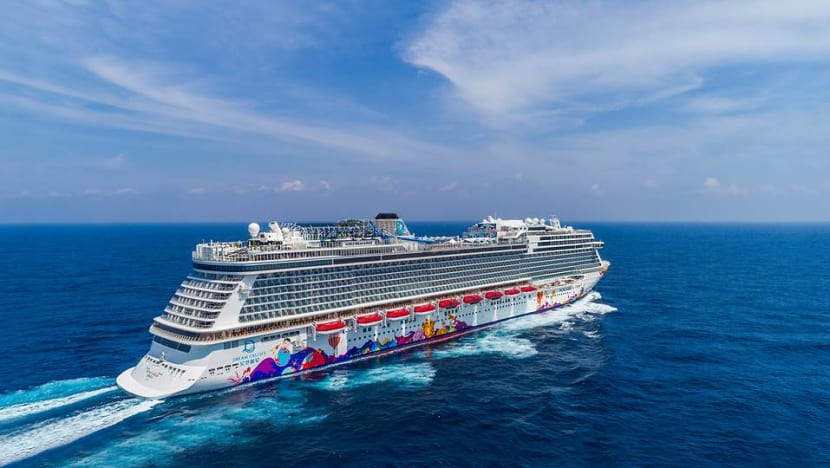 All three companies also noted their efforts in reducing waste, such as by minimising or eliminating single-use plastic items such as disposable cutlery, straws and shampoo bottles. 
Royal Caribbean pointed to its 29-year-old Save the Waves programme, which aims to ensure that "almost everything is recycled". 
"We also repurpose or find other uses for 100 per cent of all cargo-associated and operational waste, and our wastewater purification levels on many of our ships exceed national and international standards," said a Royal Caribbean spokesperson. 
"In fact, while Singapore continues its journey to reduce landfill per capita by 20 per cent by 2026, Royal Caribbean has equipped all its ships to be landfill-free and has already diverted 85 per cent of its waste from landfills, ahead of its 2020 goal."
SINGAPORE: A SUSTAINABLE CRUISE HUB?
Yet these initiatives are not without their flaws.
Environmental groups have criticised the use of certain types of scrubbers, which release pollutants back into the sea after turning the sulphur dioxide into sulphuric acid.
Singapore's Maritime and Port Authority has banned the use of such "open-loop" scrubbers within the country's waters, and their residue is deemed toxic industrial waste. 
Questions have also been raised about how clean LNG really is, with a study by the International Maritime Organization released last year finding a 150 per cent increase in methane emissions between 2012 and 2018, attributed to leaky engines on an increasing number of LNG-driven vessels. 
Still, LNG remains the "most competitive option" for maritime vessels in terms of price and environmental impact, sustainability experts previously told CNA. 
Ngee Ann Polytechnic senior lecturer Michael Chiam said making cruise ships more environmentally friendly could help attract tourists interested in eco-friendly holidays. 
"When more people understand the effects of global warming and the importance of sustainability, they will make a conscious effort to switch to purchasing from companies that are more environmentally sustainable, and these include cruise companies," said Dr Chiam. 
Singapore could become a sustainable cruise hub and attract cruise liners from such environmentally minded companies, he added.
"By collaborating with companies with the best sustainability practices, it provides us with an opportunity to learn and better position Singapore as a top sustainable destination."
Still, Dr Chiam notes Singapore may face competition from others in the region in this regard. 
"The countries in the region – and their cruise ships that call at our port – are all at different levels of embracing sustainability and that could pose a challenge to Singapore," he said.