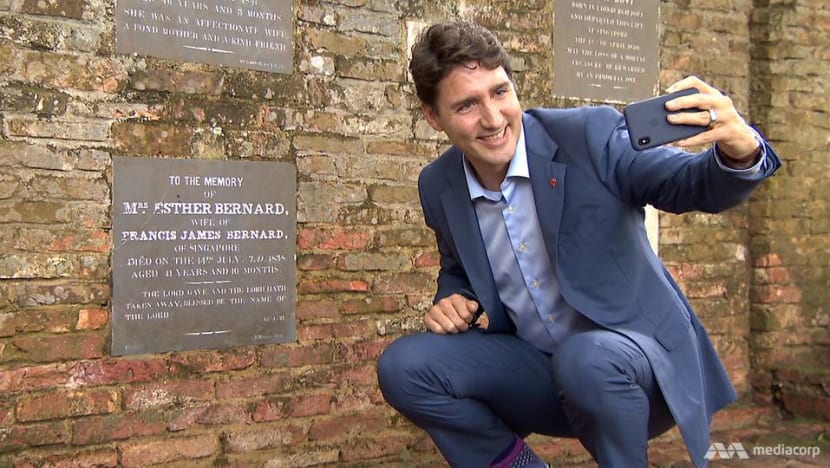 SINGAPORE: Canadian Prime Minister Justin Trudeau on Thursday (Nov 15) found time for a very personal mission during his visit to Singapore - to pay respects to his great-great-great-great-grandmother, Esther Bernard at Fort Canning. 
Mrs Bernard was the daughter of Major-General William Farquhar, the first British Resident and Commandant of Singapore from 1819 to 1823.
Her plaque can be found along the walls of Canning Green and is one of about 400 tombstones of people who lived in the area during the 19th century, NParks said in a Facebook post.
"I actually never take selfies," Mr Trudeau quipped to photographers as he pulled out his phone nonetheless and took a short video of himself with the plaque.
"I promised my kids."
Mr Trudeau's great-great-great-great-great-grandfather, Major-General Farquhar himself had climbed up Fort Canning Hill, soon after the founding of Singapore, and hoisted the Union Jack there.
"It was a very touching moment to see the history of my family, to appreciate all the criss-crossing, weaving links that make up each of our stories, and it's a nice moment for me to reflect on the connections and the paths that led to Canada from the founding of Singapore," Mr Trudeau said.

This is Mr Trudeau's first visit to Singapore in his current capacity. In addition to taking part in the 33rd ASEAN Summit, he also met with Prime Minister Lee Hsien Loong and President Halimah Yacob, as well as several business groups and ASEAN leaders.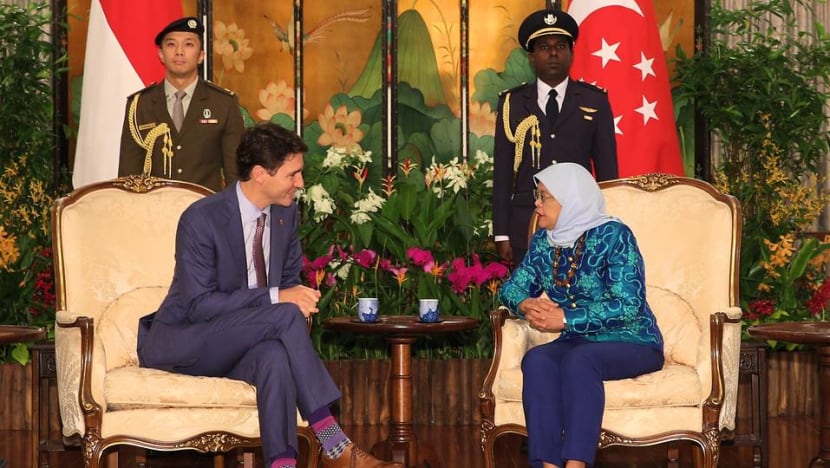 Earlier on Thursday, Mr Trudeau attended a special dialogue session with about 400 National University of Singapore (NUS) students, with discussion centered around the theme of building connections.

He also visited the Adam Road hawker centre early Friday morning.
Mr Trudeau is due to leave Singapore on Friday.