'We just want to revive this brand': How Canadian Pizza plans to turn its Singapore business around
At its peak, Canadian Pizza had 36 outlets in Singapore. Its franchiser for the region tells CNA how the company wants to stay relevant to consumers here.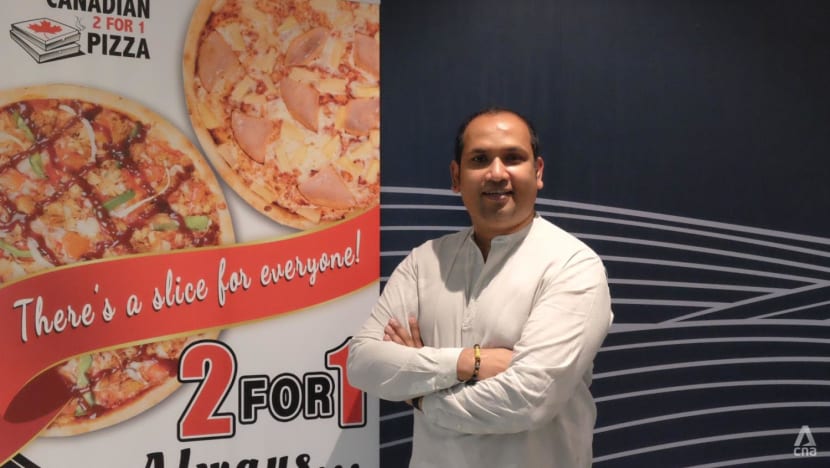 SINGAPORE: Mr Mohamed Abdullah, the CEO of Hobbs Holdings – which runs Canadian Pizza in Singapore – brought up a random conversation that he had with an accountant. 
"He said: 'Oh, you guys still exist?'
"When I asked him if he had ordered Canadian Pizza before, he said: 'Yes ... but I thought you guys closed down.'"
This impression is what Mr Abdullah hopes to change, he told CNA.
"We were not loud. We were there (but) quiet … We didn't have marketing, we didn't have visibility. And we were very happy," said Mr Abdullah, who took on the job last year after being a franchisee for about 15 years.
"We just want to revive this brand, make it more youthful. We are quite dated, if you ask me. We want to make it more youthful and energised in the market."
CONSOLIDATION
The brand launched in Canada in 1989, where it is known as Canadian 2 for 1 Pizza. Hobbs Holdings is the master franchise for this region.
Its first Singapore outlet opened in 1995 with just one outlet at Far East Plaza. At its peak, the chain had 36 outlets here, but now has 18 outlets run by 13 franchisees.
"We wanted to consolidate because of the rental hikes, costs, manpower and all that. And of course, competition," Mr Abdullah said.
Canadian Pizza's popularity here is in part due to it being an affordable option, he pointed out. 
"That's our niche, that's our selling point – the '2 for 1' (offer). So we have maintained that until now … If you look at Pizza Hut and Domino's, they have their own target audience, we have our own target audience. Our target audience is the middle-class group in Singapore," he explained.
"We want to be affordable for people who have less to spend, bigger family to feed, parties, army boys. So this is what we are looking at. We are not looking at people who are going for acquired taste, more expensive. They are not our market."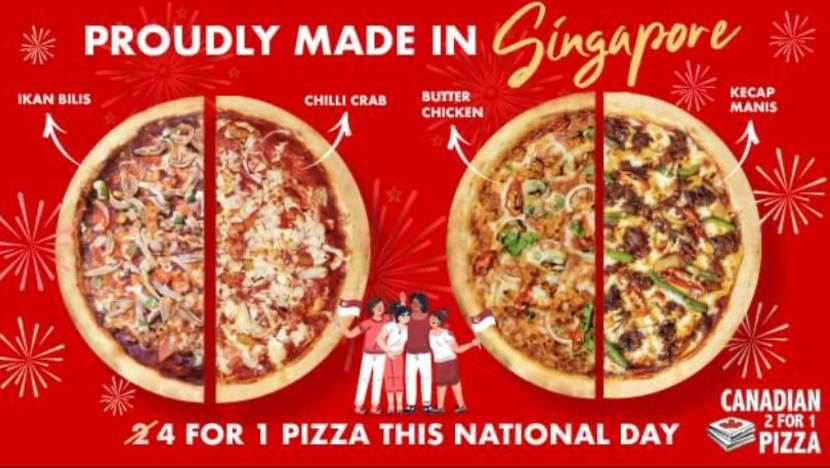 And so the "2 for 1" offer has remained until today.
Canadian Pizza also caters to local tastes here and is "very close" to the hearts of customers, Mr Abdullah said. While it started off with Western-style menu options, the chain has become more Singaporean now, he said.
"We don't go for fancy, international flavours and all that. (It is) very down to earth. If you are a Malay, you want something to your tastebuds, we have something. For Indians, we have, for Chinese, we have (it)."
During the height of the COVID-19 pandemic, Canadian Pizza's sales surged threefold on average across its outlets. 
"We had so many orders we didn't have enough riders to send (the pizzas). So who was sending for me? My pilot friends … We had like 20 cars waiting outside just to deliver pizza," said Mr Abdullah, who was still a franchisee then.
"At times, (the) outlet was shut for about four to five hours at one time because we couldn't handle orders." 
While things have stabilised, what happened highlights Canadian Pizza's place in the market, he said.
"They know who we are. It's just that they are just tired ... forgot (about us), or they find us boring."
SERVICE, SUPPLY ISSUES
As more customers turn to third-party food delivery platforms, issues such as service standards have cropped up. 
Half of Canadian Pizza's delivery orders are via their website, while the other half are from third-party platforms.
"All this while we have been serving the pizza ourselves, my riders. So we have control over the riders. We have control over customer service, quality and delivery. But now we don't," said Mr Abdullah.
"When a customer makes these complaints, it is diverted back to us and this affects our image and reputation."
To entice customers to order directly, Mr Abdullah said he plans to offer more promotions for orders through the Canadian Pizza website.
Manpower and supply chain concerns are problems he is also dealing with in recent times.
"With all these things going on in the world, we have issues of getting our cheese, sauce ... We used to get everything from one particular supplier, but now we have about 20 suppliers," he said.
To tackle the manpower crunch, Canadian Pizza is looking into automating more of its production. For one, dough production at several outlets has already been automated and Canadian Pizza plans to set up a central kitchen in November.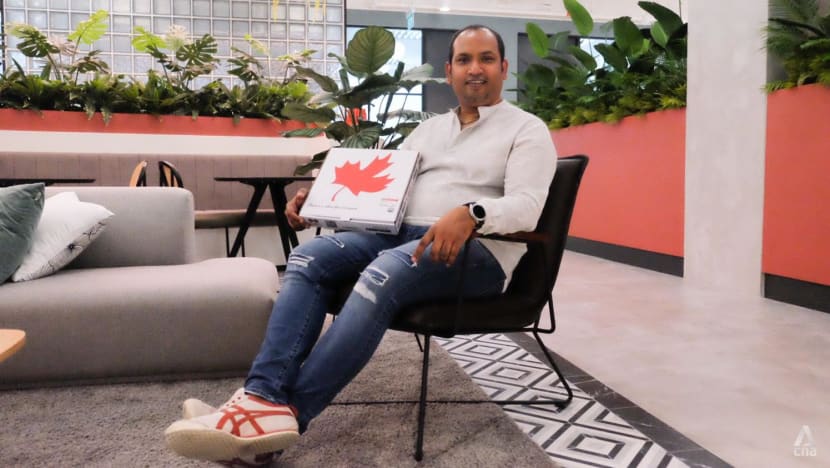 TURNING THINGS AROUND
Admitting that the brand is seen as "a bit old-school", Mr Abdullah said he now plans to run things differently.
For one, he is spearheading a push towards sustainability. 
The chain's pizza boxes are currently made from recycled material, and it is looking to make progressive changes to utensils and packaging later this year.
Canadian Pizza also introduced pizzas with plant-based "meat" in 2021. While the pizzas have been taken off the menu due to supply issues, it will be reintroducing meat-free sides this month, with pizzas to come later this year.
The chain will also open its first fully dine-in restaurant in January next year.
"My biggest challenge when I took over this business was to make it exciting, (provide) more offerings, give people more choice and to get back into the groove," said Mr Abdullah.
This means making "a lot of noise" in every way possible and making Canadian Pizza "exciting" again, he added.
For one, Canadian Pizza will be the full-season sponsor for all Singapore Premier League matches in 2023. It was one of the partners for a recently concluded e-sports event and is planning further collaborations ahead of the year-end FIFA World Cup.
"We are also going through a rebranding exercise, we are changing the way we look in the market. Traditionally we are hidden under the block in the corner … Now we are paying more attention to logo, brand guidelines, visibility," he added.
The key is for Canadian Pizza to be at the forefront of people's minds, he said.
"My target is to make sure that when a person leaves his home, he must either see, hear, eat or touch Canadian Pizza at least once a day.
"That's the goal. That way, we will always tell people that we are there."