A candle burning at both ends: Spotting the signs of caregiver burnout
Caregiver stress and burnout is a very real problem for many Singaporeans, and could escalate into depression if left unchecked.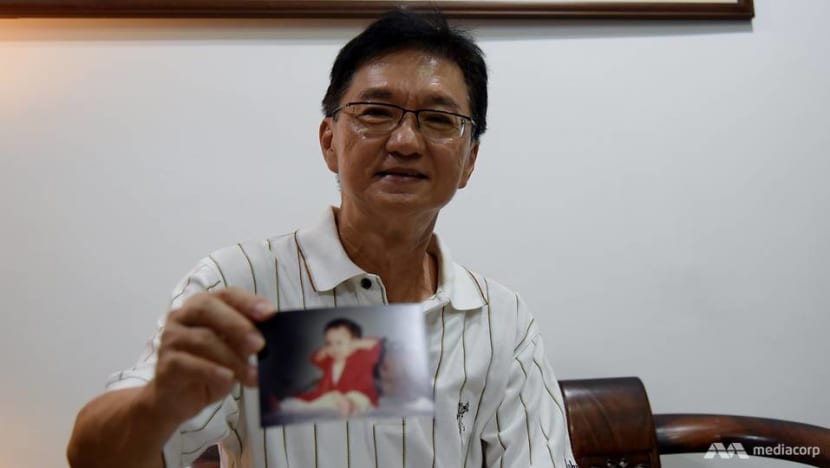 SINGAPORE: Like any other parent, Mr Peter Tay wanted his three daughters to do well.
But when his third daughter, Priscilla, was diagnosed with Attention Deficit Hyperactivity Disorder (ADHD) and mild learning disabilities just before she began primary school, Mr Tay struggled to accept the situation.
"Parents basically want their kids to be high-flyers," he said. "And my two older daughters had done fairly well academically."
"It was very difficult for us to look at the problem eyeball to eyeball. We kept asking, why her, and why not someone else?"
It got to the point when Mr Tay decided it would be best to shield Priscilla from social situations.
"Singapore is a very small place, people are very curious and may pass comments about her," he said. "This put us in a very awkward position and we didn't want to expose her at that time, not even in photos."
"It was such a difficult time for me and for my family."
A CANDLE BURNING AT BOTH ENDS
Mr Tay is not alone. Counsellors and agencies Channel NewsAsia spoke to highlight the growing problem of stress and burnout among caregivers which, in more serious cases, can result in depression.
"Caregiving can be a 24/7 job, particularly if the person they are caring for has a severe illness and the caregiver has little or no support from other family members," said Radiah Salim, president of Club Heal, a charity that helps those with mental illnesses like depression and schizophrenia.
Caregivers can also have multiple stressors and responsibilities but little support from family members, added Dr Radiah. One example could be a homemaker with financial difficulties who has to take care of elderly parents with dementia, and also has added responsibilities as a mother of teenage children.
"She may not know how to care for herself, so it becomes a candle burning at both ends."
Mr Tay admitted that it was a struggle not just dealing with Priscilla's diagnosis, but also in taking an active role in her day-to-day care.
"We thought physical activity would be useful in draining her excessive energy, so we decided to come up with a simple routine where we would send her for swimming and running twice a week," he explained. "For normal kids, it's simple. Just 'dress up, and let's go'. But Priscilla needed a lot of special attention...we would have to coax her patiently, sometimes for as long as half an hour.

"To a normal kid, that's unnecessary. But Priscilla needed more," he added. "And that comes from your personal attention, your coaxing, your patience and your willingness to lower your expectations and work with her."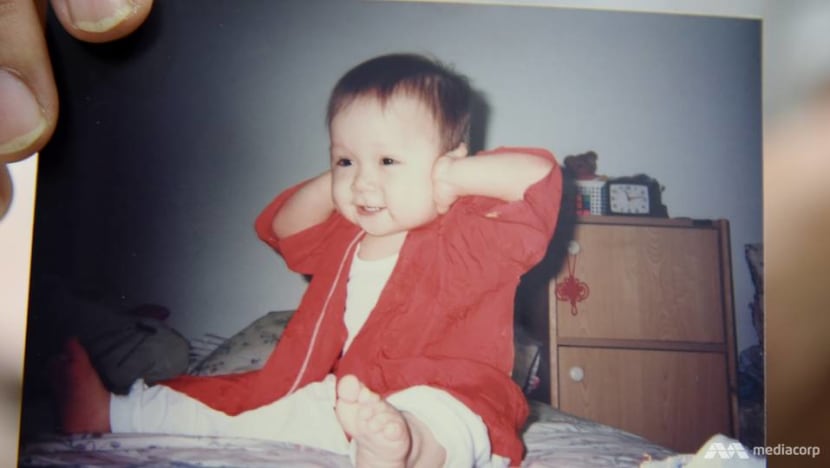 Burnout can happen not just with parents taking care of children, as in Mr Tay's case. Caregivers taking care of elderly parents or spouses diagnosed with dementia can also face problems.
A study carried out by Tan Tock Seng Hospital (TTSH)'s Institute of Geriatrics and Active Ageing last year noted that 40 to 60 per cent of caregivers looking after people with dementia suffer from "significant stress".
"As the prevalence of dementia increases, it's not surprising that there will be more caregivers who are vulnerable to caregiver burden and later, caregiver depression," said senior consultant Lim Wee Shiong from TTSH's Centre for Geriatric Medicine.
Facing Dementia, a recent programme commissioned by Channel NewsAsia, also highlighted the challenges faced by caregivers of those with dementia, and the emotional and physical burn-out that could take place.
One caregiver featured in the series, Mr Danny Tan, left his marketing job to work at home so he could help care for his mother, who was diagnosed with dementia in 2015. Their story, which was shared by CNA Insider on Facebook, drew more than 4 million views, and thousands of comments from others who identified strongly with his struggles.
SPOTTING THE SIGNS
Often caregivers may not realise that they may be burning out. And Dr Lim stressed the importance of teaching caregivers how to take care of themselves.
"Some of them are so sacrificial and stoic, and they just give continually until they are empty," he said. "It's important to recharge for resilience."
"It's like a mobile phone – sometimes the phone goes flat without them knowing it, and they would continually have to charge up. Don't wait until there's only one bar left," he added.
Family members do alert doctors to caregivers who may be at risk, but Dr Lim said that during consultations with patients, it is important for doctors to be mindful that it is "not just the person with dementia who is involved, but the caregiver as well."  
"When they no longer find meaning and enjoyment in the caregiving role they used to have, they may become more detached and they don't have hobbies or go out with their friends, when there are physical symptoms like chronic fatigue, loss of appetite or sleep problems...these are some of the signs that the caregiver is not okay," he added.
HELP IS AVAILABLE
Professional help is available for caregivers who may find their task a little too much to bear.
TTSH offers counselling sessions and workshops, while Club Heal has monthly caregiver support groups and self-care done on a one-to-one basis with service staff.
The Alzheimer's Disease Association (ADA) also has a dedicated centre to support caregivers at home. Among the services they offer is a dementia helpline for anyone who needs help.
"Sometimes caregivers call up and they are at a loss of what to do with their loved ones with dementia," said caregiver support manager Stephen Chan. "Apart from a listening ear and advice over the phone, we also provide counselling in the form of house calls."
They receive about 7,000 calls a year.
ADA also runs a caregiver support group almost every week, in two-hour sessions. "For the first hour, we usually get a professional to discuss topics like how to diagnose dementia, massage therapy in dementia or even managing urinary problems for patients. This is followed by a Q&A session," said Mr Chan. "We discovered that this is very good to educate them.
"Following that, they are broken into groups where they can share their experiences with other caregivers," he added. "And when they find that many people are facing the same problems, they don't feel like they are alone in their care journey anymore."
It was support groups such as this that helped Mr Tay and his family to cope with the day-to-day stressors of taking care of Priscilla.  
He attended parenting support groups organised by Priscilla's school, APSN Katong, and the Institute of Mental Health (IMH).
"Priscilla is unique to us, but there are other kids unique to other families as well," he said. "So we want to hear about the other challenges faced by other families. That also helps to shorten our learning curve."
Mr Tay and his wife also went for counselling sessions at IMH to cope with the stress of caregiving. His entire family also pitched in, taking turns to accompany Priscilla to her medical appointments.
And today, he is proud of his daughter and what she has achieved.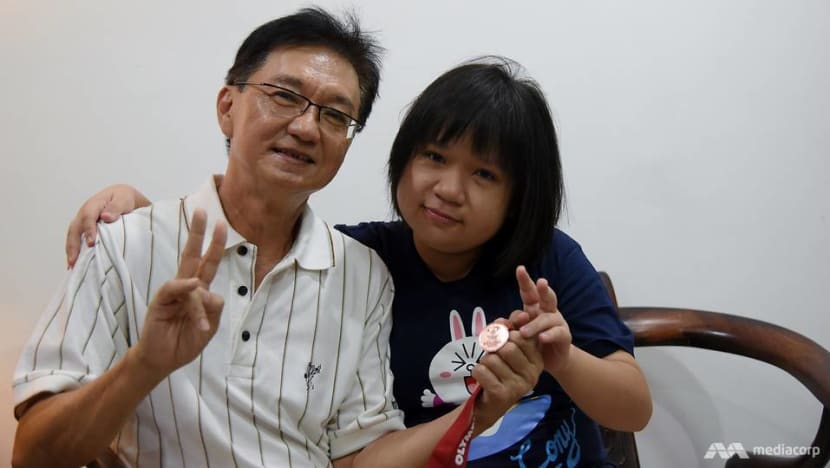 Priscilla, who is now 22, is affectionate and chatty, quick to embrace her father and tell him about her day. And as she proudly displayed a Special Olympics Singapore medal she won this year in track and field, Mr Tay could not help but crack a smile.
"We definitely didn't set out to train her for this!" he joked. 
"There definitely were some struggles, grievances and disagreements among the family," he added. "But we came through, and when we saw the process...it was all about patience, perseverance and due care."
"The joy that Priscilla brings this family is unspeakable. So don't give up on them, give them the time and attention to shine, and they will shine."