More young people under 20 in Singapore caught taking cannabis; CNB to step up engagement with parents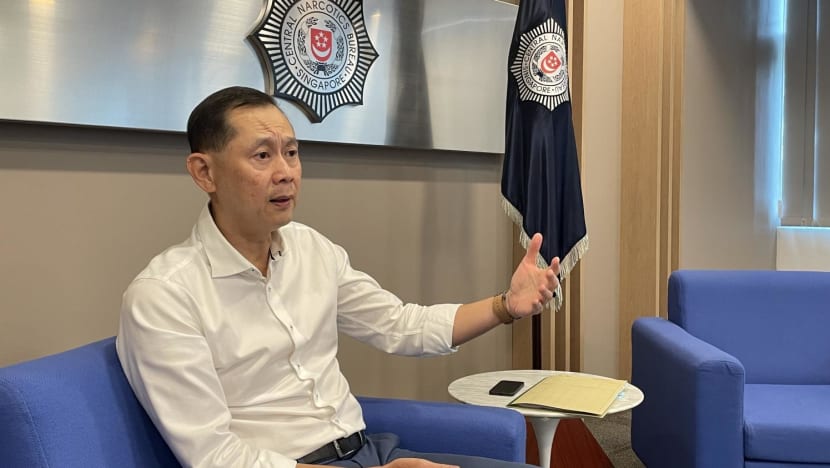 SINGAPORE: As a father of two, Mr Sam Tee knows all too well the danger of young people taking drugs that they can now easily get through online chat groups.
But Mr Tee is not just any parent. On Nov 6, the longtime public servant was appointed as the new director of the Central Narcotics Bureau (CNB), following stints in the Ministry of Home Affairs and various police divisions.
In a two-hour interview with reporters on Friday (Nov 11), he flagged a key area of concern for Singapore's drug enforcement agency — more teenagers taking cannabis, also known as marijuana or weed.
Based on preliminary statistics, he said that the number of those arrested for consuming the Class A controlled drug so far this year has already surpassed last year's figure of 138. This was particularly for those aged under 20, many of whom are students from both local and international schools.
CNB declined to provide specific figures for this year.
These are among the signs that cannabis abuse is "quickly returning" to pre-pandemic levels, Mr Tee added. The volume of cannabis seizures in the past nine months has also outstripped the whole of last year's.
Mr Tee said: "Our people are getting more liberal, especially the youths. And in their minds, (they think), 'These are just 'soft' drugs; I watch Netflix and I see people taking drugs and it looks cool.'
"It doesn't help that our people go overseas for exchanges and holidays, and those drugs are widely available, particularly cannabis. They may just try out of curiosity and when they come back, they may get hooked and also do drugs in Singapore."
YOUTH NABBED OVER DRUGS
In one case that emerged last month, five teenagers aged between 14 and 16 were arrested for trafficking cannabis.
One of the 14-year-old youths surrendered about 115g of cannabis at a neighbourhood police post. More cannabis and food products believed to be infused with it were later seized from his home.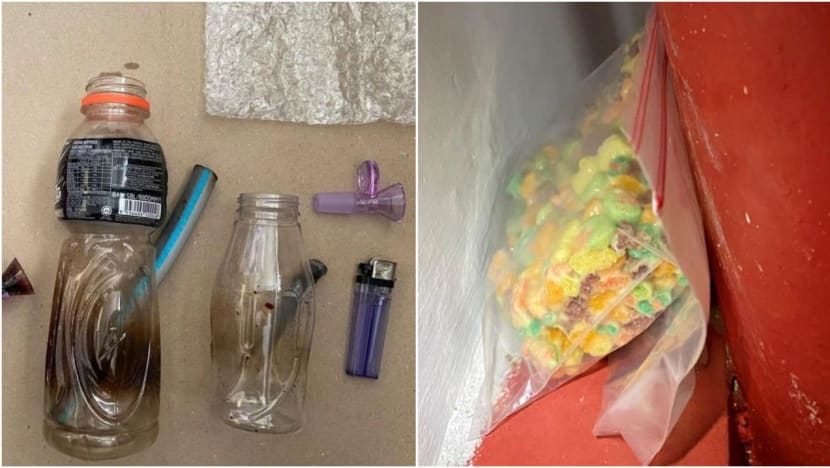 On Friday, CNB said in a news release that another 14-year-old boy was arrested on Tuesday at a residential unit in the vicinity of Lower Delta Road. About 9g of cannabis and drug paraphernalia were seized from the boy's home.
In another case that was not publicised, three males aged 17, 18 and 22 were recently charged in court with trafficking more than 4kg of cannabis.
Mr Tee said that these young people come from all walks of life.
"It's not that they only come from certain profiles of schools … Even the family backgrounds, some of them come from very good family backgrounds. Again, that worries us," he added, noting that they are not from dysfunctional families or have absent parents.
"If the parents are not there to look after them or they went astray, then we need to do something. But if the parents are there, then what is the role of the parent?"
Many also sell drugs to people they know, he said, describing it as a "contamination effect".
"The youth is a group where we really need to work hard to correct the misinformation that cannabis is really good. We're going to double down on our education of the harm of drugs, particularly on cannabis," Mr Tee said.
This led him to bring up the role of parents in educating their children on drugs and being aware of what they are doing.
He noted that the 14-year-old boy who had surrendered to the authorities was taken to the police station by his father.
"(The father) decided, I better seek help and get CNB to help, rather than deal with it on his end," Mr Tee added.
In an Oct 19 case where a 30-year-old man was arrested for suspected drug offences in a residential unit in the vicinity of Bedok Reservoir Road, Mr Tee said that the man's parents were not aware of their son apparently growing cannabis in his room.
About 96g of vegetable matter believed to be cannabis and three potted plants believed to be cannabis were seized from the unit, along with various equipment used to cultivate cannabis plants.
"Parents are important, particularly for young teenagers. That's something that worries us that we're getting all sorts of students from all profiles of schools getting involved in drugs," said Mr Tee.
"I say that it worries us because it's like cancer. If we don't stop the cancer cells, it will spread. And certainly, once it spreads to a majority, it becomes terminal."
He told reporters that CNB will double down on its engagement with parents through organisations such as Dads for Life.
"Certainly, we will see whether it's dad or mum playing an even greater role in educating their children against the harm of drugs, and watching them, looking out for signs or indicators," he added.
The agency also plans to reach out to institutes of higher learning here, including the six autonomous universities, to work with them on anti-drug education.
In terms of younger teenagers, Mr Tee said that CNB works closely with the Ministry of Education to educate students on the harms of drugs.
The agency also has "very good support" from polytechnic principals but will do more with them, he added.
Aside from that, Mr Tee said that CNB wants to educate more young people through social media. It set up a TikTok account in September and has done outreach efforts through Facebook and Instagram.
"The key is, how to be creative so they'll watch?" he quipped.
ONLINE CHAT GROUPS, REGIONAL DEVELOPMENTS
Another area of concern for CNB is how drug abusers have turned to the online sphere, such as chat groups on popular messaging platform Telegram, to get their fix, said Mr Tee.
He added that CNB is increasing its capabilities, such as in technology, to detect such sellers and buyers. This includes working with the Home Team Science and Technology Agency (HTX) to design an algorithm to sniff out drugs in parcels from online transactions.
As for recent developments in the region, Mr Tee said that CNB will increase the presence of its officers at checkpoints and double down on signs warning people of the dangers of consuming or trafficking drugs here.
In June, Thailand became the first country in Asia to decriminalise the growing of cannabis and its consumption in food and drinks in June, having already legalised medical marijuana in 2018.
Recreational use of cannabis, such as in food and drinks and cosmetics, has since exploded in Thailand.
When asked how CNB will crack down on Singaporeans who travel to such countries to take drugs, Mr Tee said that its intent was not to catch people but to educate them on the dangers.
He added: "But if you consume it intentionally, then we have our ways to profile, observe upon your arrival, and we may subject you to some form of test."