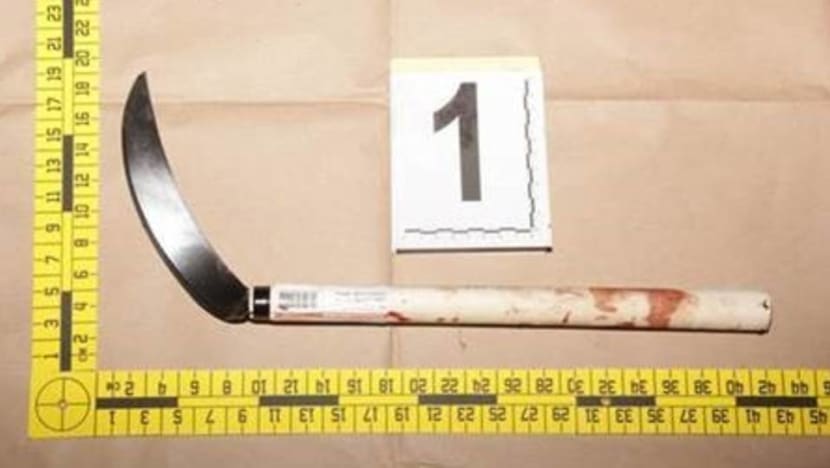 SINGAPORE: A 30-year-old man has been arrested following an attack on two Certis officers in Sembawang.
The police said on Tuesday (Nov 10) that at about 7.30pm on Monday, they were alerted to an alleged assault on two Certis employees who had been attached to the National Environment Agency (NEA) as enforcement officers. 
The incident happened as the officers were performing enforcement duties in the vicinity of Canberra Link, police said in a news release.
"One officer was allegedly punched in the face and the other officer was allegedly slashed on his hand and legs by the man with a sickle," the police said, adding that the man fled the scene before their officers arrived.
The two enforcement officers were taken to Khoo Teck Puat Hospital.
Officers from the Woodlands Police Division later identified the suspect with the help of police cameras and the officers' body cameras, and arrested him within seven hours. 
Police also seized a blood-stained sickle, found near the scene of the incident and believed to be the weapon used by the man to assault one of the officers. 
"ZERO TOLERANCE"
One of the enforcement officers who was attacked is currently hospitalised and in a stable condition, said Certis and NEA in a joint statement. The other received outpatient treatment.
Certis and NEA said the attack took place shortly after the completion of a smoking enforcement action by the officers at a HDB void deck.
"Certis and NEA have zero tolerance for any act of violence against our officers who work tirelessly to keep our environment clean and safe for the community. We will stand by our officers and render our full assistance to the police in their investigation," they said.  
Minister for Sustainability and the Environment Grace Fu said in a Facebook post on Tuesday that any act of abuse against public officers will not be tolerated.
"Our officers work hard to safeguard the well-being of Singaporeans. They deserve our respect, and the right to safety in discharging their duties. They must know that we've got their backs covered," she said.
She reminded the public that this was "not the time to ignore our safe management measures", adding that she was concerned to see an increasing number of "flagrant violations of the rules".
The man will be charged in court on Wednesday with voluntarily causing hurt with a dangerous weapon.
If convicted, he faces a fine, up to seven years in prison, caning or any combination of such punishments.
"The police have zero tolerance towards such brazen acts of violence which threatens the safety of public servants who are carrying out their duties," the police said.
"The police will not hesitate to take action against those who blatantly disregard the law."