Changi Airport and Jetstar in discussions over move to Terminal 4: Iswaran
Changi Airport's Terminal 4 will reopen on Sep 13, with 16 airlines expected to relocate to the terminal in September and October. Jetstar had earlier expressed refusal to move. 
SINGAPORE: Changi Airport Group (CAG) and Jetstar Group are in discussions to ensure the airline's operations remain effective and the needs of the passengers are met, following the latter's refusal to move to Terminal 4, said Transport Minister S Iswaran on Tuesday (Aug 30). 
"It is important to do this well rather than do it fast," said Mr Iswaran during a media tour of the terminal. 
"If it means taking a little bit more time, but making sure that all the key elements are taken care of well, to the reasonable satisfaction of all the parties involved, then I think that should be our priority. And I think that's the basis on which both parties are working together."
CAG announced in July that Jetstar Group is slated to move to Terminal 4 on Oct 25 after the terminal reopens on Sep 13 following a two-year hiatus due to the COVID-19 pandemic. But Jetstar said it had "no intention of moving". 
The company said the decision to move was made unilaterally by CAG, disregarding the "impact a move would have on our customers, our people, and our operations".  
Ensuring that passengers' needs are met and that Jetstar can function effectively is "not just Jetstar's objective, it's also CAG's objective", Mr Iswaran said on Tuesday.
Responding to queries about the ongoing discussions, a Jetstar spokesperson told CNA on Wednesday that a joint study is under way and an update will be provided "in due course". 
FLIGHTS COMMENCING OPERATIONS ON SEP 13 
When Terminal 4 reopens, 16 airlines will relocate to the terminal in stages in September and October. 
Cathay Pacific and Korean Air will move to Terminal 4 on reopening day. The first flight to arrive at the terminal on Sep 13 will be a Cathay Pacific flight from Hong Kong at 3.05pm, while the first departure flight will be a Cathay Pacific flight to Hong Kong at 6pm on the same day. 
AirAsia Group will commence operations on Sep 15, while Cebu Pacific, Juneyao Air, Jeju Air, Bamboo Airways and HK Express will follow suit on Sep 20.
Other airlines such as Vietnam Airlines, VietJet Air and Thai VietJet Air will move from other terminals two days later on Sep 22.
The reopening of Terminal 4 will ensure that the air hub can meet the increasing demand for travel as the year-end peak approaches, said CAG in its news release. 
"It's been about five months since we reopened our borders to vaccinated travellers. And in that time, we have now seen our passenger volumes rise to a weekly average of about 58 per cent of what it was pre-COVID. And that is in 2019," said Mr Iswaran. 
"In terms of flights, (it) is actually more around 64 per cent. And importantly, when we look ahead to the winter period … around the peak seasons of November, December, January, the flights are likely to increase to about 80 per cent of pre-COVID levels." 
To meet the year-end increased traveller demand, the aviation industry also plans to recruit another 3,500 to 4,000 employees, added Mr Iswaran.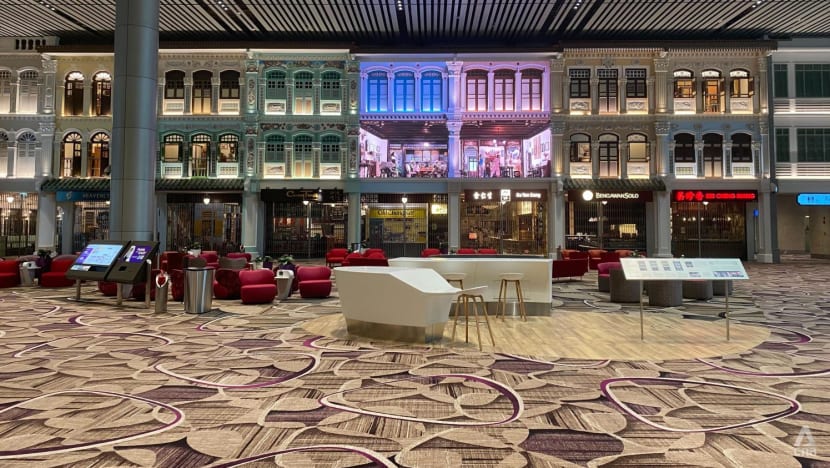 3D SCREENING, RETAIL AND DINING OPTIONS
The terminal will have automated processes for travellers from check-in to boarding, as it did before operations were suspended in May 2020 due to the pandemic. 
The use of technology extends to security checks, which will use 3D screening technology that allows passengers to keep laptops and tablets in their bags during the screening process.
There will also be a 70m-wide "immersive digital wall" spanning the entire length of the security screening area, with scenes of travel destinations.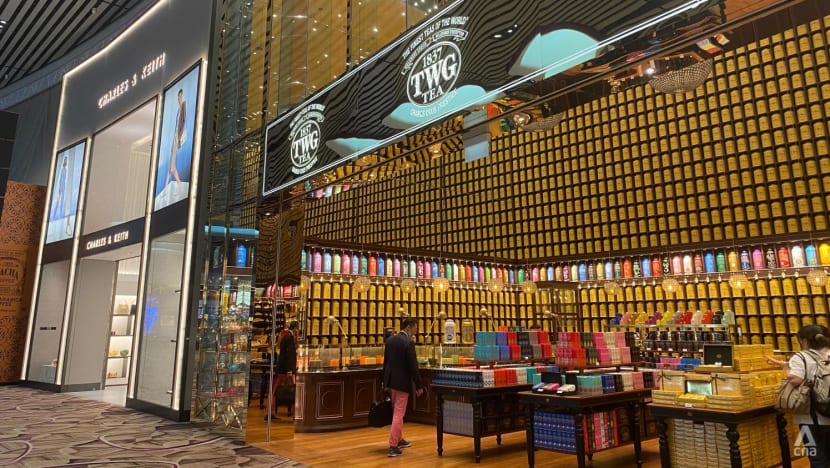 Aside from duty-free shopping in the transit and arrival areas, several retail and dining outlets will open on Sep 13, with more shops opening progressively in the coming months. 
The outlets starting operations on opening day include the International Food Hall, Coffee Bean and Tea Leaf, and WHSmith in the transit area, as well as Andes by Aston in the public area of the terminal. 
Visitors will also get to enjoy attractions like the Heritage Zone, art pieces and the "Steel in Bloom" garden. 
Chandelier, a 16m-high play structure made from red climbing ropes, will also reopen. A tubular slide has also been added to the play area, so that passengers can slide down from the departure transit area to the playground instead of taking the lift.