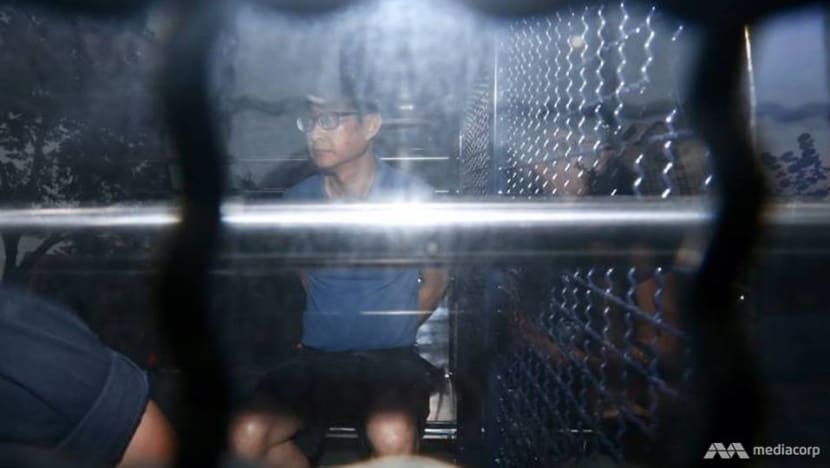 SINGAPORE: Former City Harvest Church leader Chew Eng Han was given an additional jail term of 13 months on Tuesday (Jan 29) for trying to flee Singapore and attempting to defeat justice. 
Chew, 58, is currently serving his sentence for his role in the misappropriation of S$50 million of church funds and is almost a year into his sentence.
He had his original six-year jail sentence lowered to three years and four months in a split decision by the High Court in April 2017. He will serve the additional months after the end of his first sentence.
Chew was placed in remand on Feb 22 last year, a day after he was arrested for attempting to flee the country in a sampan.
A crew commander on the Police Coast Guard vessel that intercepted Chew's boat following a tip-off told the court during the trial that Chew looked straight ahead without acknowledging him when the commander shouted at Chew and the boatman.
Chew claimed trial to his new charges and was found guilty in December by District Judge Victor Yeo, who said he was not persuaded by the defence's arguments that Chew was apprehended "too early" and had not yet embarked on a crime proper.

CHEW'S ROLE IN "NO WAY" MORE CULPABLE
Chew's lawyer Adrian Wee asked for a six-month sentence on Tuesday, arguing that his client demonstrated genuine remorse. Chew admitted that he was trying to flee at "first instance", the lawyer said.
"Despite having been told to equip himself with fishing equipment in order to provide a credible cover story, the accused chose to come clean with authorities as to his intentions and destination, and the motives for his actions," said Mr Wee. 
He also pointed out that those who assisted Chew in his bid to leave Singapore were "instrumental" in the attempt. He added that Chew's role is "in no way more culpable" than those who "engineered and planned the operation".
The offence is not a completed one, Mr Wee said, as Chew never made it to his destination. He also pointed out that Chew had declined an offer to leave Singapore in 2017.
The prosecution, however, argued that his actions were pre-meditated and deliberate. Deputy Public Prosecutor Christopher Ong said that Chew should not be dealt with more leniently just because he was not successful in his attempt. Doing so would incentivise offenders to attempt to leave Singapore, he added.
Mr Ong also drew parallels between what Chew did and a person who had bought a flight ticket.
"It's Chew who sought the services and stood to benefit, because he was the one seeking to avoid the sentence," he said.  The prosecution asked for a 15-month jail sentence.
While District Judge Yeo noted that Chew did not rely on a cover story that he was on a fishing expedition, he said he was not entirely convinced of Chew's remorse. He said he agreed with the prosecution that there was "no reason" to treat an unsuccessful attempt more leniently than a successful one.
Chew could have been jailed for up to six months and fined up to S$2,000 for trying to leave Singapore illegally.
For attempting to defeat justice, he could have been jailed up to seven years and fined.
Three men who helped him in his attempt to escape Singapore by boat - including the boatman and two Malaysians with roles in the plot - were sentenced to jail last year.