As child abuse reports rise, Singapore agencies shore up protection efforts
Government and private organisations alike are expanding initiatives to detect, handle and raise awareness of child abuse.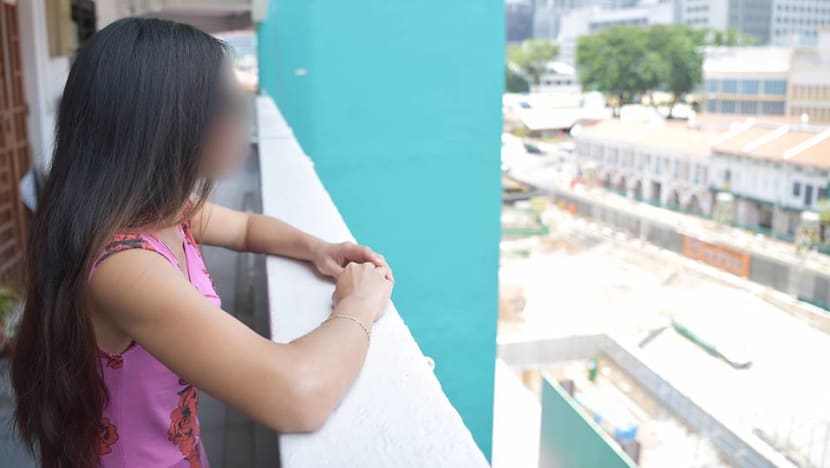 SINGAPORE: She was pregnant with his child when he first hit her for "talking back" to him. After that, Cindy's husband kicked her, yanked her hair and slapped her till her glasses broke, but she chose to ride it out.
Then he started caning and smacking their kids to the point of bruising and still, she rode it out.
But when he slapped their third son - who has an intellectual disability - more than 10 times across the face, Cindy (not her real name) finally felt fear for her safety and that of her five children.
She spilled the beans to her social worker from the Ministry of Social and Family Development (MSF), who promptly helped get Cindy and her kids to the Casa Raudha Women Home shelter - and also file a personal protection order (PPO) against the husband, who was away in Batam at the time.
Cindy's case is one of 894 investigated by MSF in 2017 - a number that has climbed steadily from 343 in 2013, across the areas of physical and sexual child abuse as well as neglect. MSF's child protective service (CPS) has also recorded an uptick in enquiries, from 2,022 in 2015 to 3,344 in 2017.
Over at Big Love Child Protection Specialist Centre, which handled Cindy's case after the PPO, the number of referred abuse cases rose nearly threefold from 123 in the 2013/14 period to 367 in 2017/18.
And the Association of Women for Action and Research (AWARE) told Channel NewsAsia that child sexual abuse cases made up 20 per cent of 515 cases logged by its Sexual Assault Care Centre (SACC) in 2017. In comparison, for the first half of this year alone, 18 per cent of 386 cases were of child sexual abuse, said the centre's head Anisha Joseph.
THE IMPORTANCE OF SUPPORT
The rising number of cases, however, does not necessarily point to an increase in child sexual abuse, said the organisations.
"It may also indicate that there is greater awareness of support services, or that there are more survivors willing to speak up about their experience," said Ms Joseph.
Big Love director Serene Tan added: "Another possible reason is that there are also specialised tools that are being used by professionals to better assess and intervene with families with child protection concerns, hence more families can be given appropriate help early."
She said the agency has been looking at increasing manpower, ramping up staff training and working more closely with the community to tackle the increasing number of cases.
"Big Love also conducts child abuse awareness talks in primary schools and organises public education activities in community spaces," Ms Tan noted, while pointing to its #GiveAVoiceSG website and campaign, which has collected over 13,000 pledges to protect children within three months.
MSF also attributed the high number of cases investigated to its stepped-up efforts in training professionals, ensuring easy access to help as well as public education.
A spokesperson said the ministry has introduced tools to guide the likes of school counsellors and social workers on action to be taken. A host of options are also available for the public to reach out for help, ranging from child protection specialist centres to dedicated hotlines.
To foster wider awareness, MSF said it trains community and grassroots bodies like SINDA and MUIS to detect and manage abuse cases. The ongoing Break the Silence campaign, introduced in 2016 and disseminated both online and offline, is also an attempt to encourage conversations on family violence.
"Most people will approach friends and family first before going to the authorities, so we need more public awareness about supportive and empathetic responses, and about the resources available," said Ms Joseph.
"It is important to offer support - reassuring survivors that assault is not their fault, and that how to respond is their choice."
GROUNDS FOR HOPE
For Cindy, leaning on loved ones never seemed an option, having lost contact with all her siblings and her mother staying too far away to reach.
"Whenever I felt like reporting that he hit me, he would be at home. He was always around," she said. "I don't have anyone to back me up … and I was afraid I would get hit again."
She expressed gratitude for both her social workers - one from MSF who encouraged her to finally move to a shelter, and one from Big Love who stepped in after the PPO was issued.
The situation has improved since and the entire family is living together in the same house again. With regular visits from the Big Love social worker, Cindy's husband now has a better grip on his anger issues, and is aware of alternatives to physically punishing his kids -  such as removing privileges, assigning homework or simply talking to them.
Big Love is positive their case can be closed by the end of 2018. And Cindy herself is optimistic, now that MSF has also helped her secure part-time employment as a pre-school teacher.
"I wasn't working last time. If I left him, I wouldn't have income. How would I survive, with my kids too?" she recalled. "I didn't think I could make it out there, alone … but things are better now, and I hope it stays that way." 
To report concerns over a child's safety, the public can dial MSF's Child Protective Service Helpline (1800 777 0000). For sexual abuse, AWARE's SACC helpline is 6779 0282.
They can also contact any of the Child Protection Specialist Centres (Big Love, HEART@Fei Yue and Safe Space) or Family Violence Specialist Centres (PAVE, TRANS SAFE Centre and Care Corner Project StART).
Children who need support can call Tinkle Friend (1800 2744 788).