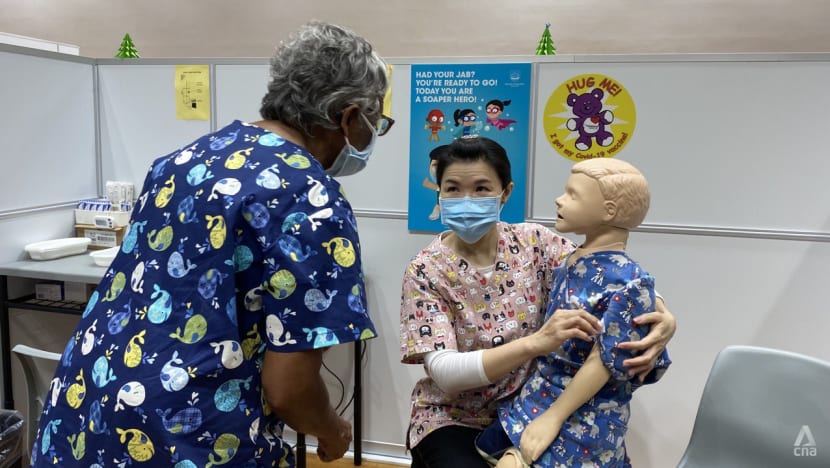 SINGAPORE: The COVID-19 vaccination registration rate for Primary 4 to 6 students has crossed 40 per cent, said Education Minister Chan Chun Sing on Sunday (Dec 26). 
Mr Chan was speaking at Senja-Cashew Community Club one day before paediatric vaccination centres are set to progressively open islandwide.
Senja-Cashew Community Club is one of seven paediatric vaccination centres that will open on Monday. Seven others will start operations on Jan 3 next year. 
Mr Chan encouraged parents to register their children for weekday slots, saying that medical leave will be provided for such students.
"The slots for Friday, Saturday and Sunday have all been taken up ... We're also encouraging parents to register their children on Monday to Thursday, which still have many slots. If the children go for their vaccination on Monday to Thursday, we will grant them necessary medical leave, so the parents don't have to worry that the child will be penalised," said Mr Chan. 
"The school will also make arrangements to take care of the child to help them catch up with the work that they might have missed on that day. The school will also undertake the necessary precautions to make sure the child won't undergo strenuous activities within two weeks of the vaccination." 
COVID-19 VACCINATION REGISTRATION FOR PRIMARY 1 TO 3 STUDENTS
Mr Chan added that COVID-19 vaccination registration for Primary 1 to Primary 3 students in Ministry of Education (MOE) schools and madrasahs will begin on Jan 5 next year, with parents set to receive an SMS invite.
Registration for all other children in the same age band will open on Jan 6.
"Many parents are thinking of the new school schedule, which is why we're doing it on Jan 5. When the children return to school ... they will be able to know the new school schedule," he said.  
CARTOON SCRUBS, STICKERS
During a walkthrough of the Senja-Cashew Community Club with Thomson Medical personnel on Sunday, reporters were told that facilities that provide paediatric vaccinations have put in place specific safety and operational measures for children, such as separate queues and vaccination stations.
To prevent the wrong vaccine dosage from being administered, the vaccination vials for children are differentiated from the ones for the general public: Caps for vials containing paediatric vaccinations for children are orange, while those for individuals aged 12 and above are purple.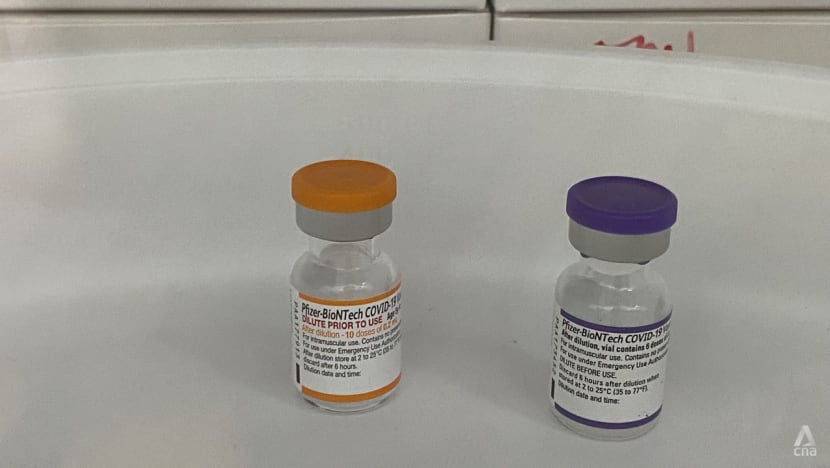 Every child must be accompanied by a parent, who will have to queue with them.
"We do have a dedicated flow for the kids 11 years old (and under). Parents can accompany them (throughout) ... from the point when they come in, to the registration, and to the vaccination as well as the observation process," said Ms Chan Wei Ling, chief executive officer of specialist centres at Thomson Medical.
Nurses who administer the paediatric shots will wear scrubs with cartoon characters, and are trained to work with children. Those on paediatric duty do not cross over to vaccination stations for the general public.
"When dealing with kids, they are a bit more anxious. So we have to deal with the kids' anxiety. When they are anxious, they may have needle phobia. They may feel fearful and then they may faint. So our staff are trained to try to allay the anxiety of the kids and the parent," said Dr Lin Zhiyong, a resident doctor at Thomson Medical vaccination centre.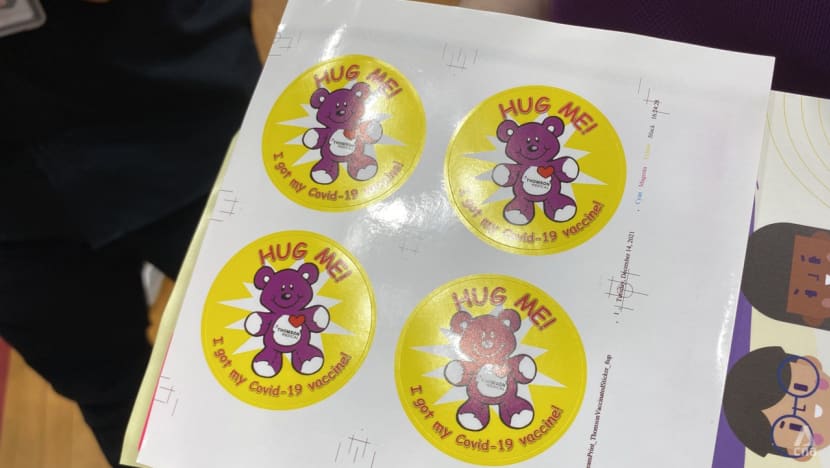 From the queue to the vaccination station and observation area, children will also be greeted by child-friendly cartoons, stickers and standees, said Dr Lin. 
"We have stickers and stencils to create a more vibrant and kiddie environment so that they can have lesser anxiety," added Dr Lin. 
"In the observation station, our staff are also trained to pick up certain signs that a child is unwell. Usually, when smaller kids feel unwell, they may not tell us. They may just feel a little less active, not focusing as much. We have to pick up these signs, go and ask the child and parent whether they're feeling well."
Currently, the Pfizer-BioNTech/Comirnaty COVID-19 vaccine is the only vaccine approved for children aged five to 11 in Singapore. Consent from a parent or guardian is required to book a vaccination appointment for both doses of the Pfizer-BioNTech/Comirnaty COVID-19 vaccine.
From Dec 26, parents of all children born between 2010 and 2012 can register their interest online for their child to be vaccinated at child.vaccine.gov.sg.  
These children aged 12 and above can walk in, accompanied by a parent or guardian, to any of the 22 vaccination centres offering the Pfizer-BioNTech/Cominarty vaccine without a prior appointment. They do not need to register their interest on the national appointment system.