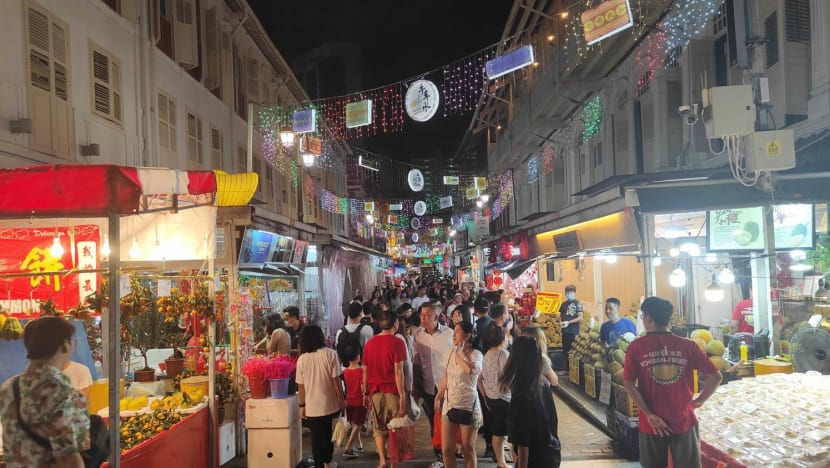 SINGAPORE: The number of daily COVID-19 cases in Singapore did not spike over the Chinese New Year holidays, Health Minister Ong Ye Kung said on Friday (Jan 27).
In a speech at the official opening of the NTUC Health Jurong Spring nursing home, Mr Ong said that the number of cases was "quite low, (in the) low three digits", which Singapore has not seen in a long time.
On Monday, the second day of Chinese New Year, Singapore reported 78 new COVID-19 cases. The number rose to about 500 on Thursday, consistent with spikes often seen after long weekends.
"We always brace ourselves after a long weekend," he said. "There's always a big spike in numbers, as well as a big spike in visits to emergency departments.
"As it turned out, it wasn't too bad."
He added that emergency departments "held their ground", which was to "our great relief".
"I know we no longer scrutinise numbers like that. But over the Chinese New Year, I looked at the numbers and the situation closely," he said. "And I think things are stabilised."
He also noted that many Singaporeans are worried about a "big infection wave" following China's reopening, and wondering how this will affect Singapore's COVID-19 situation.
"I gave a long explanation in Parliament," he said. "(The number of) imported cases from China is very low because the number of flights is few. We're running only at 10 per cent capacity (compared to) pre-COVID."
Singapore has also been watching the number of imported cases from China over the past week, he added.
"There were none," he said. "Either that, or they're so mild, it's treated no different from the normal influenza.
"The number of travellers from China that were infected and entered our hospitals is what matters more."
Only one case has been recorded since Dec 1 – a Singaporean who was returning from China.
"So all in all, the situation is stable," Mr Ong said. "We look forward to life going back to even greater normalcy in the not too distant future."