Why your Chinese New Year plants are likely to be more expensive this year
Nurseries, however, are seeing a steady supply of such plants from overseas, thanks to a more stable COVID-19 situation.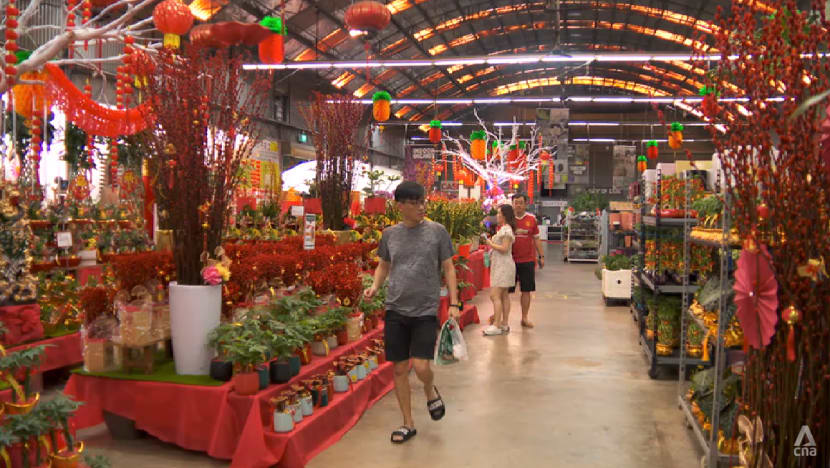 SINGAPORE: Some Chinese New Year plants will carry higher price tags of up to 10 per cent more this year, amid bad weather conditions as well as rising transportation and labour costs.
However, nurseries in Singapore still see a steady supply of blooms from overseas, a pain point in previous years due to the uncertain COVID-19 situation. 
 
At Far East Flora, for instance, things are a little rosier this year.
 
"The uncertainty certainly has reduced," said Mr Peter Cheok, sales and marketing director at Far East Flora.
 
"For our overseas growers and suppliers, with the lifting of their (COVID-19) restrictions, they are able to get into 100 per cent operations. They are able to do more, compared to previous years. Therefore, we are able to get more of what we want."
Plants such as orchids and pussy willows are a staple for many families during Chinese New Year, as they represent abundance and prosperity.
HIGHER OVERHEADS, MANPOWER CRUNCH
Katong Flower Shop has brought in a greater variety of items, including small, potted plants, to entice more customers. 
 
But challenges such as the weather remain a thorn in its side. "This year, Chinese New Year (is too close to Christmas and) is a bit earlier, not like other years, maybe in February. This year, it's in January," said Mr Royston Low, managing director of Katong Flower Shop.
 
"So it also clashes with the rainy season, and some flowers are not really in full bloom."
 
The nursery is also paying the price of higher overheads amid a manpower crunch. 
 
Prices for some plants have gone up by about 10 per cent this year, due to increasing transport and manpower costs, said the company. 
 
Prices have not deterred customers, and orders have been streaming in for popular items like orange trees, lucky bamboo and money plants even before the Christmas period in December.
 
The nurseries said they are expecting 20 per cent more sales this year. 
ORDERING IN ADVANCE, DIVERSIFYING SOURCES
Far East Flora ordered its plants as early as three months in advance to avoid running the risk of shipping delays. It has also diversified its sources to ensure a healthy stock of goods for the festive season.
"For example, China, Malaysia, these are the usual countries that we import in plants," said Mr Cheok.
 
"We will try to find different growers that can provide us with either similar or different items, so that we always have more streams of items that come in from overseas, to ensure that we always have sufficient things to sell for our customers.
 
Customers who spoke to CNA said they wanted to stock up on their plants in advance.
 
One customer said: "When it's nearing Chinese New Year, a lot of the nicer plants will be out of stock, so we want to be here to get a fresher stock."
Another customer said: "I want to have more selections. Usually when the stocks have just arrived, I'll have better quality plant selections."