Some clinics in Singapore see up to 50% more conjunctivitis cases
At least one doctor told CNA that the increase in reported cases could be due to the relaxation of COVID-19 curbs, such as mask-wearing requirements.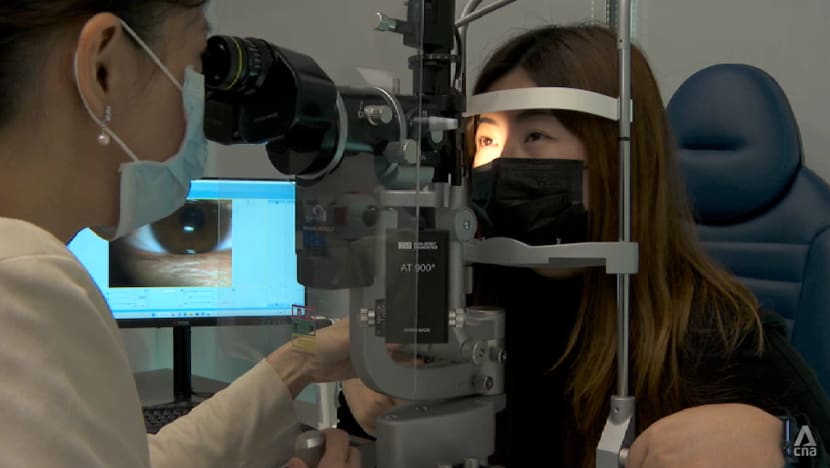 SINGAPORE: Conjunctivitis cases are on the rise in Singapore. 
Some clinics are seeing more patients for the condition - also known as pink eye - in the first one-and-a-half months of this year, compared with the same period last year.
Conjunctivitis refers to inflammation of the conjunctiva - the thin, translucent tissue that lines the white part of the eye. 
Viral conjunctivitis, which can be spread by coughing and sneezing, starts with redness in one or both eyes. Other signs include swollen or puffy eyelids, persistent itching, and a mild fever.
CONJUNCTIVITIS CAN AFFECT ALL AGE GROUPS
At least one doctor told CNA that the increase in reported conjunctivitis cases so far could be due to the relaxation of COVID-19 curbs, such as social distancing measures and mask-wearing requirements. 
"Viral conjunctivitis is highly contagious, and the transmission is mainly through direct contact with hands or objects which may have been contaminated by the virus," said Dr Woo Jyh Haur, senior consultant at the Singapore National Eye Centre's Corneal and External Eye Disease Department.
"We have seen an increase in the number of patients, of up to about 50 per cent, compared to the same period last year."
It is a similar situation that some clinics across the island are facing.
The National Healthcare Group Polyclinics said that while the number of patients visiting its clinics for conjunctivitis is nearly at pre-pandemic levels, it is not there yet. 
CNA spoke to seven family clinics. One such clinic in Bishan said it now sees about five patients a week. This is up from an average of two patients per week last year.
According to the Ministry of Health's (MOH) weekly infectious disease bulletin, the daily average number of cases pre-pandemic was around 120.
Dr Woo noted that the condition can affect all age groups. 
It spreads more easily in areas which tend to be more crowded, such as in schools, offices and on public transport. It can also be spread by those with the common cold. 
RELAXATION OF COVID-19 CURBS MAY HAVE IMPACT
Dr Foo Fong Yee, an ophthalmology specialist and consultant at Raffles Eye Centre, said: "These germs can also be spread through the air by respiratory droplets during coughing or sneezing, when they are in close contact, in close proximity to infected individuals."
The relaxation of the COVID-19 restrictions, such as mask requirements and social distancing measures, could have put more people at risk of catching conjunctivitis, she added. 
"However, we do like to believe that after the pandemic, patients are generally more observant of their general hygiene measures," said Dr Foo.
"And that could explain why even though there is some increase in the numbers, it has not gone back to the levels that were present pre-pandemic, in the sense that most patients might be observing these hygiene measures as a way of life."
She urged the public to maintain good hygiene habits, such as continuing to wash their hands regularly and not sharing personal use items such as face towels, as these can help to prevent the spread of conjunctivitis.
Listen: Are you using eyedrops correctly?