'Normalise re-wearing clothes': Experts urge consumers to reduce impact of fashion on environment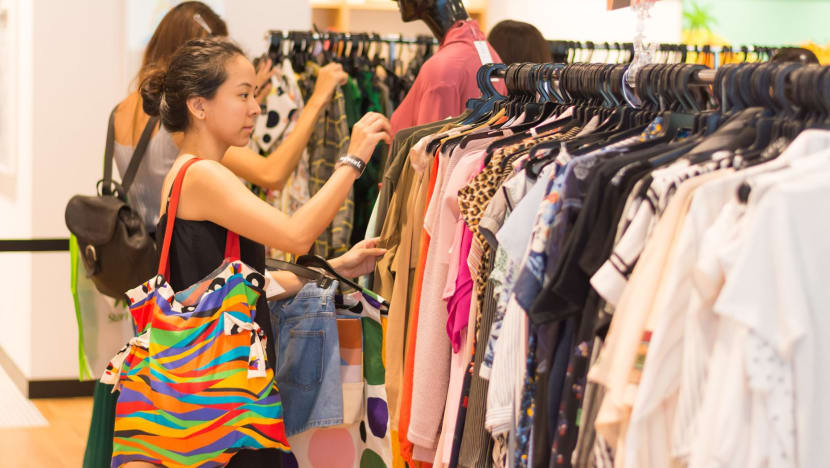 SINGAPORE: Ms Taahira Mohamed Ayoob stopped buying fast fashion in an attempt to stand out from the crowd. 
She still wanted a variety of clothes to wear, so she turned to clothes swapping. But it has now become a way of life for her, fuelled by a desire to be more environmentally conscious.
A marketing and branding officer in the travel industry, the 29-year-old said she came to realise she doesn't need as many clothes as she had. And that she doesn't need something different to wear on each occasion. 
"When the pandemic hit, I realised how little clothes I needed to survive," Ms Taahira said.
When she needs to freshen up her look, she adds an accessory or something to jazz up her outfit.
"It's possible to add on elements – a scarf, a jacket. I borrow from a friend, then return it. I accepted that I don't have to own something new to wear it."
She said that while it is normal to feel self-conscious about being seen in the same clothes repeatedly, being okay with doing so comes from a place of confidence.
"Actually, nobody cares (whether you're wearing the same outfit). It's our perception of what people think of us," Ms Taahira said.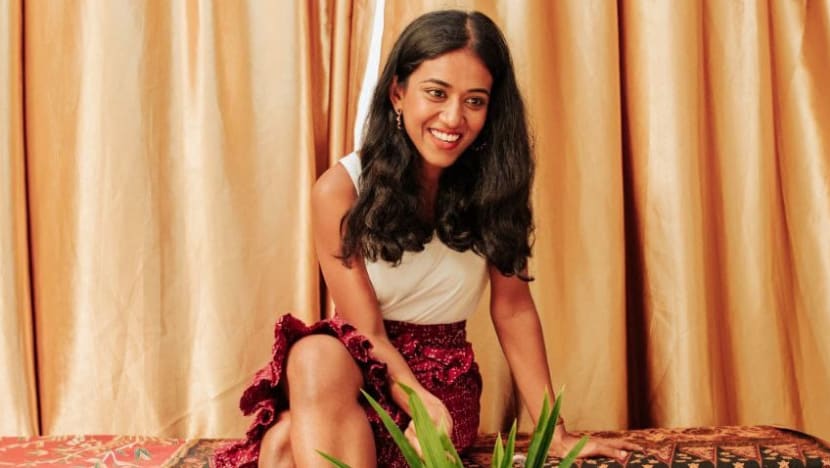 USE YOUR EXISTING CLOTHES
Environmental experts said that the best way for people to be sustainable is to wear what they already have in their wardrobes. Swapping and renting clothes are the next best alternative, they said, and buying new clothes the last resort.
Mr Raye Padit, founder and chief executive of swapping platform The Fashion Pulpit, said there is "no shame" in repeating outfits.
"Normalise re-wearing clothes," he said.
"We have that passed-on belief that it's not okay to repeat clothes, that it's not sexy. We need to change that kind of mindset."
The most sustainable thing to do is to wear what is already in your wardrobe, said marketing associate director of Zero Waste SG Jasmine Tuan.
"We have more than enough clothes in our existing wardrobes. Do we really need to buy another T-shirt, another dress, another pair of jeans?" she asked. "When you look at your wardrobe, you maybe already have these items. The next step is to wear it."
Otherwise, people can consider re-gifting the items to friends and family or donate to organisations that will recirculate them responsibly, she said.
Ms Xingyun Shen, country coordinator of Fashion Revolution Singapore – a global group that calls for greater transparency, sustainability and ethics in the fashion industry – suggested that people reconsider how they want to relate to their clothing.
What would happen if clothes were not as cheap or readily accessible as they are now, she asked.
"How would we be shopping or acquiring 'new' clothes? The first place we would probably be looking at is our wardrobes," she said, adding that people could also look at friends' and family members' wardrobes.
"Can we borrow and swap clothing from our circle of friends and family? Can we ask our local seamstresses and tailors to fix a split seam or alter something to fit our bodies again?"
ALTERNATIVES TO BUYING
Renting and swapping clothes is growing in popularity and acceptance by consumers in their choice of fashion, said Ms Carolyn Poon, sustainability director at the Textile and Fashion Federation, Singapore.
These alternatives to buying clothes make the "take-make-dispose" linear fashion economy more circular, she said.
"This is the most direct way renting and swapping help the environment. They extend the lifetime use of clothes that are already produced and consumed," she said.
Style Theory, which offers customers subscription-based plans for renting clothes, has more than 200,000 registered users, said its founder Raena Lim.
The firm has done more than 2.3 million rentals and saved more than 600,000 preloved designer wear from "prematurely entering landfills" in the span of five years, she said. 
Sustainability is one of the main pillars driving the firm, Ms Lim added.
"We know that 60 per cent of clothing produced ends up in the landfill every year. With the rental model, we have shown that items are kept longer within the fashion ecosystem, which reduces the need to overproduce."
An item is rented an average of 30 times each, while an item in a women's wardrobe is used far less, she said.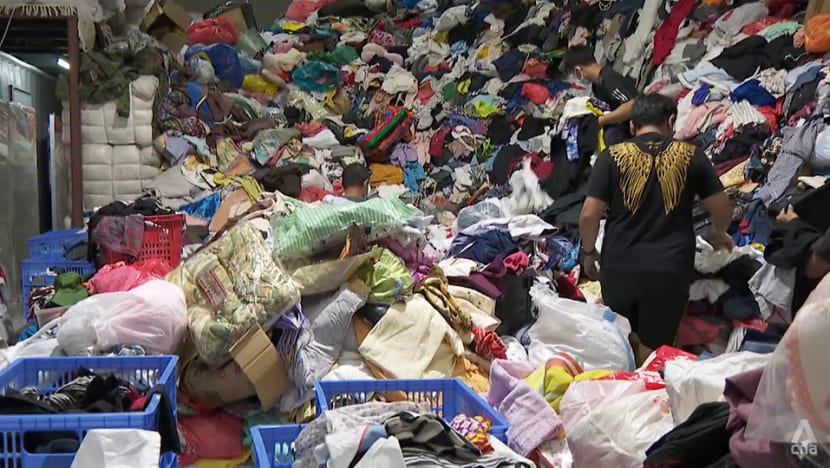 Ms Lim acknowledged that the logistics and operations of a fashion rental business also have a carbon footprint. She said Style Theory has found a good partner who uses environmentally friendly cleaning chemicals.
The firm also tries to reduce the number of delivery trips made, she said, adding that it is looking to become more sustainable over time.
Fashion Pulpit has also helped the environment, said Mr Padit. Since opening in 2018, the platform has saved 120,000 items with swapping, he said. The swapping community has also grown, from 115 members to 2,500 currently. 
While renting and swapping are touted as environmentally friendly solutions to buying, Ms Shen from Fashion Revolution cautioned against doing too much of these as well.
"Like how one is prone to over-buy or shop too much, one can over-rent or over-swap," she said. 
FASHION'S IMPACT
In Singapore, fashion and textile products account for 137,000 tonnes of waste, of which "merely" 4 per cent is recycled, said the Textile and Fashion Federation's Ms Poon, citing 2020 statistics by the National Environment Agency.
"We see this somewhat as an urgent priority to develop a whole-of-ecosystems approach in circularity and towards zero fashion waste," she said.
Other experts broke down some of the global impact fashion has on the environment. For instance, cotton, one of the most commonly used fabrics, is also one of the most destructive, said Style Theory's Ms Lim.
"It can take 2,700 litres (of water) to produce the cotton needed to make a single T-shirt," she said.
Research also shows that 64 per cent of the 32 billion garments produced yearly go to landfills, she added.
Garment manufacturing also releases 4 million tonnes of carbon emissions annually, she said. Chemicals are required to treat and dye textiles, which contributes 20 per cent of global industrial water pollution. 
Given the amount of clothes swapping platforms are collecting, Zero Waste SG's Ms Tuan questioned if more new clothes even need to be produced. 
She said that fashion giants and beauty magazines "tap on the confidence of shoppers", telling them what is in and what to wear in which season.
"But who sets these rules? Who says so? Fashion comes and goes but style is eternal," she said, quoting fashion designer Yves Saint Laurent.
"A confident person will wear whatever, and doesn't care about trends or what fashion giants manipulate us into wearing."