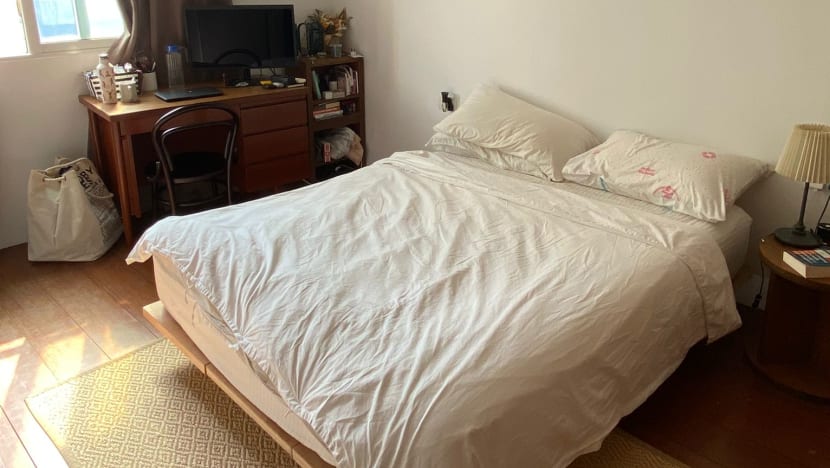 SINGAPORE: Having worked from home for more than a year, Ms Cherie Lim was ready for a change of environment.
The 26-year-old account executive in the software industry wanted to experience the independence of living apart from her parents in their terrace house.
"I would have to do things on my own like pay the bills, get the household chores done, cook my next meal, those kind of things, very basic fundamental things that come with independence, but were taken care of by my parents," she said.
Ms Lim also said she craved space.
"I wanted a different space on my own because the whole pandemic, you're basically stuck in the same house together. I wanted more freedom and was itching to experience something new," said Ms Lim, who has two younger siblings. 
Renting a Housing Board flat or a condominium unit was out of the question for her as she wanted more space. 
She eventually decided to opt for co-living spaces, which are available in a variety of accommodation types. They are also furnished and come with regular cleaning services.
Such spaces are available in the CBD area as well as in locations such as Joo Chiat, Farrer Park and Buona Vista.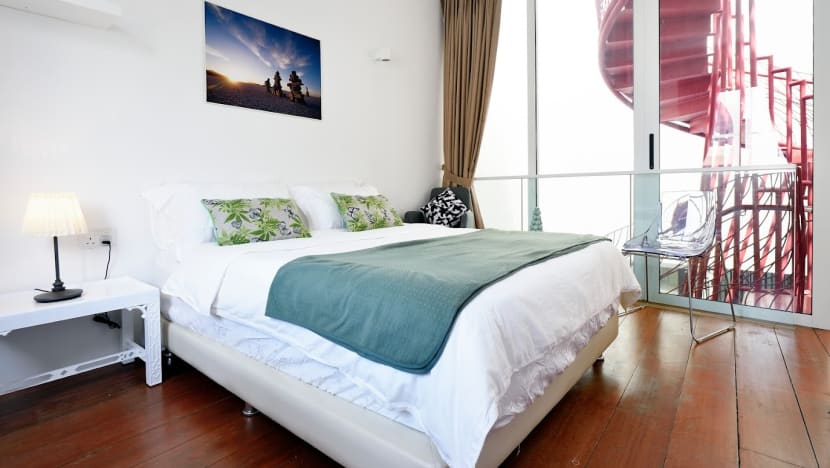 Ms Lim picked a three-and-a-half-storey shophouse in Geylang which she has been sharing with five house mates for the past two months. One of them is also a Singaporean like her while the rest are foreigners, she said. 
They each have their own room that comes attached with a bathroom. Each room also has a desk, a queen-size bed and a pantry equipped with a fridge and a microwave oven. The house also has a living room and two large kitchenettes, which double up as communal areas where the residents interact and can have guests over.
The six-month rental commitment sets her back by about S$1,900 per month.
MORE MOVING OUT OF HOMES
Ms Lim is part of a growing number of locals moving out and opting for co-living spaces.
Co-living companies told CNA that while the majority of their tenants are foreigners, they have seen an increase in the number of local residents at their spaces, compared to pre-pandemic times. 
Locals used to make up 5 per cent of tenants at the spaces run by one company, Cove, in 2019. As of June this year, this proportion increased to 35 per cent across its rooms, said its co-founder Sophie Jokelson.
"Co-living spaces have seen an increase in demand with more people moving out of their homes due to a variety of reasons – lack of privacy at home, BTO delays and even to achieve independence from family, which is a recent trend we are observing in millennials," she said.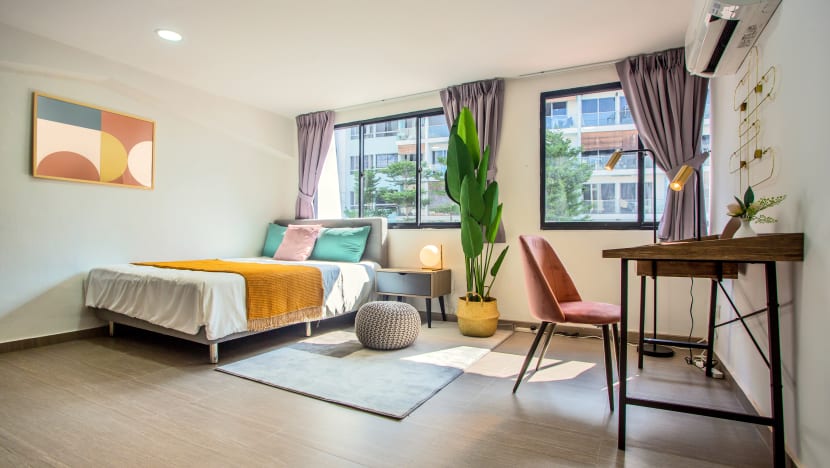 The Assembly Place, another firm in the industry, has seen a 30 per cent increase in demand from locals compared to pre-pandemic times, while the demand at Figment has doubled from 10 to 20 per cent in the same time frame. 
Locals rent rooms for between four and nine months, according to the firms. The minimum duration of rental at these spaces typically ranges between two weeks and three months.
In the past one-and-a-half years, lyf, a brand by The Ascott, has seen an increase in local young professionals staying at its space in Funan mall for "an extended period", said Mr Norman Cross, general manager of lyf operations in Singapore.
He attributed the change to work-from-home measures implemented amid COVID-19. 
"These guests are switching up their work-from-home environment, finding a new home away from home," he said, adding that there has been "a good uptake" by local and foreign students due to the property's proximity to nearby tertiary educational institutions.
DEMAND FROM SINGLES
The firms said that they see high demand from single locals.
"We see an increasing share from single locals as disposable income grows and pandemic-enforced isolation becomes the norm," said Figment's chief executive, who goes by the name Fang Low.
Cove similarly sees such a trend, with at least 72 per cent of local tenants living on their own, said Ms Jokelson.
At Figment, more than half of its locals are in their 30s, said Mr Low.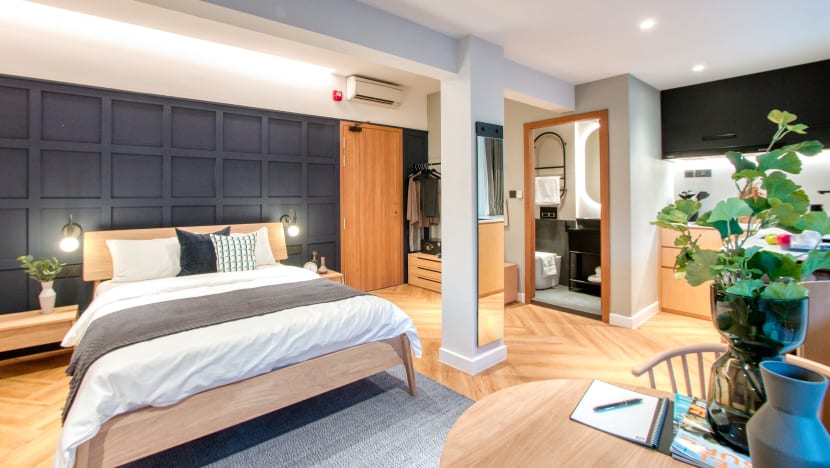 "These Singaporeans tend to be in financial services and tech or Internet-related fields," he said.
Most of the tenants at The Assembly Place are working professionals in finance or start-ups, said the firm's director Eugene Lim. They are mostly in their early 20s to mid-20s, he added. 
Tenants are usually local working professionals and students who "wish to be independent or be nearer to their work or school", said Ms Giselle Makarachvili, chief operating officer of co-living operator Hmlet.
Its residents also include local couples waiting for their BTO homes to be ready, she said. 
APPEAL OF STAYING IN A CO-LIVING SPACE 
The unexpected effect of the pandemic – working from home – may give co-living options some appeal, said property analyst Nicholas Mak. 
"There must be a need that's fuelling the demand – combination of a need for privacy, more space or couples waiting for their flats to be completed," he said. 
The flexibility of the lease for co-living is also a benefit for the tenant, he added. Rental in the private market typically requires at least a one-year commitment.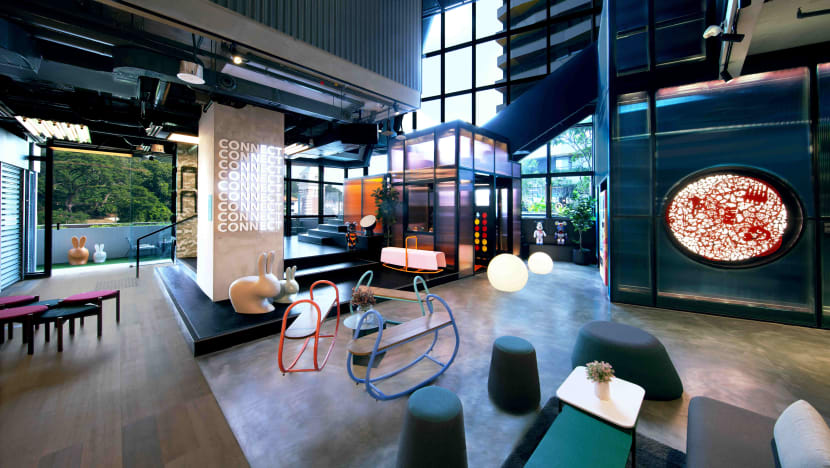 He added that those who previously lived in hostels, studied overseas or had led some form of independent lifestyle during their tertiary days may be embracing the co-living spaces, which provide a sense of community. 
"Moving out of their parents' home is something they have done before. It's not breaking a new barrier," he said. 
Others may want to experiment, he added.
One of the appeals of living in such a space for her was the flexibility of renting one for the short term, said Ms Lim.
She wanted to be able to up and leave should there be an opportunity to work abroad, and also appreciated that she will be able to do a month-on-month extension after her six-month lease ends. 
There are other perks. "I didn't want to worry about maintenance and having to buy my own furniture and things like that, which is also taken care of by co-living spaces," she said. 
She added that being able to live in a shophouse was "quite interesting".
"The likelihood of being able to purchase a shophouse in the future is quite low and I wanted to experience that, so I was willing to pay for that," she said.