Kim San Leng coffee shop chain founder died of haemorrhage after liver biopsy; death ruled a medical misadventure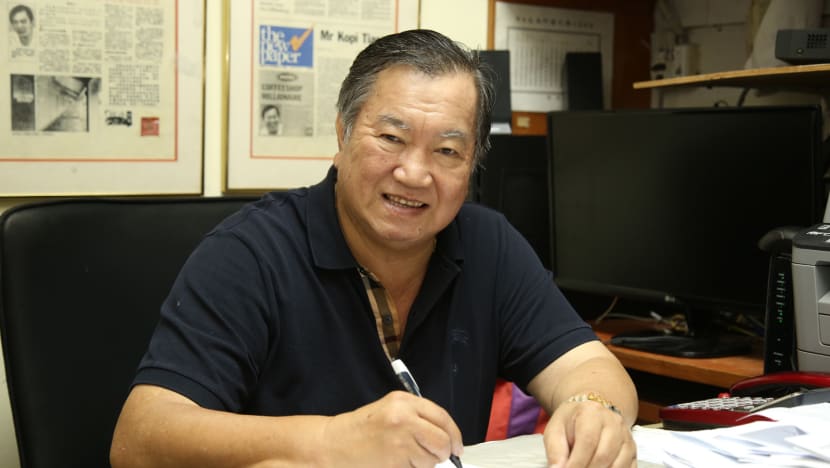 SINGAPORE: The founder of Singapore's Kim San Leng chain of coffee shops died of a massive haemorrhage after a liver biopsy, contributed by advanced lymphoma, a coroner has found.
Mr Hoon Thing Leong, known also as the "coffee shop king", died on Apr 29, 2021, at the Singapore General Hospital. He was 71 years old.
State Coroner Adam Nakhoda ruled Mr Hoon's death to be a medical misadventure.
In his findings made available on Monday (May 15), the coroner said the businessman had a significant medical history which included hyperlipidaemia, hypertension and ischaemic heart disease.
He had a pacemaker inserted in September 2020. In March 2021, he underwent surgery for subdural haemorrhage – a condition where blood collects between the skull and the surface of the brain.
LIVER BIOPSY
In April 2021, the elderly man sought treatment at SGH after complaining of getting more tired.
Mr Hoon had a fever of 39 degrees Celsius with no other symptoms when he saw Professor William Hwang, a senior consultant at SGH's Department of Haematology. He was also the medical director at the National Cancer Centre Singapore at the time and a senior consultant in NCCS' medical oncology division.
Results of a CT scan suggested liver cirrhosis – scarring of the liver – and portal hypertension. Multiple lesions on the liver were found.
Although Mr Hoon's blood count was low and the risks of a liver biopsy were higher, he later agreed to undergo the procedure to determine the cause of his persistent fever and to see if there was underlying cancer.
According to the doctor who carried out the biopsy, which lasted less than an hour, Mr Hoon was comfortable and stable throughout. He was later transferred back to the general ward.
The coroner said the biopsy was done in a "competent and appropriate manner".
CONDITION WORSENED
At about 8.50pm that night, the on-call house doctor noted that Mr Hoon's blood pressure was borderline. Doctors suspected he might have developed sepsis.
At about 1.30am the next day, a ward nurse told a doctor that Mr Hoon appeared breathless and was slightly drowsy. Half an hour later, he suffered a pulseless electrical activity collapse and CPR was started.
His blood pressure started to drop and he had a second collapse. His family was informed of his acute deterioration.
Massive transfusion protocol started, but he developed multiorgan failure. Treatment continued after another CT scan showed where the bleeding might be.
"Unfortunately, despite these efforts, Mr Hoon continued to bleed from various sites and eventually passed away from a massive haemorrhage," said the coroner in his findings.
The autopsy showed there were 4L of liquid blood and 475g of blood clots in Mr Hoon's peritoneal cavity – the space within the abdomen that contains the intestines, stomach and liver.
There was also a puncture mark on the anterior surface of the liver's right lobe that was adjacent to a blood vessel, but there was no macroscopic evidence that any blood vessels had been perforated.
"I found that it was probable that Mr Hoon had bled from the punctures to his liver caused by the percutaneous liver biopsy. This was a known complication of a percutaneous liver biopsy and the presence of (lymphoma) could have contributed to the likelihood of bleeding," said the coroner.
"Unfortunately this known complication came to pass in Mr Hoon's case."
Mr Hoon's son stated that his extended family did not have any issues or concerns to raise with regard to the elderly man's death.
The coroner also found that once Mr Hoon had collapsed, SGH's reaction and treatment were timely and appropriate.
After his death, the coffee shop chain said in a Facebook post: "For those who have met Mr Hoon, his tenacity for life and continuous strive for self-improvement is second to none.
"He founded Kim San Leng in the 1950s, and built the chain from one coffee shop in Hougang to more than 30 outlets around Singapore today."
He also helped other businesses and was an active committee member in the Wushu Association for the 13 years before his death, said the post.