commentary Singapore
Commentary: The age-old question about university rankings
Instead of agonising over how universities are doing in the rankings, it is far more important to understand what these mean to potential hirers, businesses and the universities themselves, argues Kerry Consulting's Pan Zaixian.
SINGAPORE: Recent news reports about Asia-Pacific university rankings have gotten people riled up.
While many Singaporeans use the rankings to pit the National University of Singapore (NUS) against Nanyang Technological University (NTU), others lament the endless stream of university rankings.

"Wasn't there one released just a few weeks ago? Is this one or that one more credible?" asked some readers.
Indeed, it can be confusing what we should pay attention to, when the rank placements of listed universities change frequently depending on what factors each ranking exercise weighs as more important, whether these are the volume of research, the teaching standards or the employability of graduates.
But the fact that we still keep a look-out for these rankings suggest that they do matter.
THEY MATTER TO PEOPLE AND UNIVERSITIES
University rankings matter for those in the professional services and technical professions that demand mastery over their domains and the people they serve.

Part of this is largely psychological, for a highly-ranked school is a proxy for professional excellence, and people generally prefer to collaborate with the best to assure themselves of the highest chance for success.
When you board a driverless car, does the fact that the car was designed by teams of engineers schooled at the highest-ranked university not give you a greater assurance of safety? And when you need a lawyer, isn't it that much more encouraging when you hear that your lawyer comes from the top university in the land?
We also forget that education is an industry in itself. The higher a university's ranking, the more students and funding the school attracts, and the more the faculty gets potentially paid.
If the school doesn't do well in one criterion, it has every incentive to improve its ranking on other indicators.
Governments are also heavily investing in research to enhance their universities' rankings. The Chinese government for instance, announced a year ago that it wanted to see six of its universities crack the elite Top 15 universities by 2030 and has channelled billions into research at various Chinese universities.
Admittedly, it is near impossible to rank all universities across the Asia-Pacific region fairly.

Most large, publicly funded universities are required to provide a comprehensive selection of degrees to equip a country or region's future workforce, whereas smaller independent universities tend to specialise in specific programmes, which can give them a niche advantage.
A generic ranking for a university also tells us nothing about the strengths of a university in a specific course. In that regard, rankings of universities in specific programmes may be more useful.
THEY MATTER TO EMPLOYEES AND BUSINESSES
So who do these rankings matter to? For one, rankings help top companies plan and prioritise their graduate hiring activities and costly campus recruitment programmes. 

Notably, such companies will only conduct university milk-rounds for top-ranked schools. Harvard Business Review reported that in one case, a management consulting firm budgeted nearly US$1 million for engagement and recruitment events in one university alone.
Rankings are also relevant for graduates applying for an overseas position with a foreign company. For hirers screening thousands of resumes from candidates from unfamiliar countries, a knee-jerk coping response is to correlate the quality of the candidate to the pedigree of the university inferred through a recognised university ranking publication.
University rankings are often used as a screening tool for prospective employers to qualify young job seekers for an interview. It can also be easier to get buy-in from superiors to hire someone from a top-ranked university.
When companies start trusting artificial intelligence to screen resumes for hires, the tendency to rely on this statistic of university rankings as a basis to short-list candidates will increase. As it stands, many job descriptions already state a preference for "a good honours degree from a top university".
Naturally, the utility of this short-hand diminishes over time as job candidates accumulate sufficient working experience, enough to establish a professional track record such that his or her schooling history becomes a distant past.
Even then, it remains attractive for a company to state that their top management came from prestigious schools as this bolsters the reputation of their leadership and in turn, their company. Just look at the annual reports of big companies like Changi Airport Group, where the schools of the Chairman and the CEO are mentioned.
There is a subtle difference between branding and ranking. There are universities, like the Singapore Management University, that do not feature highly in recent academic school rankings but are viewed positively given their strong school culture, perceived "cool factor" and extensive alumni network. Graduates from these schools can benefit from a positive hiring bias.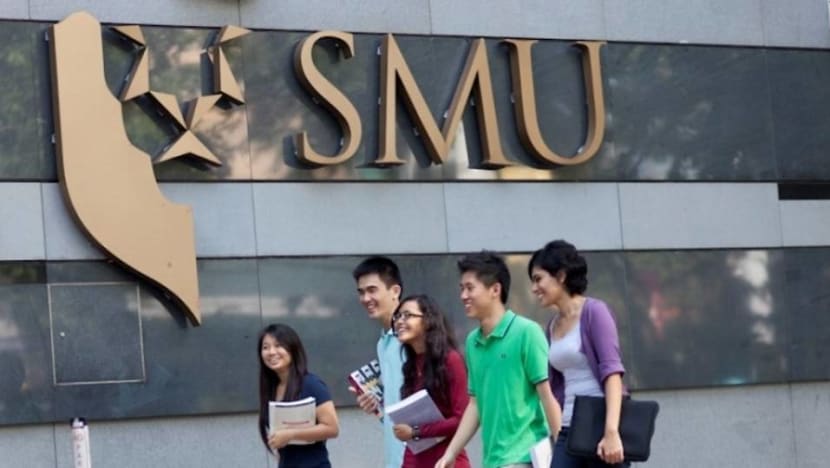 THEY MATTER TO GRADUATES
Naturally, a university pedigree will help young graduates find jobs at the start. Coming from a highly-ranked university sends the signal that this person has potential and is poised for success because they beat many others to get into a top-notch school in their youth.
Yet, for many who do not come from a highly-ranked university, their sheer force of personality and drive may be enough to convince employers that they are a catch, without needing a degree from a highly-ranked university to prove their worth.

The challenge therefore is how young job seekers can attract the attention of a potential employer and score an interview in the first place, if their resumes do not carry a top-ranked or well-known university name.
But make no mistake, graduating from a highly-ranked university will do nothing to save someone who has gotten a job but performs badly in that new position. Their university background could also be held against them in such instances, as they risk being labelled as being only "book-smart".
So to the popular debate whether university rankings matter – they do to hirers and the universities themselves. And if students' key objective is getting a headstart in their working lives, it should matter to them too.
Pan Zaixian is general manager of Kerry Consulting and has more than 10 years' experience in executive search.