commentary Singapore
Commentary: Car or car-less? All depends on the parents
With transport options getting more family-friendly and hassle-free, owning a car makes no sense, says a mother of three.
SINGAPORE: Car or car-less? This is a big decision for any family in Singapore.
Singapore is one of the world's most expensive countries to own a car in, yet many families are not willing to forgo their set of wheels. A recent Channel NewsAsia report highlighted many low-income households who own at least one car. Parents appear willing to pay a high price for convenience when travelling with their children.

With limited financial resources constraining most families, what are parents really giving up in the name of convenience? How much more convenient is owning a car compared to taking public transport when travelling with children?
As a mother of three, I think it is quite obvious that it doesn't make financial sense to own a car.
Owning a car is estimated to cost around S$26,900 a year based on figures from gov.sg. This sum includes loan repayments, petrol, car insurance, road tax, servicing, parking and other miscellaneous payments.

In 10 years, that's a hefty S$269,000. To put this into perspective, the average cost of raising a child in Singapore is S$360,000 but over 20 years.
Using another comparison, the National University of Singapore (NUS) estimates fees for Singaporeans taking a degree in the arts and social sciences to be about S$8,150 a year with a tuition grant. In this example, a basic degree lasting three years would cost an estimated S$24,450.
Owning a car for less than a year could see a child through NUS. It seems owning a car for 10 years could potentially see 10 children through university.
Many experts have said these costs of owning a car are set to rise, with the vehicle growth rate cut to zero, putting upward pressure on Certificate of Entitlement prices and as Singapore moves toward becoming a car-lite country.
A RIDE IS A BUTTON AWAY
Having a car is admittedly very convenient - one can hop into it anytime and drive away. However, the ubiquity of Grab and Uber now means that a ride is only a touch of a button away. It has indeed changed the world of on-demand rides. 
Are travelling times with a car really shorter compared to taking public transport? With more train lines and stations, travelling time between places on public transport has been cut down dramatically in recent years.
A search on gothere.sg indicates that a drive from Bishan MRT Station to Bugis MRT Station will take 14 minutes, while a train ride from Bishan to Bugis MRT Station will take 27 minutes. That is 13 minutes quicker by driving.
That is almost double the time needed to get there by MRT compared to driving, one might think. Yet, with driving, there are traffic conditions to consider and a need to queue and wait for parking, not to mention exorbitant parking rates. Because of this, the absolute travelling time for driving might be longer than stated, and much closer to the travelling time on the trains so little time is saved.
And if train delays or disruptions are the new normal, then better for your kids to get used to that now than to shield them from another of the realities of life in Singapore.
A positive move by the Government this year was to allow strollers to be left open and pushed on board buses. This new rule has definitely increased the ease of travelling with children on board buses. Parents no longer need to empty and fold the stroller while holding on to their child before boarding a bus.
Bags can also be stored under or on the stroller. More importantly, sleeping children in strollers can continue their slumber throughout the travelling journey in a train or bus, with parents left in peace.
DO SOME FORWARD PLANNING
Travelling on public transport with children may seem daunting to some, as parents consider having to manage their children on the bus or train. Here's where some forward planning and preparation can make the journey more pleasant.
Packing a story book or some small toys may entertain the children during the ride. Having your older kids carry a small backpack helps to even the load. Having a lightweight and easy-to-fold stroller will do wonders, as will having a sturdy baby carrier that straps your infant onto you.
Travelling together as a family on public transport can also be a time for family bonding. The time can be spent chatting and playing hand or word games. 
It definitely beats eyeing the road all the time.
People say it's hard to take public transport when it rains but even with a car, I would probably get drenched trying to get the kids into their car seats. And a good stroller cover and good raincoat can keep the elements out. For us, our walk to the bus stop is completely sheltered, keeping us dry on rainy days.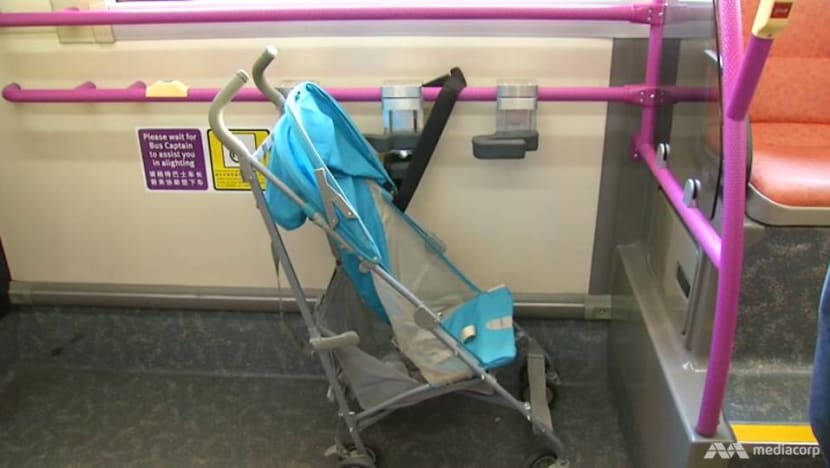 Psychologically, owning a car seems like the most convenient option to move around. It was incredibly hard for our family to give up our car but after more than two years, the experience hasn't been that painful.
More painful I think are the other things you have to give up to own that set of wheels – family trips and other experiences and outings for the kids. 
With the increase in train lines and stations, travelling time between places without a car may not be as significantly different anymore, compared to driving a car.
Hassle can be managed if you plan well and public transport avenues have also become more child-friendly over time. The choice between going with or without a car may be getting clearer by the day.
I've heard many parents lament about car costs but not once have I heard my own kids complain about not having a car anymore.
So in the debate about cars and the convenience they offer families, it seems it's not the kids we have to look out for but the parents.
Lo Huimin is a mother of three and owner ShopaholicMin & Co, a blog that discusses parenting, education and other lifestyle issues in Singapore.