commentary Singapore
Commentary: Is golf dying in Singapore?
While the closure of golf courses to make way for the high-speed rail project presents short-term problems, the sport in Singapore may have other major issues to deal with as it wrestles with an uncertain future.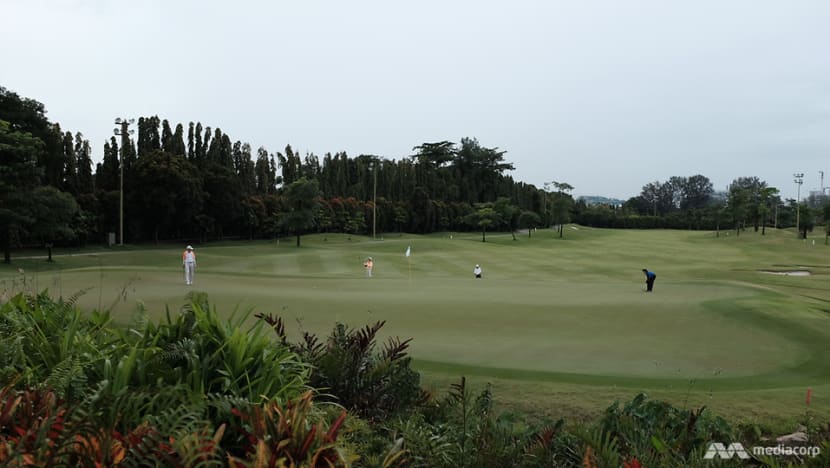 SINGAPORE: The first proper golf course that I'd ever swung a golf club on was Raffles Country Club (RCC). A friend had snuck me on. We were teenagers - he a top junior, and me a hanger-on just starting to fall in love with the game. We zoomed round the course in our buggy, laughed at my duffs and tops, finished as dusk fell, and by the time we were done, I was hooked.

It must have been around 1988 or so, when the club had just opened. With the news now emerging that the Government has acquired the land on which the club sits, it's almost poetic that I too found my love affair with golf coming to an end.
On Wednesday (Jan 4), RCC's July 2018 date with destiny was announced, just days after golfers played their last rounds on Jurong Country Club. Both will make way for the Singapore-KL High-Speed Rail project, and this comes on top of news in recent years that other leases will lapse. In time, Keppel Club, Marina Bay Golf Club and Orchid Country Club will go. The Singapore Island Country Club (SICC), Tanah Merah Country Club and National Service Resort and Country Club will see parts of their courses reduced in size as well.
This has only sharpened the usual hand-wringing among golfers on the state of the game in Singapore.
Of course, on the other side of the fence are the non-golfers, who argue that this will be for the best. There will be better and more productive uses of land than to have manicured Bermuda grass, sand, water and men walking around in neon.
The game is dying, they all proclaim. And they may be right.
If so, it's probably not just because of the land that's being taken away. The game may be suffering from a deeper-lying affliction.

SO MUCH FOR SO FEW
In August 1940, Winston Churchill paid tribute to the Royal Air Force, fighting over the skies of Britain against the might of the German Luftwaffe.

"Never in the field of human conflict was so much owed by so many to so few," he said.
Well, as far as sports in Singapore goes, the slogan for golf might be: Never has so much been given to so few.
And it's not just the land that goes with golf courses. It's the basic accessibility to a sport that, at its core, must be one of the most beautiful games around. You're at one with nature. You compete with no one but yourself and your inner demons. You're bound by the highest standards of honour and self-regulation. Spend five hours with a man over golf, and you'll see his inner self.
It's an honourable game. But it was also meant to be a democratic game. And that's where it lost its soul in Singapore.
Under the guise of land scarcity, expensive and exclusive country clubs have become the reserved domain for golfers. Playing golf, and wanting to do it regularly, means being a member of a club, if not in Singapore, then in Johor or Batam. The point, however, is that this never needed to be the operating premise. Golf can be much more public. Land scarcity does not necessarily mean exclusivity. That exclusivity was manufactured.
Under the guise of maintaining standards and care for golf courses, golf also became a sport that demanded that someone be judged minimally competent (and that's the damned PC or proficiency certificate) before they can even set foot on a golf course. And then having to religiously submit your scores before you get to be assessed (again!) for the holy grail of a handicap. Imagine being told you had to get your tennis skills judged before being allowed on a court. Like private clubs, it doesn't necessarily have to be this way.
The walls were built early, and these walls that kept people out will ultimately spell the demise of the game here.
GOLF'S SELF-LIMITING TENDENCIES
Gazing beyond our own navels, it's interesting to see what's happening to golf in the US and Europe. On the one hand, signs are that participation rates in America are falling, even as golf remains as accessible as ever. It's been called a demographic challenge, as golfers get older and fewer young ones come on board. The years of Tiger Woods are long gone. Most of the kids who appeared in the famous "I am Tiger Woods" Nike commercials are probably now in their 20s, and I'll bet they aren't playing any golf, and probably a little bit embarrassed at what they said. They're also likely to be millennials. What? Golf?
Over in Europe, the story is different. There, participation rates in the UK are apparently growing. And where do the numbers come from? The young ones. According to the European Tour, what has helped has been the creation of all sorts of different formats apart from the five-hour 18-hole rounds. Pitch and putts, 9-hole courses and shorter par-3 courses. In essence, it's been about increasing access, both in continuing to lower barriers to entry, and in adapting the game to bring in a younger generation.
Surely, there's something to learn from that. Adapt, and the game survives. Don't, and it could die.
NO MORE AN ASPIRATIONAL GAME
It's been said that to estimate how good a person will ever be at golf, you take the age at which he first started (e.g. 24); then you divide it by 2 (therefore 12). And that's the lowest handicap that they'll ever get to. From empirical evidence of two - me and my father - I'd say that's not inaccurate. I started early; he started late, encouraged by his kids.
It's therefore meant to be a game that's started as young as possible. And not one started as a mid-life aspiration.
I'm now in almost complete golf retirement. I've not swung a club in years, and I've fallen out of love with the game. I fell out of love when it became clear to me that it had become just that - another Singaporean aspiration.
For it to ever make any sense in Singapore, it must shake off its tag as an aspirational sport. It can be a mass sport, one that is truly open to the public, and re-moulded from its cloistered, old-boy, patriarchal self. It can be done. We still have enough courses.
The question is whether those who hold on will ever let go. Will we see the day when most, if not all, of our golf courses are fully public? Will we see the day when those who run the closed clubs open (or be asked to open) their doors even more, to bring in a new, more inclusive golf that encourages kids to step onto the greens?
The Government has already sent its signals. The gesture sent in making SICC set aside one of its 18 holes for the labour movement is small, but also strong.
As another country club bites the dust, there is no better time for some introspection in the golfing fraternity on the future of the sport. One future is an inclusive revival.
Another future is a quiet death, as course numbers shrink along with active golfer numbers. If that happens, it will unfortunately be entirely self-inflicted.
Jaime Ho is the Chief Editor of Digital News at Channel NewsAsia.