commentary Singapore
Commentary: Traditional Chinese Medicine physicians must safeguard the industry's reputation
Where cases of malpractice arise among the TCM community, the greatest cost is borne not by the doctor but by the TCM industry as a whole, says Nanyang Technological University's Goh Chye Tee.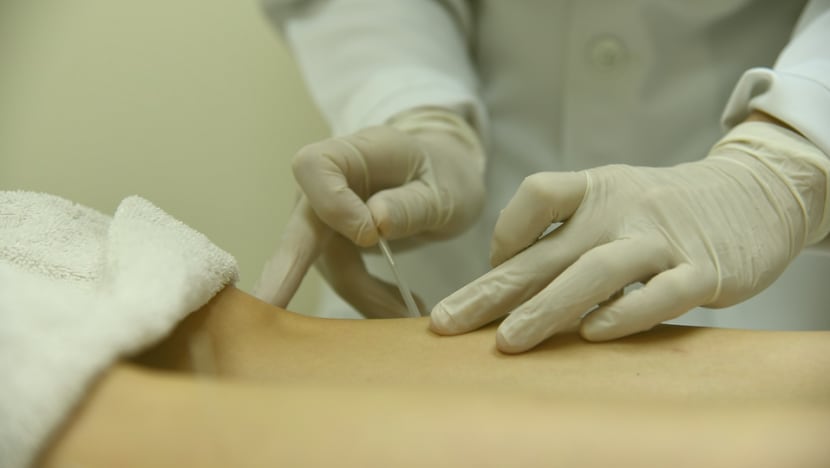 SINGAPORE: Two weeks ago, a traditional Chinese medicine (TCM) physician was suspended and fined S$10,000 after one of his patients experienced chest pains and lost consciousness following "blood-letting" therapy.
The Traditional Chinese Medicine Practitioners Board (TCMPB) said the physician had not carried out "appropriate TCM inquiries" on the patient's medical history and did not inform her about the treatment options for her cough, the risks and complications of the blood-letting therapy.
This has sparked discussion on what must be done to ensure physicians dispense their duty appropriately.
ACCREDITATION TO ENSURE PROPER TRAINING
In Singapore, TCM physicians are required to be licensed by the TCMPB before they are allowed to practise.
This accreditation ensures physicians are trained with the necessary knowledge and skills, and have passed the Singapore TCM Registration Exam administered by the TCMPB. As with most other professionals, there is also an ethical code of conduct that they must adhere to.
The license assures the public of a baseline level of competency when seeking treatment. However, similar to Western medicine, a doctor's licence to practise cannot eliminate malpractice altogether.  
Malpractice encompasses a wide variety of ways in which a professional may do his job poorly, arising due to information asymmetry, miscommunication, negligence, poor judgment, a failure to exercise due care and diligence, unethical or criminal intent and so on.
It is regrettable when cases of malpractice emerge, for that means a patient has not received the deserved standard of care. Yet, barring cases with unethical or criminal intent, the great majority of physicians act with their patients' interests in mind.
Physicians are well aware of the high personal costs of malpractice accusations, which can be accompanied by enquiries, lawsuits, compensation and a licence suspension.
What they must bear in mind more seriously, however, is the damage done to the reputation of the TCM industry as a whole. The harm inflicted on a patient one has a duty of care towards, and the negative impression the public may form of TCM cannot be quantified in monetary terms.
As Prime Minister Lee Hsien Loong has noted recently, where TCM institutions will play an increasingly important role as Singapore's population ages, TCM practitioners must raise their standards.
Continuously improving the quality of TCM services at the industry level is thus of paramount importance.
EXPANDING UNDERSTANDING
These days, patients are tech-savvy and more willing to seek out different ways of maintaining their health, such that many try out an assortment of treatment from Western, TCM and alternative medicine simultaneously.
Thus, physicians must not only know the latest technology and treatment methods within their own fields, they must also constantly brush up their understanding of other medical trends and treatment options.
News reports have illustrated a growing number of doctors trained in Western medicine taking up TCM-related certification, such as acupuncture, to complement their practice, whether in performing such treatments or simply to communicate advice to a more diverse set of patients.
Similarly, TCM physicians must not rest on their laurels but do the same to polish up on their knowledge. This can better help meet patient expectations and reduce mishaps, as have occurred in the past when a patient consuming TCM remedies also underwent Western treatment.
One can acquire such knowledge through self-improvement and professional development courses. Asking the patient about his previous diagnoses and what other medication he's on should become part of a standard protocol to strengthen the appraisal process.
COMMUNICATION IS KEY
Another area where practice failure frequently occurs is communication.
TCM concepts and theories are abstract and different from Western medicine, especially to the uninitiated. As patients are more exposed to modern science and Western medicine, it can be challenging for physicians to explain TCM's approach clearly.
To reduce misunderstanding and consequential practice failure, physicians could improve on their communication skills, and use simple and plain language to explain TCM diagnoses and therapies. Customised courses which combine communication with total quality management could be organised as part of the professional development training for TCM physicians.
The increasing number of young TCM physicians with knowledge of both Western and traditional medicine illustrate budding recognition that both schools can complement each other.  
This is an opportunity for TCM physicians and Western healthcare providers to view each other not as competitors but collaborators, working together to formulate the most effective medical approach for patients. To achieve this, medical practitioners must be open-minded and hold fast to the common goal of delivering the best quality healthcare service to patients.
In the training of doctors and physicians, the syllabi already contain both Western medicine and TCM topics to facilitate mutual understanding. To further narrow the gap, more shared seminars and relevant professional development courses can be organised to facilitate learning and networking.
Like most other continuous education programmes, the attendance of these courses should count towards the required number of hours needed for the renewal of practice licences for doctors and physicians alike.
A spirit of continued learning and improvement should contribute towards the creation of a comprehensive healthcare system that benefits all Singaporeans.
Dr Goh Chye Tee is director of the Biomedical Sciences and Chinese Medicine programme at Nanyang Technological University, Singapore. ​​​​​​​