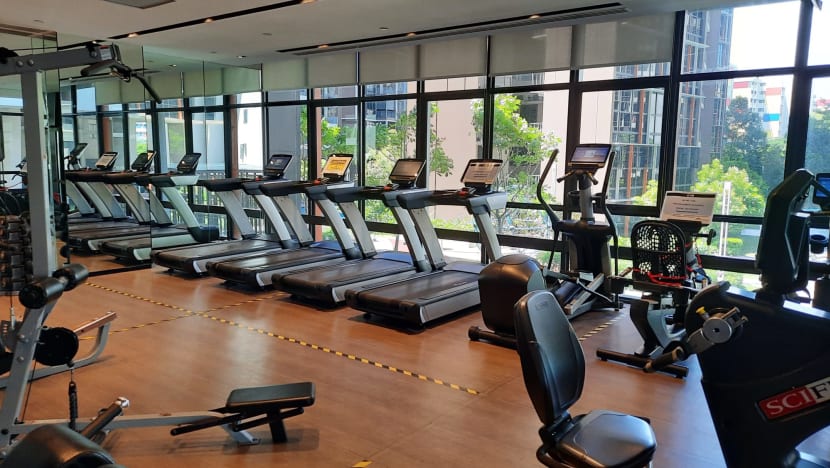 SINGAPORE: Several condominiums have cut off unvaccinated residents' access to gym facilities, amid a wider push towards COVID-19 vaccination-differentiated rules for various settings.
At some estates, access to the gym has been deactivated for all residents. To use the gym, residents have to show proof of their vaccination status to security guards to get an access pass.
This comes after a recent Sport Singapore (SportSG) advisory that said high-risk activities – defined as those held indoors without wearing masks – must be capped at five people, all of whom must be fully vaccinated.
"If any one of the participants is not fully vaccinated, then such activity is prohibited," the advisory says.
One condominium making such a move is Terrasse in Serangoon. In a circular to residents, the management said the restriction is in line with official advisories to "reduce the spread of COVID-19".
"We seek your understanding and cooperation for the safety and health of all residents of Terrasse," the circular said.
Several other condominiums are implementing similar rules, such as Kovan Melody in Kovan, The Panorama in Ang Mo Kio, Northpark Residences in Yishun, Boathouse Residences in Serangoon and The Santorini in Tampines.
At Kovan Melody, the condominium's two-storey gym has been locked electronically and only five access cards are available, said Mr John Anil, a director at Smart Property Management, which manages the estate.
At The Panorama, only fully vaccinated residents can use its two gyms and usage is limited to an hour. Guests or non-resident trainers are not allowed, said the management.
Other condominiums, such as Sims Urban Oasis in Aljunied, have resorted to placing security guards outside gyms to restrict access.
A guard verifies each person's vaccination status before allowing them to enter. If the guard is not present, residents must go to the guardhouse to obtain a pass, said Mr John, whose firm also manages the development.
He added that some of the condominiums under their management initially considered allowing both vaccinated and unvaccinated residents to use the gyms. But that would mean users would have to keep their masks on, and gyms would not be allowed to provide equipment, according to SportSG's rules.
If condominiums are unable to implement vaccination-differentiated measures, the alternative is to shut these facilities.
Ultimately, many condominium councils decided to err on the side of caution.
"They're scared because of one reason: They do not want any clusters in (the) estate," said Mr John. "Why are we allowing two sets of rules, when we can make it simpler – just one set of rules?"
BLANKET RULE HELPS AVOIDS CONFUSION
In its advisory, SportSG said certain groups could get around the vaccination-differentiated rules.
These exceptions apply to unvaccinated people with a valid negative result on a pre-event test from approved medical service providers, taken in a certain window – or recovered COVID-19 patients.
These people "are of similarly lower risk, and may also join in the group of fully vaccinated individuals", said SportSG.
But condominium management teams CNA spoke to said they will stick to the blanket rule of only allowing fully vaccinated residents to use the gyms, as it is more practical to enforce, especially in a tight manpower situation.
One resident of Sims Urban Oasis agreed that keeping the rules simple avoids "confusion and difficulty in enforcement".
"I feel it's a safer approach, given it's a combined space and they are protecting the welfare of unvaccinated residents," said the resident, who wanted to be known as Mr Ong.
"And in a gym, it's very challenging to do exercise with masks on … Better to play safe."
For now, manual verification works until a better, automated method is available, he said.
A resident of The Panorama agreed that "in this climate, it's definitely safer for individuals to be using the gym vaccinated". This is especially if one cannot be certain about sanitisation procedures, she said.
But the resident, who wanted to be known only as Ms Phua, noted that it could be inconvenient to obtain a gym pass from the guardpost.
Indoor dance and wellness studios in condominiums also face similar vaccination-differentiated rules, such as how masks can be removed only if everyone is fully vaccinated. But unvaccinated residents may still book these facilities for their own use, said Mr John.
Swimming pools do not require vaccinated-differentiated safe management measures, but rules on capacity limits still apply.