SINGAPORE: Connaught Drive and Anderson Bridge will be fully pedestrianised as part of plans to further enhance the "walkability" of the Civic District, said authorities on Friday (Nov 5). 
Visitors will be able to enjoy a "seamless walking experience" between Esplanade Park, Empress Place and the Padang once works are completed.
Members of the public will also be able to easily access the historical and arts offerings of the area on foot, said the Land Transport Authority (LTA), National Parks Board (NParks) and Urban Redevelopment Authority (URA) in a joint press release. 
Connaught Drive will be fully closed to motorists as an extension of Esplanade Park and Anderson Bridge. Previously, Anderson Bridge only allowed pedestrians on one side. 
Changes to traffic arrangements in the area will be implemented from end-December this year.
These plans were first announced at the Ministry of Transport's Committee of Supply debate in March 2021. 
The authorities said the start of works follow a series of engagements with various stakeholders over a four-month period since May this year, which yielded useful suggestions on ways to improve the pedestrians' experience when they explore the Civic District. 
"Agencies will continue to take into consideration stakeholders' feedback in subsequent works to improve placemaking and wayfinding in the precinct," they added. 
Changes to traffic arrangements
Connaught Drive, Anderson Bridge and Fullerton Road will be closed to all vehicular traffic. Only pedestrians will be allowed.
The coach pick-up and drop points at Connaught Drive will be relocated to the nearby roundabout at Fullerton Road and Connaught Drive junction.
Bus stop BS 02029 will be relocated to Esplanade Drive. Bus services 75, 100, 107, 130, 131 and 167 will be diverted to Esplanade Drive instead. 
Reconfiguration works at the junctions of Parliament Place and St Andrew's Road, Fullerton Road and Connaught Drive, as well as Fullerton Road and Esplanade Drive.
Once Anderson Bridge and Fullerton Road have been converted to allow only pedestrians, Parliament Place will reopen to all vehicles from end-December 2021.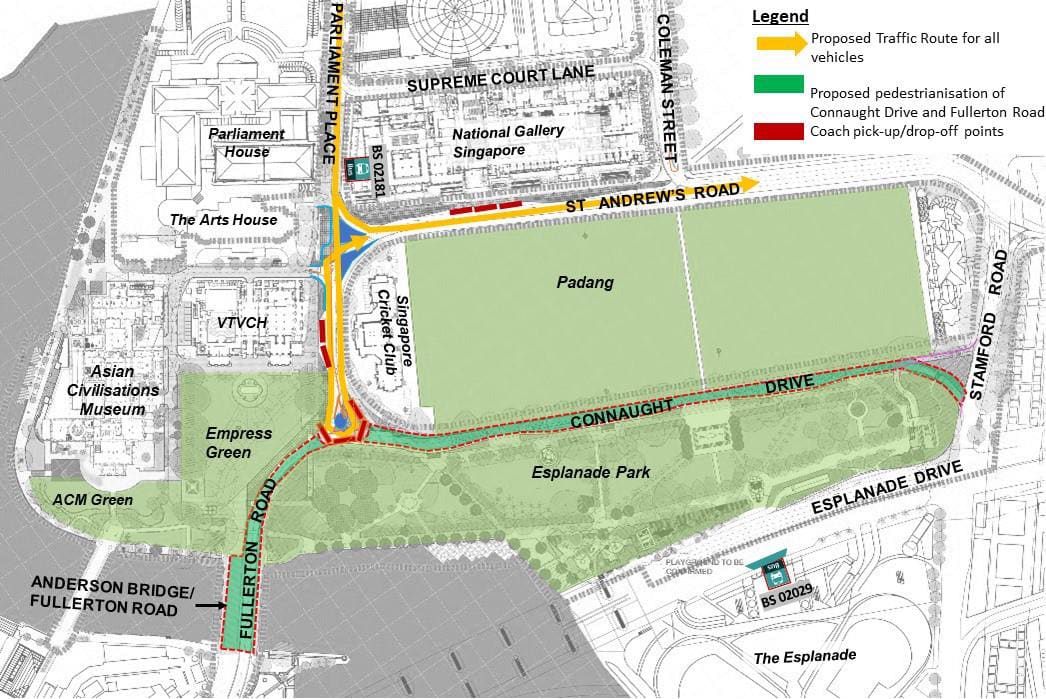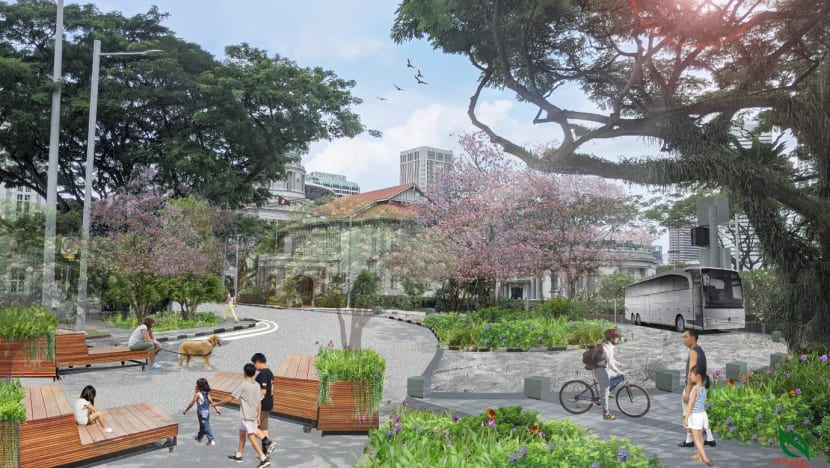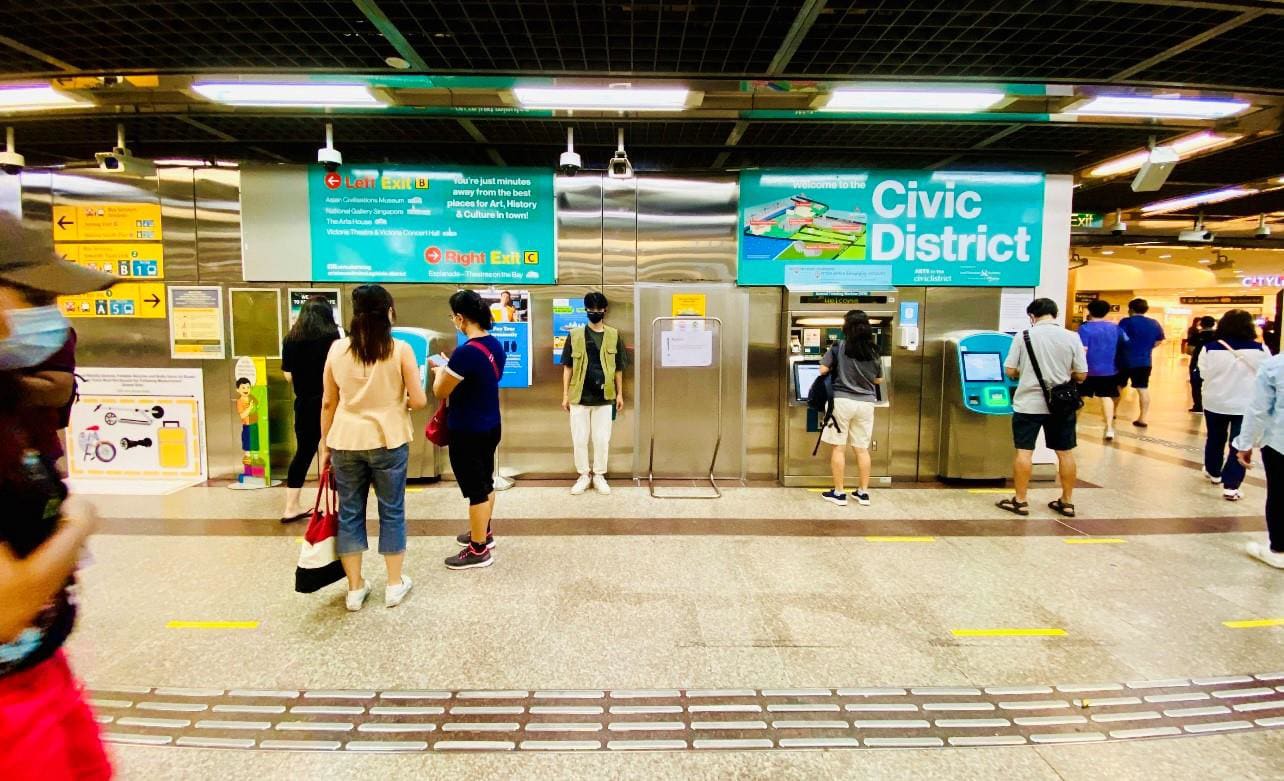 Moving forward, the authorities said agencies will also work with stakeholders to plan open spaces to hold outdoor programmes for visitors, so as to bring "greater vibrancy" to the entire area. 
The Civic District Alliance said that it was "happy to work with LTA to increase awareness and make the precinct more welcoming to the wider community".
"These pedestrianisation plans are remarkable first steps to improve navigation and pedestrian connectivity not just within the area but beyond the Civic District in the future," said the alliance. 
NEW SIGNS AND POSTERS AT MRT STATIONS
New signs and information posters will also be rolled out at the City Hall and Raffles Place MRT stations from Friday, as part of improvements to placemaking and wayfinding in the area. 
The signs and posters will be located prominently along walkways leading to the station exits and wall spaces above the ticketing machines near the faregates. 
"With these posters, visitors will be able to easily obtain information on nearby iconic places of interest such as the National Gallery Singapore and The Arts House," said the authorities.
LTA Chief Executive Ng Lang said: "The Civic District is home to some of our most significant historical monuments and cultural institutions, and the birthplace of modern Singapore.
"This is an effort by several agencies over several years to restore the beauty of the public spaces here." 
Mr Ng added that he hopes that visitors can walk "in leisure" to enjoy a glimpse of the past without having to compete with vehicular traffic. 
LTA said it also intends to study public feedback and effectiveness of these placemaking and wayfinding initiatives, as well as work with stakeholders of other precincts of interest to bring their "distinct identities" into the MRT stations where possible.