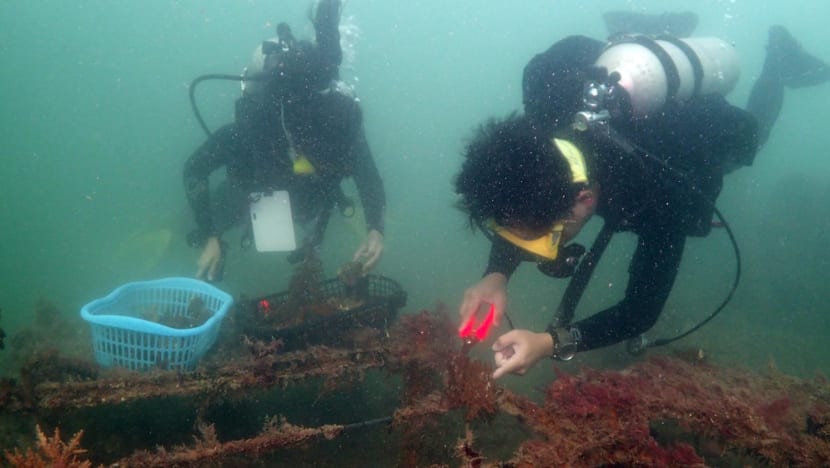 SINGAPORE: Recreational divers keen to do their part to monitor and conserve local reefs may now do so through a new citizen science programme called Reef X.
The programme, an initiative by non-profit conservation group Marine Stewards, will support multiple coral reef research and conservation efforts in Singapore.
Working with the National Parks Board (NParks), the organisation aims to train about 60 divers this year in basic reef survey techniques, including sealife identification, as well as photo and video documentation of reefs. 
They will also learn how to spot threats like coral bleaching and to maintain and upkeep coral nurseries. The data collected will help experts monitor the health of the corals.
"Documenting the reefs' biodiversity through images and videos will offer a glimpse of the biodiversity that occurs on our reefs. Over time, the data collected will give an indication of decline or recovery of the reef," said Dr Jeffrey Low, senior manager at NParks, on Wednesday (Apr 13).
It will be the first citizen science programme to work with various research stakeholders in Singapore.
While it will start off with "entry level" techniques so that the average scuba diver will be able to participate and contribute, there are hopes to groom participants in more advanced techniques over time, said Ms Andrea Leong, programme director at Marine Stewards.
The skills can be applied to different research topics, and ReefX hopes to be a platform with citizen science divers available for any research programmes if they are looking for volunteers, said Ms Leong.
"ReefX by Marine Stewards is a small but critical first step in training up a new generation of citizen scientists skilled to provide us with important reef data," said Dr Karenne Tun, director for coastal and marine at NParks' National Biodiversity Centre.
"Many small data points combined together will give us valuable insights that will be channelled to multiple coral reef research and government initiatives."
Dr Tun explained that conserving coral reefs can protect Singapore from the effects of climate change as reefs help to break wave energy, stave off flooding particularly in small island states and atoll nations, reducing coastal erosion.
In addition to the ReefX programme, Marine Stewards has raised S$120,000 of donations for six Reef Enhancement Units (REU) under the Plant-A-Coral Seed-A-Reef (PACSAR) programme. REUs are manmade structures that provide substrate for reefs to grow on.
In its sixth year, PACSAR aims to restore and enhance barren reefs by installing REUs and outplanting corals to help to increase marine habitats for marine life. 
Marine Stewards has also committed to the maintenance and upkeep of the coral nursery on St John's Island for six months. 
Singapore's waters are home to more than 250 species of hard corals, a third of the global total, despite only covering less than 1 per cent of the world's surface. 
"During COVID, programmes were stopped because of limits on group sizes and gatherings. At the same time, a lot of scuba divers started diving locally and are now a lot more appreciative of our local marine biodiversity," said Marine Stewards' Ms Leong.
"As an avid scuba diver myself, I personally know of many including myself who have the desire to participate in conservation activities, but are constrained by the limited availability of such programmes especially in the local scene. 
"Now is a great time to kickstart a programme like ReefX, to give scuba divers an opportunity to participate in local marine conservation."
There will be three course intakes for ReefX, each lasting two months, and the programme will run from July to December. 
Scuba divers with experience diving in local waters, who are able to maintain good buoyancy in conditions of limited visibility and unpredictable currents are invited to apply for ReefX at https://www.marinestewards.org/reefx.