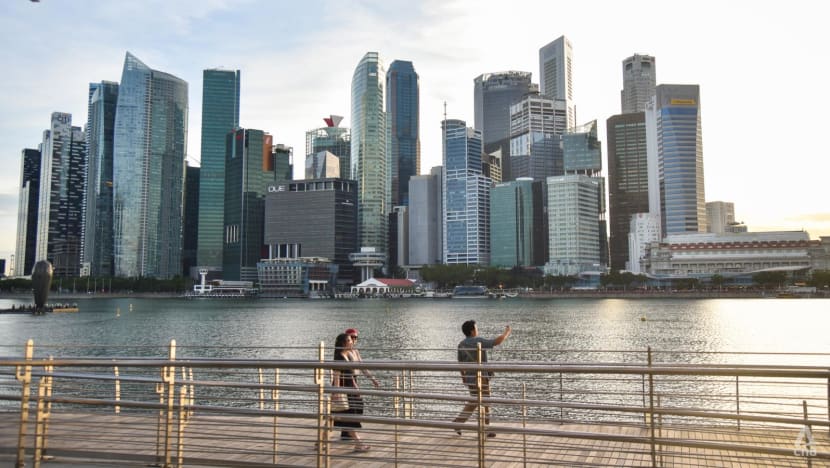 SINGAPORE: Singapore's core inflation continued its downward trend, falling to 3.8 per cent year-on-year in July, the lowest level in more than a year.
The decline from 4.2 per cent in June was due to a smaller increase in food prices and a fall in electricity and gas costs, said the Ministry of Trade and Industry (MTI) and the Monetary Authority of Singapore (MAS) on Wednesday (Aug 23).
The last time core inflation was lower than 3.8 per cent was in May 2022, when it was 3.6 per cent.
Core inflation had risen to 5.5 per cent in January and February this year, a 14-year high, before trending downwards in the following months.
Core inflation excludes accommodation and private transport costs.
Overall inflation fell to 4.1 per cent on a year-on-year basis in July, down from 4.5 per cent in the preceding month.
"This reflected lower private transport inflation, in addition to the decline in core inflation," said MTI and MAS.
SECTORS
Food inflation eased to 5.3 per cent in July as the pace of increase in the prices of prepared meals and non-cooked food moderated.
Electricity and gas costs fell due to lower tariffs compared to a year ago. The regulated electricity tariff for households, inclusive of Goods and Services Tax (GST), fell at a steeper pace of 7.2 per cent in the third quarter of the year, compared to the 0.9 per cent decline in the preceding quarter.
Gas tariffs for households, inclusive of GST, dropped 4.2 per cent in the third quarter, compared to the 1.0 per cent increase in the preceding quarter.
Retail and other goods inflation edged down to 2.6 per cent on the back of a smaller increase in the prices of clothing and footwear.
Services inflation was broadly unchanged at 3.6 per cent as a smaller increase in the cost of outpatient services and a decline in air fares were offset by a larger increase in holiday expenses.
Private transport inflation declined to 4.8 per cent in July as car prices rose more slowly.
Accommodation inflation inched up to 4.6 per cent due to an increase in service and conservancy charges from a year ago.
On Jun 1, it was announced that 15 town councils would raise their service and conservancy charges over two years. Eligible households will continue to receive their usual rebates.
OUTLOOK
Core inflation is expected to moderate further over the next few months as imported costs stay low compared to year-ago levels and the current tightness in the domestic labour market eases, said MAS and MTI.
For 2023 as a whole, headline inflation is expected to average 4.5 to 5.5 per cent, while core inflation is expected to average 3.5 to 4.5 per cent. Excluding the transitory effects of the one percentage point increase in GST, headline and core inflation are expected to come in at 3.5 to 4.5 per cent, and 2.5 to 3.5 per cent respectively.
Global supply chain frictions have largely eased, and energy and food commodity prices remain below levels from a year ago. Consumer price inflation in Singapore's major trading partners has also been easing.
As a result, the prices of Singapore's imported goods have continued to decline in year-on-year terms.
Domestically, unit labour costs are expected to rise further in the near term, although at a slower pace. Businesses are likely to continue passing on higher labour costs to consumer prices, but at a more gradual rate amid the slowdown in domestic economic activity.
With the increase in Certificate of Entitlement (COE) quota and the ramp-up in housing units for rental, private transport and accommodation inflation are expected to moderate over the course of the year.
"Upside risks remain, including from fresh shocks to global food commodity prices and more persistent-than-expected tightness in the domestic labour market," said MAS and MTI.
"At the same time, there are also downside risks such as a sharper-than-projected slowdown in the global economy which could induce a general easing of inflationary pressures."