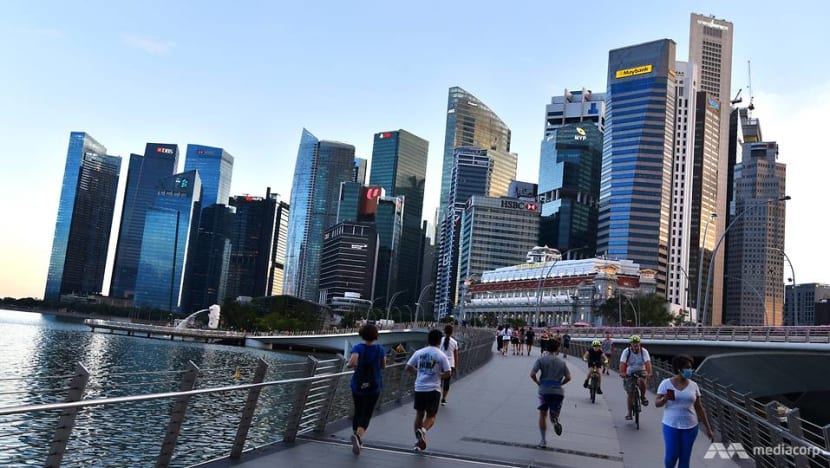 SINGAPORE: Consumer prices in Singapore continued to rise in September, due in part to higher food as well as electricity and gas prices, official data on Monday (Oct 25) showed.
Core inflation - which excludes accommodation and private transport costs - edged up to 1.2 per cent year-on-year, an increase from the 1.1 per cent in August. 

Meanwhile, the headline consumer price index, or overall inflation, edged up to 2.5 per cent year-on-year in September, from 2.4 per cent in August, according to figures from the Monetary Authority of Singapore (MAS) and the Ministry of Trade and Industry (MTI).
This reflected higher inflation for accommodation and food, said MAS and MTI.
Analysts on Monday noted that inflationary pressures were building, adding that they do not expect any near-term respite.
"Labour vacancies remain elevated and could add to latent price pressures as the economy reopens amid a lag in hiring," JPMorgan Chase's Sin Beng Ong wrote in a note.
Ms Selena Ling, chief economist and head of treasury research and strategy at OCBC Bank, said that several factors could also potentially add "more persistent cost pressures" in the coming months.
"There has been some discussion about the planned GST hike, the implementation of potential wealth taxes to address the growing income inequality problem, and the need to hike the carbon tax to better combat climate change, albeit the timing of these measures are not yet confirmed," said Ms Ling.
"This is in addition to earlier announcements to expand the Progressive Wage Model in September 2022, as well as the hints of forthcoming price hikes for public transport, education and healthcare fees.
"Taking all these into consideration, the anticipated inflation trajectory is one where the business and consumer mindsets have to adjust and adapt to more persistent cost pressures in the coming months," she added.
RISE IN FOOD PRICES, ELECTRICITY & GAS
Food inflation rose to 1.6 per cent in September, up from 1.5 per cent in August, as the prices of non-cooked food and prepared meals increased at a slightly faster pace.
Electricity and gas prices picked up more sharply, recording 9.9 per cent, from the 9.7 per cent in August. This was on back of the larger increase in average electricity prices paid by households under the Open Electricity Market, said MAS and MTI.
The cost of retail and other goods remained negative, falling at the same pace of 1.1 per cent. The smaller drop in the prices of clothing and footwear was broadly offset by lower inflation for personal effects and the larger decline in the prices of non‐durable household goods, the authorities said. 
ACCOMMODATION UP, PRIVATE TRANSPORT UNCHANGED
Accommodation prices rose in September to 1.9 per cent, from 1.7 per cent in August. This was due to housing rents rising at a faster rate, said MAS and MTI. 
Private transport inflation remained unchanged at 10.8 per cent, as car prices rose at a pace similar to that in August. The stronger price increase for motorcycles was balanced out by the steeper decline in other private transport costs, the authorities said.
The cost of services remained stable as well at 1.2 per cent. MAS and MTI attributed this to the pickup in inflation for holiday expenses and hospital services, which was offset by lower inflation for point‐to‐point transport services and recreational and cultural services.
INFLATION OUTLOOK
MAS and MTI projected a steady increase in core inflation in the quarters ahead, on the back of rising imported and labour costs, as well as the recovery in domestic economic activity.
The authorities said that core inflation – a key policy consideration for the central bank – will come in near the upper end of the 0 to 1 per cent forecast range this year and increase further to 1 to 2 per cent in 2022.
Overall inflation is expected to come in around 2 per cent this year and average 1.5 to 2.5 per cent next year. 
Accommodation inflation should "remain firm" and continue to support overall inflation in 2022, amid construction delays. 
Private transport inflation would likely to moderate next year on the back of a slower pace of increase in COE premiums and petrol costs, the authorities said.
As Singapore transits towards managing COVID‐19 as an endemic norm, the domestic labour market recovery should continue, said MAS and MTI.
Wages have picked up and is anticipated to "rise at a steady pace" as slack in the labour market dissipates, they added. 
The authorities projected that consumer demand should increase, allowing greater pass-through of accumulating business costs to consumer prices.
As for global inflation, this remained "elevated" and would likely to persist for some time, said MAS and MTI. 
"Crude oil prices rose recently on the back of the OPEC+ decision to keep supply increases modest, while demand for oil also picked up following the rally in global natural gas prices."
Supply-demand mismatches in various commodities and goods markets as well as "bottlenecks" in global transportation were likely to continue in the near term, they added. 
They also expected the underlying inflation in Singapore's major trading partners to gradually increase, as the global and regional recovery progress.