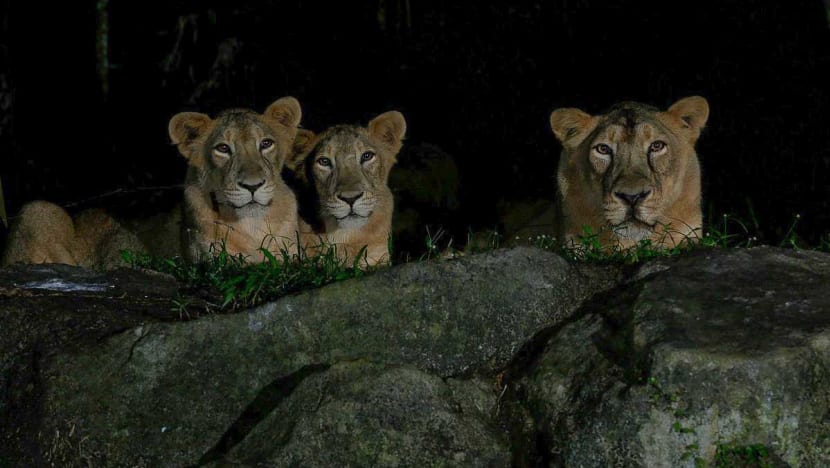 SINGAPORE: Four lions at the Night Safari and another lion at the Singapore Zoo have tested positive for COVID-19 in the past week, following exposure to infected staff members from Mandai Wildlife Group.
As a result, nine Asiatic lions at the Night Safari and five African lions at the Singapore Zoo have been isolated, including the five that have COVID-19, said the Animal and Veterinary Service (AVS) on Wednesday (Nov 10).
There have been "sporadic and isolated" reports of animals testing positive for the virus in other countries, after they were in close contact with people who were infected.
HOW DO ANIMALS GET INFECTED?
Animals would need to be in close contact with an infected human or animal for the virus to be transmitted, said Professor Dale Fisher, senior consultant at the National University Hospital's (NUH) Division of Infectious Diseases.
Prof Fisher said the virus could also enter a mucosal surface when animals lick a contaminated surface.
Airborne spread in poorly ventilated, overcrowded animal places is also "quite possible", he said, pointing to the spread of COVID-19 in mink farms overseas.
The lions at the Night Safari had come in contact with keepers who were infected with the coronavirus.
HOW ARE ANIMALS TESTED FOR COVID-19?
In response to CNA queries, a spokesperson for the Mandai Wildlife Group said nasal and oropharyngeal swabs, blood samples and faecal samples of the affected lions were collected and handed over to AVS for testing.
"But now, only faecal samples are required for testing and animals would not have to be anesthetised," the spokesperson added.
The nasal and oropharyngeal swabs, as well as the blood samples, are collected by the veterinary team at Mandai Wildlife Group, while faecal samples are collected by the animal care team.
The sampling methods are "routine" and there is no specific training required, the spokesperson said.
The samples taken from the animals are tested using a polymerase chain reaction (PCR) test, which is similar to the process for humans.
HOW ARE ANIMALS TREATED AND QUARANTINED?
According to the spokesperson for Mandai Wildlife Group, treatment for animals infected with COVID-19 is "very similar" to that for humans.
"The treatment of our animals is largely supportive to aid their recovery," the spokesperson said.
"The animal care and veterinary teams monitor them closely and ensure they stay well hydrated. We have boosted their diets with vitamins and supplements but have not needed to administer other medications."
Additional treatment such as anti-inflammatory drugs and antibiotics may also be prescribed if needed, the spokesperson added.
Animals are isolated from the point of clinical signs and diagnosis, and the isolation only ends 14 days after these signs cease.
AVS said it will continue to work with Mandai Wildlife Group to monitor the health of the lions by taking pooled faecal samples of the two groups of lions to test for the virus.
"This will guide us in our management of the health of the lions and to determine when the isolation order can be lifted," it said.
ARE ANIMALS AT RISK OF DEVELOPING SERIOUS ILLNESS?
The four infected Asiatic lions at the Night Safari developed signs of mild illness, including coughing, sneezing and lethargy. They "remain bright, alert and are eating well", Dr Sonja Luz, vice president of conservation, research and veterinary at Mandai Wildlife Group, said on Tuesday.
There is no evidence so far that animals are at big risk of developing severe illness after being infected by the coronavirus, said Professor Wang Linfa from the Programme in Emerging Infectious Diseases at the Duke-NUS Medical School.
He added that animals can get sick but animal infections are not more severe than human infections in general.
Prof Fisher added that he is not aware of severe cases of COVID-19 or deaths in animals, "although they can certainly be symptomatic".
CAN ANIMALS TRANSMIT THE VIRUS?
Prof Wang said cross-species transmission of the coronavirus from animal to animal is possible.
"It is believed that may have played a role in the origin and early transmission of the virus before reaching the human population," he said.
Prof Fisher added that mammalian species "tend to stick together" so transmission is mainly between humans and the animals they are with.
"There are certainly many mammalian outbreaks reported within species including minks, gorillas and tigers," he said. "Many zoos around the world have reported clusters."
He also noted that there have been reports of transmission from humans to minks and back to humans in Europe, but it is not "a driver of transmission as it is quite rare".
At the wildlife parks in Singapore, transmission risk is "very low" as the lions are "completely isolated" from other species, the Mandai Wildlife Group spokesperson said.
The spokesperson added that other known susceptible species are being closely monitored, all of which are currently well and do not need to be isolated.
ARE SOME SPECIES MORE LIKELY TO BE INFECTED?
Viruses are known to constantly change through mutation, said the Mandai Wildlife Group spokesperson.
The SARS-CoV-2 virus that causes COVID-19 is a "mutated coronavirus that has evolved to be able to infect humans, and a range of species including primates and carnivores".
The spokesperson also noted that primates, particularly great apes, are susceptible to similar viruses and diseases that affect humans as they have similar physiology.
"Animals are different, and some provide a more favourable environment for infection, replication and spread - minks, ferrets and cats (in the broadest sense) for instance, are more susceptible than dogs, pigs and cattle," said Prof Fisher.
WHAT STEPS WILL BE TAKEN TO REDUCE THE RISK OF ANIMALS CATCHING COVID-19?
The Mandai Wildlife Group spokesperson said since the onset of the pandemic in 2020, it has put in additional safety measures to reduce the likelihood of asymptomatic animal carers inadvertently passing the disease to susceptible species.
These are in line with recommendations by leading professional zoological associations.
"In light of the recent development, we are taking steps to further strengthen these handling protocols including routine ART (antigen rapid testing) for the animal care team," the spokesperson said.
"Safety measures include employee screening and health management, restricting back-of-house access, frequent washing of hands before and after interacting with any animal, donning face masks and gloves when working closely with an animal, and minimising or avoiding direct contact unless required."
None of Mandai Wildlife Group's animals are vaccinated, and there are currently no plans to do so.
"More understanding of the safety and efficacy of vaccination for the many species of animals that we care for is needed and we are checking in with our global zoo counterparts who have started to trial vaccinations for some of their high-profile animals," the spokesperson said.