All households to receive six COVID-19 self-test kits via mail from Aug 28
Students and staff at pre-schools and primary schools will also each get three antigen rapid test kits.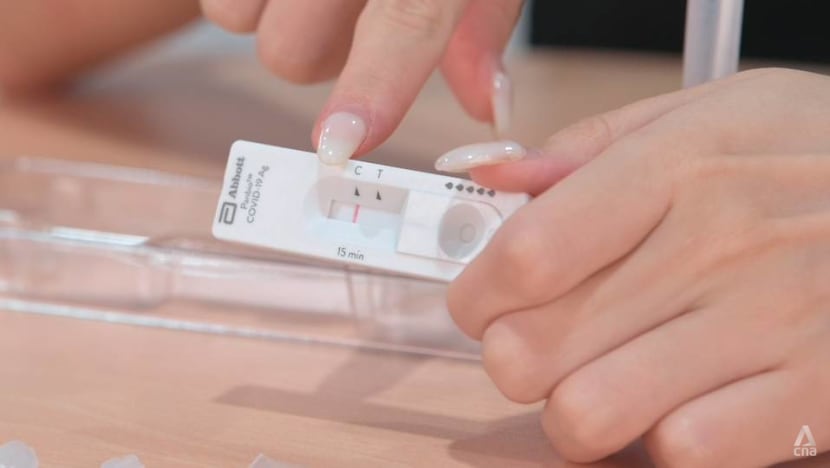 SINGAPORE: A package of six DIY antigen rapid test (ART) kits will be distributed to all households from Aug 28 to Sep 27 via SingPost, as part of Singapore's strategy to step up COVID-19 testing efforts. 
On top of this, ART kits will also be given to all students and employees of pre-schools, Ministry of Education (MOE) Kindergartens, early intervention centres, primary schools and special education schools (primary and junior sections).
Each student and staff member will receive three ART kits from Sep 13.
"As Singapore gradually transits to being a COVID-19 resilient nation, society will play an increasingly important role to manage the pandemic," said the Ministry of Health (MOH) in a media release.
"A major aspect is to exercise personal responsibility to self-test and monitor our own health status."
"Prompt testing" will become a key measure in managing COVID-19, especially for pre-school and primary school students who are not yet medically eligible for vaccination, said the Ministry of Education (MOE) and the Early Childhood Development Agency (ECDA) in a separate media release.
Explaining why ART kits will be distributed, Education Minister Chan Chun Sing said that self-testing will enable quick detection of positive cases.
"This will allow us to identify potential cases early, contain possible spread and minimise disruption to non-infected students and staff," he said in a Facebook post.
Instructions on how to use and properly dispose of the test kits will be included, and schools will engage parents to ensure that they are familiar with the procedures of doing an ART swab test.
MOE and ECDA said that the test kits "may be used more regularly in the coming months to facilitate the safe return of students to school".
"When there is possible exposure or suspicion of possible infection, we encourage students and staff to do a quick test," authorities said.
Mr Chan added: "It will also give peace of mind to students and staff who may be worried about asymptomatic infection after possible contact with a positive case."
SingPost said the ART kits will be delivered directly to letterboxes, adding that residents can check for updates on their delivery via the SingPost app.
The list of ART kits and instructions on how to use them can be found on the MOH website.
"If you require more ART self-test kits beyond what we have distributed, these are now widely and conveniently available for purchase at various community retail pharmacies, general retail shops as well as e-commerce platforms," said MOH.