Bivalent Moderna COVID-19 vaccine available in Singapore Oct 14, three days ahead of schedule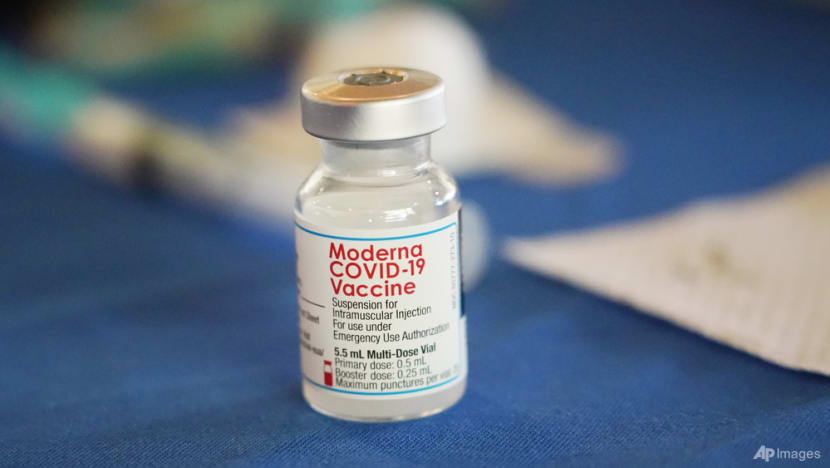 SINGAPORE: The Ministry of Health (MOH) will bring forward the administration of the Moderna/Spikevax bivalent vaccine to Oct 14, three days ahead of the previously announced date, the ministry said on Tuesday (Oct 11).
The early rollout was made possible by the ministry's operations teams completing preparations ahead of the deadline.
In addition, there are "benefits to administering early as infections are rising due to the XBB Omicron subvariant", said MOH. 
The XBB strain, also known as BA.2.10, has been detected in several countries such as Australia, Bangladesh, Denmark, India, Japan and the USA since August. Based on preliminary local data, MOH said, XBB cases are not more serious than other Omicron subvariants.
"The bivalent Moderna/Spikevax vaccine is based on the same original vaccine, with the same dosage for boosting," added MOH.
"Instead of targeting only the original COVID-19 virus, the updated version also targets the Omicron variant. It therefore will provide better protection against newer COVID-19 variants. It is proven to be safe and effective."
The ministry added that the approach and process of updating a vaccine with new strains of a disease is an "established practice". It added that based on post market surveillance, to date more than 11 million updated bivalent mRNA vaccine doses have been administered in the US without any safety concerns reported.
Speaking to reporters at the Joint Testing and Vaccination Centre at Commonwealth on Tuesday, Health Minister Ong Ye Kung acknowledged that COVID-19 cases in Singapore have been rising, but said that was not the main factor in the decision to bring forward administration of the bivalent vaccine.
Mr Ong and Minister for Trade Gan Kim Yong - co-chairs of the Government's multi-ministry task force on COVID-19 -  received a booster dose of the bivalent vaccine at the Joint Testing and Vaccination Centre.
"Most important is that operationally we are ready," Mr Ong said. "Yesterday's report was almost 5,000 cases and usually Tuesday is double that of Monday's cases, so today I think we should expect 10,000 cases or more. So cases are rising … If we are operationally ready and we can do it earlier, I would say why not?"
Mr Ong also spoke about the XBB strain, adding that MOH is watching it "very closely".
"XBB is demonstrating characteristics that it is dominating over all other sub-variants. It has been detected in many parts of the world but in Singapore is rising very fast - within three weeks from nothing, it is now over half of all the daily cases," he added.
"But so far, what is good is that there's no evidence that it leads to more severe outcomes."
WHO IS ELIGIBLE FOR BIVALENT VACCINE?
From this Friday, those who have yet to achieve maximum protection, or those aged 50 years and above who have received their last vaccine dose more than five months ago, may receive the bivalent vaccine, said MOH.
They can walk into any of the nine Joint Testing and Vaccination Centres to receive their dose:
JTVC Ang Mo Kio
JTVC Bukit Merah
JTVC Commonwealth
JTVC Jurong East
JTVC Kaki Bukit
JTVC Pasir Ris
JTVC Sengkang
JTVC Woodlands
JTVC Yishun
MOH  announced last week that the current mRNA vaccines will be replaced by bivalent vaccines, as recommended by the expert committee on COVID-19 vaccination. 
The Spikevax Bivalent Original/Omicron COVID-19 vaccine is the first bivalent vaccine against the coronavirus to be authorised as a booster here.
HSA said it consulted experts from its Medicines Advisory Committee and Panel of Infectious Diseases Experts in making the regulatory decision.
The COVID-19 vaccines used in Singapore until now have been monovalent, which means they only contain or encode the spike protein of the original SARS-CoV-2 virus.
In comparison, Moderna's bivalent vaccine has been updated to protect against the Omicron BA.1 variant in addition to the original strain. It contains 25 micrograms each of the components targeting the two viruses.