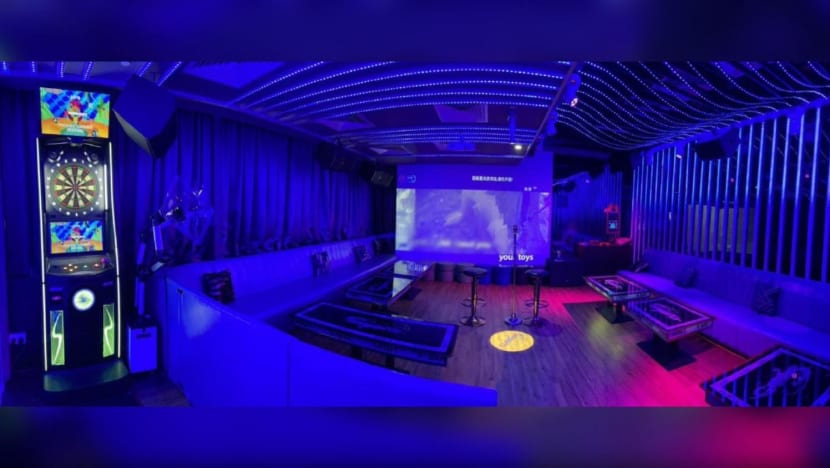 SINGAPORE: Candy K-Bar located at Somerset Road has been ordered to temporarily close following a slew of COVID-19 breaches including providing a KTV system and dart games to customers. 
The establishment had allowed a social gathering above the permitted group size, as well as the sale and consumption of alcohol past 10.30pm, the Ministry of Sustainability and the Environment (MSE) said on Friday (Jan 28).
The customers – who were colleagues at another food and beverage (F&B) establishment – subsequently tested positive for COVID-19.
They then infected at least 10 other coworkers who did not attend the social gathering, said MSE, adding that further investigations are being conducted.
Candy K-Bar, which was ordered to shut for 20 days, was among 27 businesses including hotels and shopping malls that were ordered to temporarily close this year over various safe management breaches. 
York Hotel at Mount Elizabeth had allowed a social gathering above the permitted group size during a staycation while Fragrance Hotel in Balestier allowed individuals on stay-home notice to leave their rooms and failed to ensure all those entering the premises had taken their temperature.
Both hotels were ordered to suspend new room bookings for 10 days. 
Eateries such as Alter Ego along Raffles Avenue, Burger King at Plaza Singapura and Go Ang Pratunam Chicken Rice at Nex had failed to ensure safe distancing between groups of customers on multiple occasions.
There were also several repeat offenders including Lu La along Ann Siang Road. The outlet had allowed alcohol consumption within its premises after 10.30pm. MSE said the establishment has been issued with an order to close for 70 days from Dec 31 to Mar 10.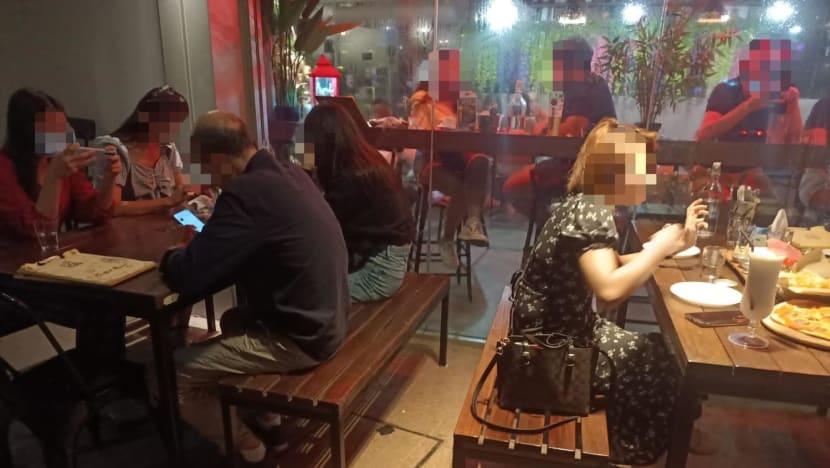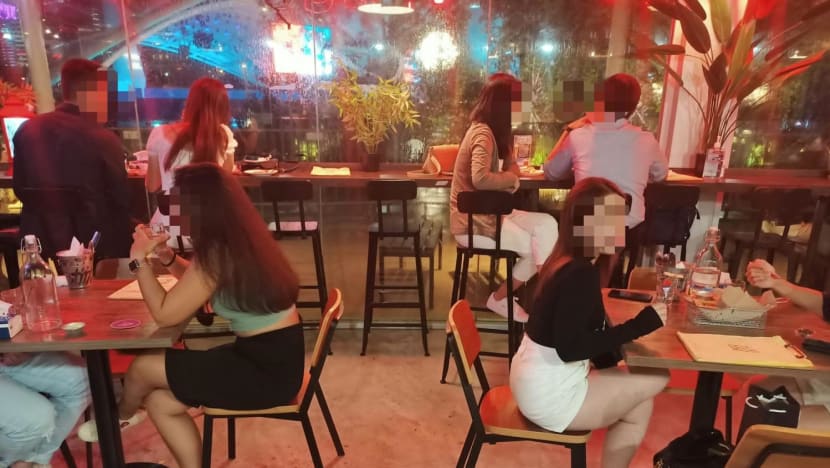 Businesses ordered to close
1. Alankar Restaurant at Dunlop Street
2. Alter Ego at Raffles Avenue
3. BK Eating House at South Bridge Road
4. Burger King at Plaza Singapura
5. Candy K-Bar at Somerset Road
6. Eno-Oka Japanese Restaurant at Jalan Besar
7. Fragrance Hotel Balestier
8. Friends Bistro Bar at Orchard Road
9. Go Ang Pratunam Chicken Rice at Nex
10. Gui Fei Ji at People's Park Centre
11. Halfpipe Skate Bar at Somerset Road
12. Inasal at Lucky Plaza
13. Komma at PLQ Mall
14. Lady Wu at The Offshore Building
15. Li Zhi Lai Jie Jia at Geylang Road
16. Lu La at Ann Siang Road
17. Mr Boss Disco at Golden Mile Tower
18. Phaya Chalawan Corner at Golden Mile Complex
19. Rooftop Cafe & Bar at Jalan Kilang Barat
20. Sake Labo at Stanley Street
21. Sanook Kitchen at Parkway Parade
22. Soi Happi Thai Food Bistro and Bar at Claymore Drive
23. The Eastern at Geylang Road
24. York Hotel at Mount Elizabeth
25. Yellow Goldenland at Peninsula Plaza
26. Xing Hua Xing at Geylang Road
27. Warm BBQ at Geylang Road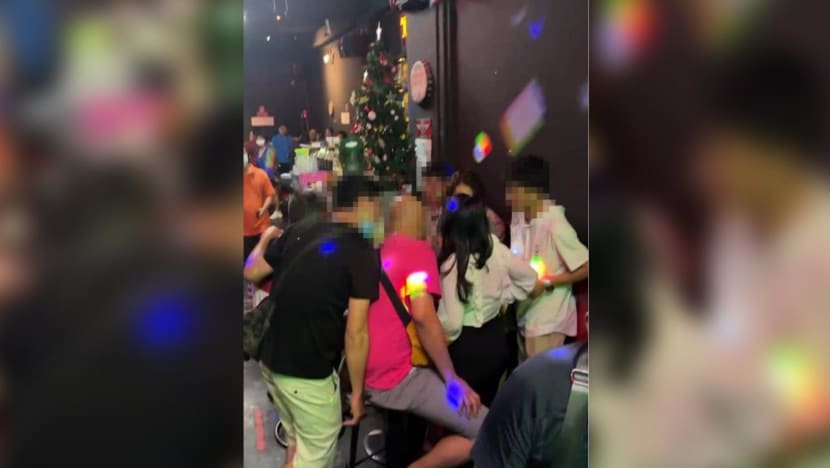 REPEAT OFFENDERS
Another 29 businesses were fined for COVID-19 breaches such as failing to ensure safe distancing between customers, failing to ensure staff members were wearing masks and failing to check the vaccination statuses of patrons. 
There were six repeat offenders: Cash Studio Family Karaoke at Eunos Road, Club Luxe at Upper Weld Road, Fluff Stack at Tampines One, Ocean Star Bar & Grill at Orchard Road, One15 Marina Club at Cove Drive and Whisk Group at Tebing Lane. 
MSE added that 341 individuals have also been fined for breaching safe management measures and vaccination differentiated regulations. The offences include gathering in groups larger than the permitted size and mask-related offences at places including hawker centres, F&B establishments and hotels. 
On Jan 23, the particulars of 19 people were taken for gathering in groups larger than the permitted size in parks and beaches managed by the National Parks Board (NParks). This included a group of 11 individuals at Toa Payoh Town Park.
NParks will be taking "appropriate enforcement action" against them, said MSE. 
MSE warned that firm enforcement action will be taken against operators and individuals who do not comply with safe management measures. This includes the proper wearing of masks.
Enforcement action taken can be as severe as prosecution and the revocation of licences, it added. 
Businesses fined for safe management breaches
1. 3 Hot Shot Cafe & Bar at Orchard Road
2. Belle-Ville Pancake Cafe at Hillion Mall
3. BaoBao Food Court at Orchard Road
4. Bayside Drinks & Eats at Fullerton Road
5. Bizen at Funan
6. Cash Studio Family Karaoke at Singapore Post Centre
7. Cedele Bakery Kitchen at Raffles City Shopping Centre
8. Chef Kiosk by Chef at KINEX Mall
9. Club Luxe at Upper Weld Road
10. Concorde Hotel and Shopping Mall
11.Dondaebak at Kreta Ayer Road
12. Fluff Stack at Tampines One
13. Fortune Garden at Pagoda Street 
14. Gangnam Story at Orchard Road
15. Ichikukodo Ramen at PLQ Mall
16. Jollibee at Paya Lebar Square
17. KFC at PLQ Mall
18.Legendary Hong Kong at Jurong Point
19. Nyonya Deli at Bukit Timah Plaza
20. Ocean Star Bar & Grill at Orchard Road
21. One15 Marina Club at Cove Drive
22. Reddot Kitchen at Dunlop Street
23. Song Fa Bak Kut Teh at Northpoint City
24. The Great Madras at Madras Street
25. The Original Vadai at Joo Chiat Road
26. The Original Boat Noodle at Causeway Point
27. The Soup Spoon at AMK Hub
28. Treasure Vegetarian Restaurant at South Bridge Road
29. Whisk Group at Tebing Lane