One new COVID-19 death in Singapore; 94 new locally transmitted cases, including 59 at dormitory in Woodlands
The 86-year-old woman who died was admitted to Changi General Hospital last month for an unrelated medical condition. She tested positive for COVID-19 on Aug 2 after being identified as a close contact of a patient who was a confirmed case.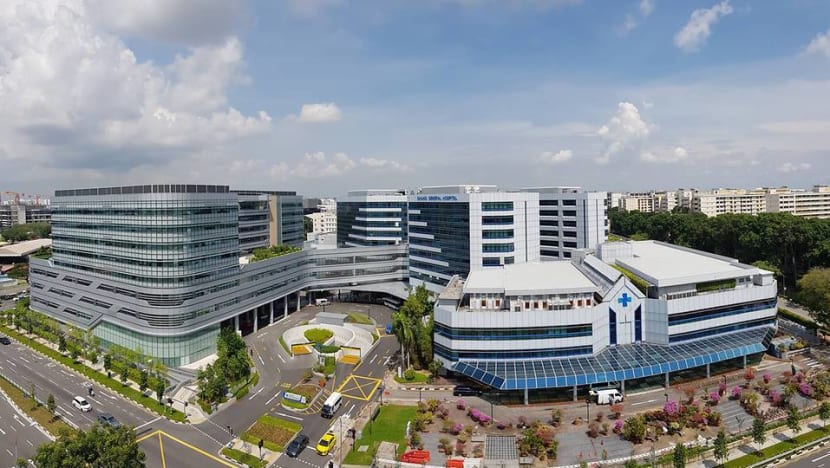 SINGAPORE: An 86-year-old woman died of COVID-19 complications on Monday (Aug 23), becoming Singapore's 13th death from the coronavirus in August.
The Singaporean woman, known as Case 67375, had not been vaccinated against COVID-19 and had a history of cancer and hypertension, said the Ministry of Health (MOH) in its daily update.
The woman had been admitted to Changi General Hospital on Jul 23 for an unrelated medical condition, and tested negative for COVID-19 during admission and again on Jul 29.
Her COVID-19 infection was detected on Aug 2, when she was tested again after being identified as a close contact of a patient who was a confirmed case.
Changi General Hospital is an active COVID-19 cluster with a total of four cases. This cluster was identified on Aug 3, just three days after a previous cluster at the hospital was closed.
MOH did not specify whether the woman who died on Monday was linked to the cluster at the hospital.
August has become Singapore's deadliest month of the pandemic, with 13 deaths from COVID-19 so far. This surpasses the 12 deaths recorded in April last year.
As of Monday, 50 people have died due to COVID-19 in Singapore.
59 CASES IN NORTH COAST LODGE DORMITORY
Singapore reported 94 new locally transmitted COVID-19 infections as of noon on Monday, including 59 cases linked to North Coast Lodge dormitory in Woodlands.
The dormitory cases were detected through testing operations conducted from Saturday after three residents tested positive for COVID-19 during rostered routine testing that day, said MOH.
"So far, about 2,200 workers have been swabbed, and testing for the rest of the 3,200 residents is ongoing," said MOH.
"As a precautionary measure, all residents at the dormitory have been placed on movement restriction order. The confirmed cases are mostly asymptomatic or have mild symptoms."
Of the remaining 35 cases, 16 were linked to previous cases and had been placed on quarantine. Nineteen are currently unlinked.
Among the new cases, two are above the age of 70 who were unvaccinated or partially vaccinated, and are at risk of serious illness, said MOH.
There were also four imported cases. Two of them were detected upon arrival while the other two fell ill during the stay-home notice or isolation period.
In total, Singapore reported 98 new COVID-19 cases on Monday.
ACTIVE COVID-19 CLUSTERS
There are currently 70 active COVID-19 clusters in Singapore, after the closure of two more clusters.
A cluster linked to Case 68799, which was first identified on Sunday, was redesignated by MOH as the North Coast Lodge cluster in its Monday update. The cluster has a total of 62 infections.
Two more infections were linked to a cluster at My First Skool pre-school on Chin Swee Road, which now numbers 40 cases. Another case was linked to an NTUC FairPrice outlet at Kallang Bahru, bringing that cluster to six cases.
PATIENTS IN CRITICAL CONDITION; VACCINATION RATES
Seven patients were in critical condition in the intensive care unit while 21 patients with serious illness required oxygen supplementation. Most of these patients were above the age of 60 and unvaccinated or partially vaccinated.
As of Sunday, 78 per cent of Singapore's population has completed their full vaccination regimen or received two doses of COVID-19 vaccines, while 82 per cent has received at least one dose.
"SPATE" OF DEATHS FROM EARLIER INFECTIONS
Health Minister Ong Ye Kung said on Monday that most of the COVID-19 deaths in August arose from infections that happened earlier in the month.
"Then, we had more daily cases and importantly, fewer people were vaccinated," he said, noting that so far, all but one of the COVID-19 cases who died this month were not fully vaccinated.
The minister acknowledged that many are concerned about the "spate" of coronavirus-related deaths in August, and reiterated the importance of getting vaccinated.
"It remains important to get vaccinated. I have met many residents who are worried about getting vaccinated because they have some underlying illnesses, or they fall sick easily," Mr Ong said in a Facebook post.
"In many of such instances, they need the vaccines even more because the chances of them falling very sick if infected with COVID-19 is much higher."
As of Monday, Singapore has reported a total of 66,576 COVID-19 cases.
Even as more Singapore residents become vaccinated against COVID-19, authorities are urging companies to implement regular testing for employees who are not vaccinated. 
As part of a new advisory issued by the Manpower Ministry on Monday, employers may also implement vaccination-differentiated measures. These include requiring medically eligible but unvaccinated employees to bear coronavirus-related expenses, such as for their swab tests.
Employers can also require unvaccinated employees to undergo pre-event testing before participating in work and social events.