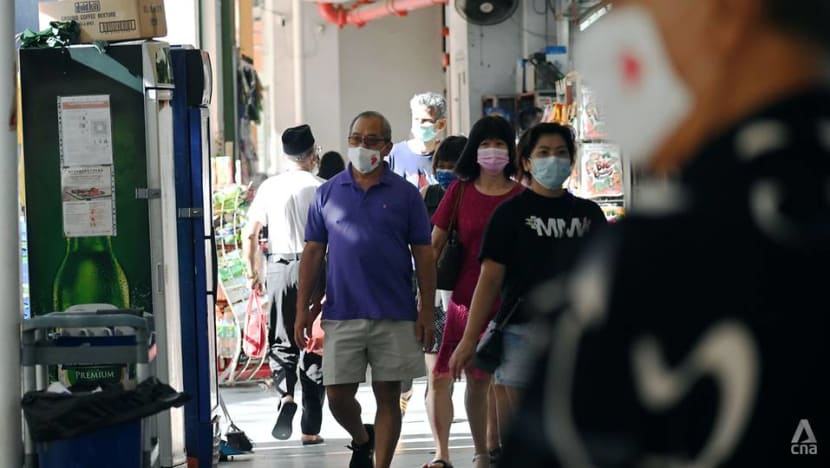 SINGAPORE: Singapore reported 3,496 new COVID-19 cases as of noon on Tuesday (Nov 2) as nine more people died from complications due to the coronavirus.
The fatalities reported on Tuesday were aged between 53 and 93. All of them, except for two unvaccinated cases, had various underlying medical conditions. The Ministry of Health (MOH) did not specify what these conditions were.
This brings Singapore's death toll from the coronavirus to 430.
The number of new cases reported on Tuesday is up from the 2,470 infections reported on Monday.
Of the new cases reported on Tuesday, 3,493 infections were locally transmitted, comprising 3,352 in the community and 141 in migrant workers' dormitories. 
There were three imported cases, MOH said in its daily update released to the media at about 11.30pm. 
The weekly infection growth rate was 1.09 as of Tuesday. This refers to the ratio of community cases for the past week over the week before. 
As of Tuesday, Singapore has reported a total of 204,340 COVID-19 cases since the start of the pandemic.
HOSPITALISATIONS
A total of 1,710 cases are warded in hospital, with 308 patients requiring oxygen supplementation in general wards.
Another 74 cases are unstable and under close monitoring in the intensive care unit (ICU), while 64 are critically ill and intubated. The current overall ICU utilisation rate is 72.7 per cent.
A total of 3,006 cases were discharged over the past day, of whom 472 were seniors aged 60 and above.
"Seniors 60 years old and above, especially if unvaccinated, continue to be more adversely affected by COVID-19," said MOH. 
Of the 94,388 cases over the last 28 days, 98.7 per cent had mild symptoms or were asymptomatic, while 0.8 per cent required oxygen supplementation in the general ward, 0.3 per cent were in the ICU and 0.2 per cent died.
Over the past seven days, the number of fully vaccinated people who were critically ill in the ICU was 0.5 per 100,000 population, while that of non-fully vaccinated cases was 4.5.
Over the same period, the number of fully vaccinated and non-fully vaccinated cases who died were 0.1 and 0.8 per 100,000 population respectively.
Among seniors aged 60 and above, the number of fully vaccinated and non-fully vaccinated cases who were critically ill in the ICU were 1.9 and 35.6 respectively.
The number of fully vaccinated and non-fully vaccinated seniors who died were 0.3 and 7.6 respectively.
VACCINATION
As of Monday, 84 per cent of Singapore's population have completed their full regimen, or received two doses, of COVID-19 vaccine, while 85 per cent have received at least one dose and 16 per cent have received their booster shots.
ACTIVE CLUSTERS
MOH said it is closely monitoring seven active COVID-19 clusters.
St Luke's Hospital now has 21 cases, of which four are staff members and 17 are patients.
Another nine cases were added to the cluster at the Institute of Mental Health, which now has 287 total cases, comprising 271 patients and 16 staff members.
There are also now 90 cases at Banyan Home @ Pelangi Village.