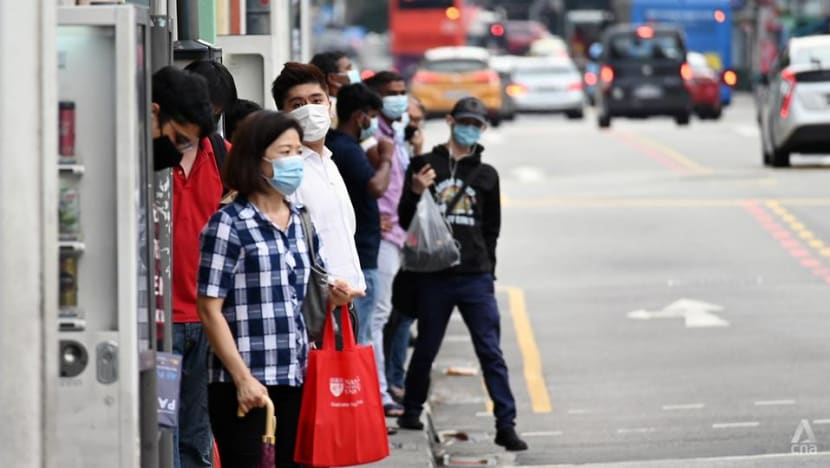 SINGAPORE: Singapore reported 3,635 new COVID-19 cases as of noon on Wednesday (Nov 3) as 12 more people died from complications due to the coronavirus.
The fatalities were aged between 59 and 99, and all of them had various underlying medical conditions. The Ministry of Health (MOH) did not specify what these conditions were.

This brings Singapore's death toll from the coronavirus to 442. 
The number of new cases reported on Wednesday is up from the 3,496 infections reported on Tuesday.
The weekly infection growth rate was 0.96 as of Wednesday, falling below 1 for the first time since Oct 18. This refers to the ratio of community cases in the past week over the week before. 
Co-chair of the multi-ministry task force Lawrence Wong said on Oct 23 that some COVID-19 measures may be eased if the weekly infection growth rate drops below 1.
"If the ratio comes below 1 and our hospital and ICU situation remains stable, we will make some calibrated easing in three areas," Mr Wong said.
These include allowing household members to dine-in at food and beverage outlets in groups of up to five people, letting team sports resume in groups of up to five, and allowing more activities in schools and institutions of higher learning.
Of the new cases reported on Wednesday, 3,632 infections were locally transmitted, comprising 3,223 in the community and 409 in migrant workers' dormitories. 
There were three imported cases, MOH said in its daily update released to the media at about 11.30pm. 
As of Wednesday, Singapore has reported a total of  207,975 COVID-19 cases since the start of the pandemic.
HOSPITALISATIONS
A total of 1,665 cases are currently warded in hospital, with 293 patients requiring oxygen supplementation in general wards.
Another 72 cases are unstable and under close monitoring in the intensive care unit (ICU), while 69 are critically ill and intubated. The current overall ICU utilisation rate is 72.7 per cent.
A total of 3,340 cases were discharged over the past day, of whom 475 were seniors aged above 60.
"Seniors 60 years old and above, especially if unvaccinated, continue to be more adversely affected by COVID-19," said MOH. 
Of the 94,457 cases over the last 28 days, 98.7 per cent had mild symptoms or were asymptomatic, while 0.7 per cent required oxygen supplementation in the general ward, 0.3 per cent were in the ICU and 0.2 per cent died.
VACCINATION
As of Tuesday, 84 per cent of Singapore's population has completed their full regimen or received two doses of COVID-19 vaccine, while 85 per cent have received at least one dose. About 16 per cent have received their booster shots.
ACTIVE CLUSTERS
MOH said it was currently "closely monitoring" nine active large clusters.
Seven cases were added to the cluster at the Institute of Mental Health, which now has 294 total cases, comprising 278 patients and 16 staff members.
COVID-19 clusters at Growing Learners Student Care and the PCF Sparkletots at Whampoa Block 85 added four cases each, growing to 15 and 23 cases respectively.