SINGAPORE: When Madam Suzy Ahmad received the SMS invite to register her 11-year-old daughter for her COVID-19 vaccination, it was her daughter who gave her mother "instructions" to sign up immediately. 
"She was too excited actually, and said she wants to go for this first vaccination (shot) as soon as possible," said Mdm Suzy, 42, outside Pasir Ris Elias Community Club on Monday (Dec 27), where her youngest daughter got her jab. 
"At first I was nervous but after I got it, it wasn't that bad," her daughter told CNA. 
Pasir Ris Elias Community Club is one of the seven paediatric vaccination centres that began operations on Monday. The other six are Hougang Community Club, Our Tampines Hub, Senja-Cashew Community Club, Nee Soon East Community Club, Woodlands Galaxy Community Club and Nanyang Community Club. 
Just before noon on Monday, the first day of vaccination for children aged nine to 11, the vaccination centre at Pasir Ris Elias Community Club was less than half full. But a queue soon began to form during lunch hours, comprising parents accompanying their children and other members of the public.
In a statement on Monday evening, the Ministry of Education (MOE) said all 3,300 vaccination slots were "fully taken up", adding that the first-day vaccination operations "proceeded smoothly".
Education Minister Chan Chun Sing said in a Facebook post that more than 3,300 Primary 4 to Primary 6 children have been vaccinated and that MOE "continues to observe a steady increase in registration".
"Heartened to see many parents and children stepping up to protect themselves and those around them," he said.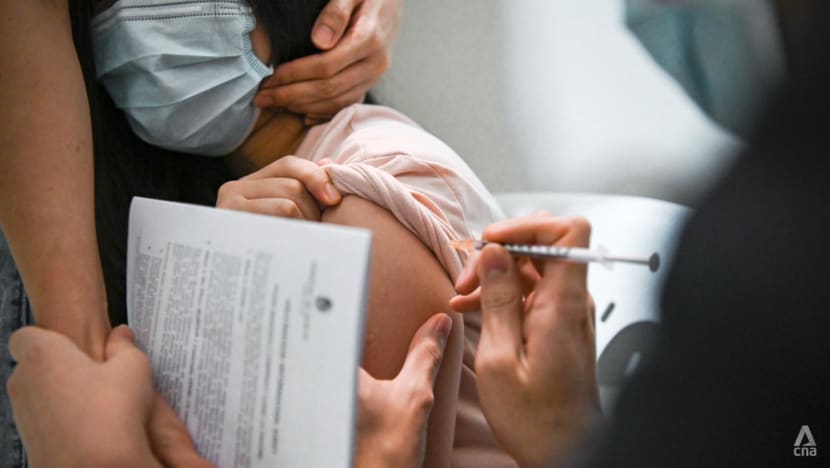 "EXCITED" TO GET VACCINATED  
While the children CNA spoke to appeared unbothered by the jab, some were spotted holding onto a stuffed toy or their parent's hands to calm their nerves. A couple almost teared while waiting their turn. 
At Hougang Community Club, Madam Doreen Goh and her 10-year-old son were all smiles after a "smooth" vaccination process with "no hurdles". His mother said he had been looking forward to the jab. 
The 46-year-old mother said her son was initially "a little nervous", but the friendly nurses helped with his nerves. 
"I think most kids are scared of needles. But he's looking forward because he knows about COVID-19 ... about prevention and all," she told CNA. 
"He's more worried when he's not jabbed. So after all his vaccinations, we should be fine going out in a group."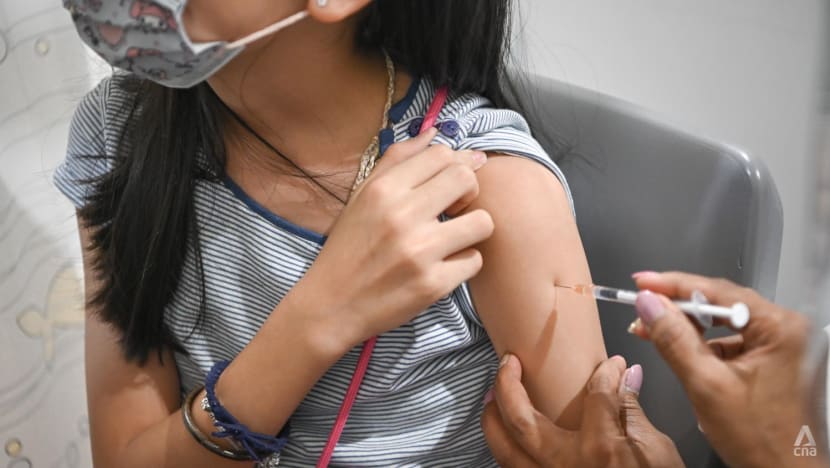 The "friendly and approachable" nurses also made the process better for Mdm Suzy and her daughter at Pasir Ris Elias Community Club. 
"The nurses were very friendly and approachable. My daughter (recovered from) chicken pox few weeks ago, so we checked with them first whether it was possible to get vaccinated. They said it's no problem," said Mdm Suzy.
Now that her daughter has received her first dose, her entire family will soon be vaccinated. But while they intended to travel, they have made no plans yet. 
It was the same for Mdm Uma Devi and her 11-year-old son, who was "excited" to receive a vaccine dose at Our Tampines Hub as it meant they could possibly travel in the near future. 
"(Even though we're) not thinking of anywhere right now, it's very important to get vaccinated. My entire family is also vaccinated. (We've got) booster shots too," said Mdm Devi.  
"Because (children) are vulnerable, and (my son was) not vaccinated, sometimes we (worry) about him. That's why he stopped going outside every day. Now he's vaccinated, he can happily go to school. Sometimes we (were) afraid of going (to) school ... anything can happen." 
GOING BACK TO SCHOOL 
Parents also expressed concern that going back to school could expose their children to greater risks, so they did not hesitate to register their child for vaccination. 
Mr Muhammad Izuan, whose two older children have been vaccinated, immediately registered his youngest daughter for her jab once he received the invite. 
He did not need to gear her up for the jab as she was not afraid, he said. 
"I guess it's better to go (get vaccinated), because kids are very vulnerable," he added.  
"For me, it's important (that children get vaccinated). Outside now there's the Omicron variant. My worry is when they go to school. Next year it's her PSLE," added Mdm Suzy. 
Mdm Goh said getting her son vaccinated would make things "more convenient when they're going out ... in a group". 
"They have to (lower the) risk of COVID-19 especially (with) children going to school. In a class, there's usually a huge number of people so it's better for them," she added.
Asked whether there was anything to fear in the process, her 10-year-old son, having overcome his initial nerves, replied with an emphatic "no".