COVID-19: Singapore reports 11 new community cases, including 5-year-old boy in family cluster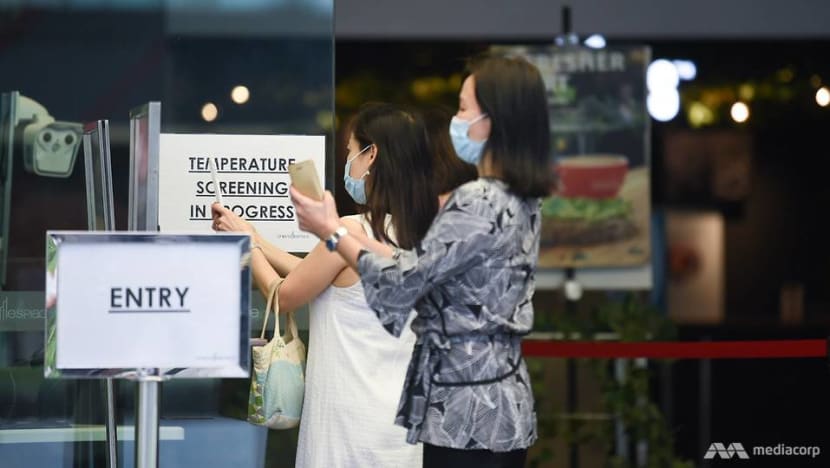 SINGAPORE: Singapore reported 291 new COVID-19 infections as of noon on Saturday (Jun 27), including 11 cases in the community.

The community cases involve five Singaporeans, two work pass holders and four work permit holders, said the Ministry of Health (MOH).
Three of the Singaporeans - a five-year-old boy, a 34-year-old woman and a 35-year-old man - are from a family cluster. They were contacts of a previous COVID-19 case who had been tested as he works at a dormitory.
"All three cases had already been quarantined, and were swabbed during quarantine to verify their status," said MOH.

Four of the community cases were detected as part of the ministry's screening of workers in essential services.

"Overall, the number of new cases in the community has increased, from an average of four cases per day in the week before, to an average of six per day in the past week," MOH said. 
"The number of unlinked cases in the community has also increased, from an average of two cases per day in the week before, to an average of three per day in the past week."
MOH also announced that a 27-year-old Bangladeshi man who contracted COVID-19 has died from multiple injuries resulting from a fall from height. He tested positive for the virus on Jun 6 and died on Jun 25.
Singapore's tally of COVID-19 cases stands at 43,246.

The majority of its daily new infections are work permit holders living in dormitories, with 280 cases reported on Saturday.
FOUR NEW CLUSTERS
Four new clusters have been identified: At The Florence Residences construction site located at 713 Hougang Avenue 2, and at three dormitories located at 79 Kaki Bukit Industrial Terrace, 208 Woodlands Industrial Park E5, as well as 230 Woodlands Industrial Park E5.
A total of 338 more cases have been discharged from hospitals or community isolation facilities, MOH said. 
In all, 37,163 have fully recovered from the infection and have been discharged from hospitals or community care facilities.
There are 174 cases who are still in hospital. Most of them are stable or improving, and one is in critical condition in the intensive care unit.
A total of 5,883 are isolated and cared for at community facilities.

The ministry reminded the public that it is "critical" to continue to exercise caution to keep the number of new cases under control as activities resume in Phase 2 of Singapore reopening. It added that everyone must adhere to safe management principles. 
Earlier on Saturday, SportSG said all ActiveSG indoor sport halls will be closed for a "time-out" on Sunday (Jun 28), after safe management measures were breached by a group of badminton players that included a positive COVID-19 case.
This was to "ensure that all users of ActiveSG's Indoor Sport Halls understand the rules and spirit of the SMM (safe management measures)".

OBSERVING SAFE DISTANCING DURING GE2020
The Ministry of Environment and Water Resources on Friday reminded members of the public to continue observing safe distancing measures amid the upcoming General Election. 

After Nomination Day on Jun 30, political parties and candidates are expected to ramp up campaigning activities in the run up to Polling Day on Jul 10. 

Singapore on Jun 19 entered Phase 2 of its reopening after a "circuit breaker" period to curb the spread of COVID-19.

When encountering candidates on their walkabouts, the "required actions and best practices" include avoiding physical contact with candidates and their supporters, said the ministry. 

"Refrain from shaking hands or engaging in greetings where there is physical contact, such as fist bumps or high fives," it added. 
Members of the public should maintain a distance of 1m from other individuals, such as when interacting with candidates or queuing for campaigning items like flyers.

They should also continue to wear a face mask when interacting with candidates and "refrain from following or crowding around" candidates and their supporters.

Download our app or subscribe to our Telegram channel for the latest updates on the coronavirus outbreak: https://cna.asia/telegram