SINGAPORE: Connect@Changi at the Singapore Expo has been converted into a COVID-19 community care facility, said the Ministry of Health on Thursday (Aug 26).
It is now the seventh such facility in Singapore, joining those at D'Resort NTUC, Tuas South, former Ang Mo Kio Institute of Technical Education, Village Hotel Sentosa, Civil Service Club @ Loyang and Bright Vision Hospital. 
In response to CNA queries, MOH said Hall 7 of Connect@Changi officially began operations on Aug 23 while Hall 8 is expected to be ready on Sep 1.
Both halls have a capacity of 660 rooms and will operate for at least six months.
Health Minister Ong Ye Kung said the seven community care facilities can accommodate more than 5,500 individuals who are "clinically well", or who have mild symptoms, and do not require much medical care.
"It also means that there is a stronger buffer to protect our hospital capacity, and prevent it from being overwhelmed if the pandemic turns for the worse," he said in a Facebook post on Thursday night.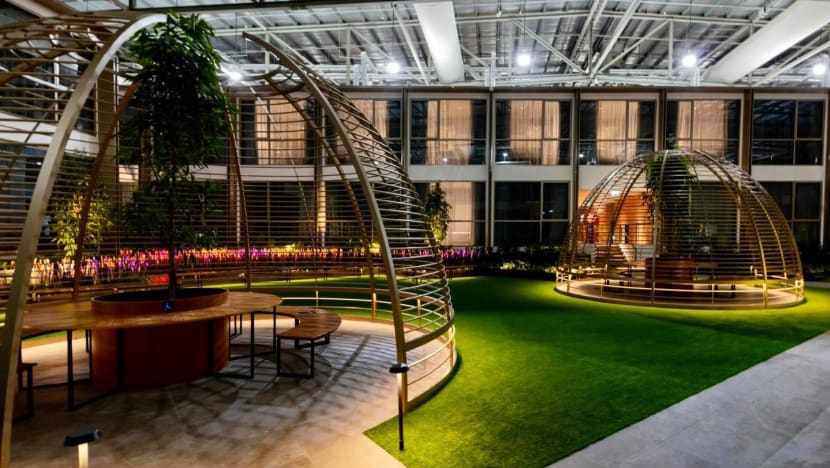 Connect@Changi opened in February as a pilot short-stay facility to allow business travellers from around the world to stay and conduct meetings without needing to quarantine on arrival.
It was part of the Connect@Singapore initiative, which aimed to facilitate business exchanges and support the revival of Singapore's air hub status and hospitality sector as the country gradually reopens its borders.
The initiative was later suspended as the COVID-19 pandemic continued and international travel remained limited.
"While the Connect@Singapore initiative remains suspended, Connect@Changi is actively supporting Singapore's pandemic response efforts operating as a community care facility," Connect@Changi told CNA.
"As the facility performs its new role, it will stop receiving travellers and facilitating business activities until the suspension is lifted." 
"We continue to work closely with the relevant authorities and industries to position the facility for the progressive reopening of Singapore's borders, so that our local community is protected and our economy is reinvigorated," said Connect@Changi.
Singapore last week launched vaccinated travel lanes with Germany and Brunei, allowing fully vaccinated travellers from those countries to enter Singapore without having to serve a stay-home notice.
Short-term travellers from Hong Kong, Macao, mainland China (except Jiangsu province), New Zealand and Taiwan can also enter Singapore without quarantine under the air travel pass scheme.