Even after lifting of COVID-19 curbs, Chinese New Year digital red packets still popular with bank customers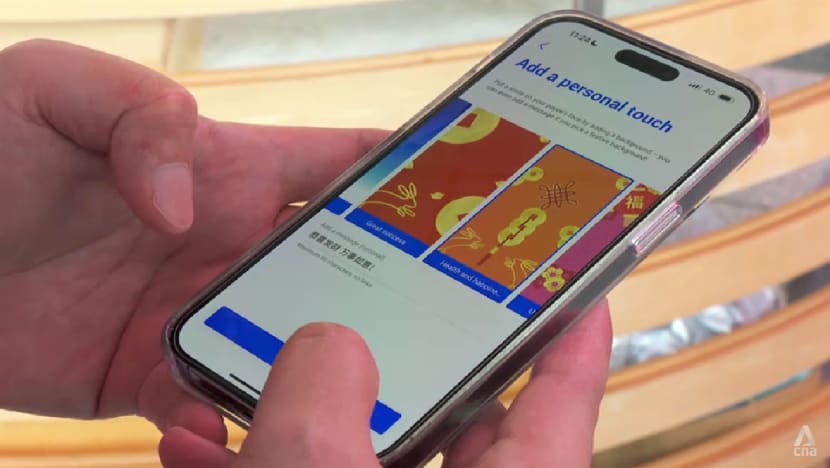 SINGAPORE: Digital red packets and QR gift cards have risen in popularity this Chinese New Year, with some local banks seeing a surge of up to 30 per cent more e-hongbao given out compared to last year. 
This is despite the lifting of COVID-19 restrictions allowing families and friends to meet face-to-face, regardless of group sizes.
Customers choosing to give digital red packets do not need to queue for new notes or stress over which red packets to use for Chinese New Year, said observers. 
OFFERING CUSTOMERS CONVENIENCE
Hongbao, or red packets, are traditionally handed out by married couples to children or young relatives during Chinese New Year as a token of blessing.
Some banks have organised lucky draws to encourage customers to use digital red packets.
UOB said digital red packets have helped some customers to "save a lot of time". 
These customers do not need to queue up for new notes, pack them, or miss out on giving red packets to their loved ones, said Ms Choo Wan Sim, head of UOB TMRW Digital (Singapore).
"Importantly, we do think that it helps in sustainability," she added.
DBS said customers are also getting more environmentally conscious. 
The bank said the use of e-hongbao has increased by a third, compared to last year. But for customers who still prefer to hand out physical red packets, QR gift cards can be used.
PRESERVING THE ACT OF GIFTING
"So we recognise that consumers are getting more environmentally conscious. The feedback from our customers is that they still prefer the act of giving red packets, thereby preserving the Chinese cultural gift-giving," Ms Diane Chang, executive director of DBS' consumer banking group. 
"(The QR gift card) actually marries the benefits of what technology has to bring, which is convenience and speed, and additionally, it preserves our Chinese culture with the act of gift-giving."
Meanwhile, OCBC said it saw the daily average use of e-hongbao quadruple on the first day of Chinese New Year.
It estimates that the number of digital red packets sent over the 15 days of the Chinese New Year will be at least 20 per cent more than last year.
This year, OCBC has introduced various features that give users a more personal touch.
Mr Gary Wong, head of the bank's digital payments and ecosystems, said: "One of the things that we're introducing this year is the ability for customers to actually choose their own designs, and these designs mimic some of the physical paper red packets that we have."