COVID-19 hospitalisations 'increased quite significantly', hospitals to cut back on elective procedures: Ong Ye Kung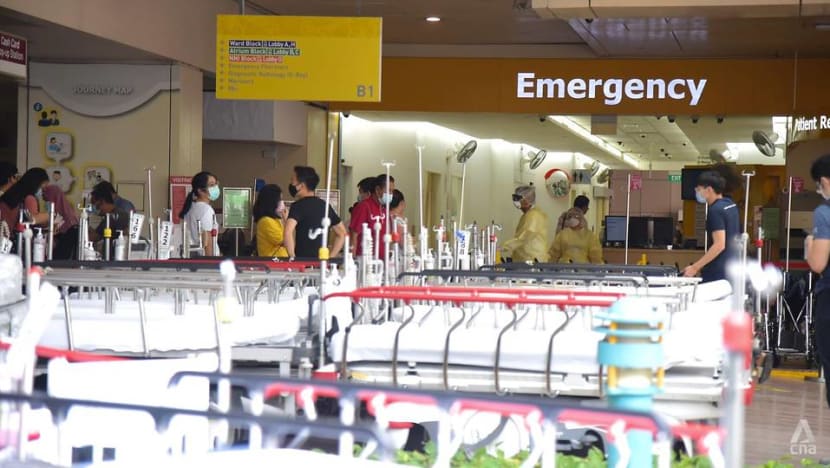 SINGAPORE: The number of COVID-19 cases hospitalised has "increased quite significantly" to nearly 700, and hospitals have started to cut back on non-COVID and elective procedures, said Minister for Health Ong Ye Kung on Tuesday (Jul 5). 
Mr Ong was responding to a supplementary question from MP Yip Hon Weng (PAP-Yio Chu Kang) about whether hospitals would be cutting back on elective procedures due to the wave of COVID-19 infections. 
"The number of hospitalisation cases has reached almost 700 now, so it has increased quite significantly. This is as compared to the height of the Omicron wave earlier this year, where we had about 1,700 hospitalisation cases," he added. 
"At that time we cut back (business-as-usual) by 15 per cent. So we have now started to trigger some cutback of (business-as-usual), mostly electives, and the cutback is about 4 per cent." 
At the peak of the earlier Omicron wave, Singapore saw about 18,000 new COVID-19 cases daily.
Tuesday's COVID-19 caseload is expected to be more than 12,000, about 10 per cent more than Tuesday last week, said Mr Ong in his initial response in Parliament. 
"There are indications that we are near the peak, if not at the peak, and we should be relieved that the number this week did not double from last week. Otherwise, we'll be at 24,000 or 22,000 this week," he said.
HIGH DEMAND FOR BEDS
In his earlier response to Mr Yip about whether the healthcare settings are "adequately equipped" to handle the next wave, Mr Ong said the key to managing the next wave is to ensure that Singapore's hospital capacity is "not overly stressed".
This includes ensuring high vaccination and booster coverage, as well as making sure healthcare institutions and facilities are prepared and ready to ramp up capacity if there are increased admissions, he added. 
"Our hospitals remain ready to ramp up dedicated (intensive care unit) and isolation bed capacity should there be an increase in the number of COVID-19 patients who require hospitalisation," said Mr Ong. 
There are also "sufficient beds" in the COVID-19 treatment facilities for serious cases that do not need hospital care, he said, adding that such COVID-19 treatment facilities are about 25 per cent occupied.
The facilities were "recently consolidated" from more than 2,000 beds to about 1,300 beds, with a "higher manning ratio", said the Health Minister. This makes it easier to transfer patients from hospitals to the facilities without a "significant drop" in levels of care, he added. 
However, public hospitals continue to face "high demand" from non-COVID-19 patients.
"Over time, we hope more of our (COVID-19 treatment facilities) can be multi-purpose isolation and treatment facilities, for both COVID-19 and non-COVID-19 patients," added Mr Ong. 
The COVID-19 treatment facility at Sengkang Community Hospital has been "reconfigured" to this new model, and the authorities will explore converting other facilities, said the Health Minister. 
In anticipating the wave of infections, Mr Ong said the Government maintained the indoor masking requirement even when cases were "low and stable" in order to "moderate the infection rate" when the new wave arrived.
"If we still want to reduce the infection rate even further, more stringent safe management measures will need to be implemented. And that means reintroducing things like group sizes, capacity limits and masking outdoors," he added. 
"We cannot rule out these steps if we are hit with a serious infection wave, but as far as possible, we should avoid them, especially if we are reasonably confident that our hospital capacity can hold up, and that we are determined to live with COVID-19 and continue our journey of endemicity."
MANPOWER IN HOSPITALS
Mr Yip also asked if hospitals have been able to hire new staff for the wave of COVID-19 infections, to replace the wave of manpower that left the healthcare sector. 
"Manpower indeed is a challenge," said Mr Ong, adding that the current attrition rate is comparable to what hospitals saw in 2019. 
"In February there was a slight spike after bonuses (were) received, but otherwise the latest number month-on-month is comparable to what we experienced 2019 pre-COVID," said the Health Minister. 
"Having said that, it is increasingly difficult to hold on and to recruit foreign nurses because with COVID-19 being a global pandemic, hiring of nurses is a matter of international competition." 
Singapore has its "fair share" of healthcare talent, said Mr Ong, noting that courses in schools are often oversubscribed. 
"But our cohort size is limited. Our healthcare demand is growing, so therefore, we must be able to accept that over time we have to recruit more foreign nurses from different sources," he added. 
This includes being able to train these talents and pay them competitively, said the Health Minister. 
"The good ones over time should be able to be part of our community, become (permanent residents) and live with their family here, go to local schools here," he continued. 
"I think this is the only way for us to not just weather through this wave, but as our population gets older, that profile or that size of our healthcare workforce will have to increase, and we have to tap on both a strong local pipeline as well as foreign recruitment."