SINGAPORE: Singapore reported 257 new COVID-19 cases as of noon on Thursday (Jun 18), including four in the community, bringing the national total to 41,473. 
The cases in the community comprise one Singapore permanent resident and three work permit holders.  
Out of these four community cases, the three work permit holders had been placed on quarantine earlier, said the Ministry of Health (MOH) in its nightly update. They were identified as contacts of previously confirmed cases, and two of them are asymptomatic. 

The case involving the permanent resident was detected during the screening of workers in essential services, but he is asymptomatic.
"Overall, the number of new cases in the community has decreased, from an average of eight cases per day in the week before, to an average of seven per day in the past week," MOH said.
"The number of unlinked cases in the community has also decreased, from an average of four cases per day in the week before, to an average of three per day in the past week."

The remaining 253 cases are work permit holders in dormitories, MOH said in its earlier update. 
ONE NEW CLUSTER, MORE DISCHARGED
One new cluster was reported on Thursday at a dormitory at 10 Tech Park Crescent.
A cluster at Orange Valley Nursing Home at 6 Simei Street 3 is now closed, after there were no more cases linked to it for the past two incubation periods, or 28 days, MOH said.
A total of 774 more cases of COVID-19 infection have been discharged from hospitals or community isolation facilities, MOH said.
In all, 32,712 have fully recovered from the infection and have been discharged from hospitals or community care facilities.
There are currently 225 confirmed cases who are still in hospital. 
Of these, most are stable or improving, and two are in critical condition in the intensive care unit, and 8,510 are isolated and cared for at community facilities.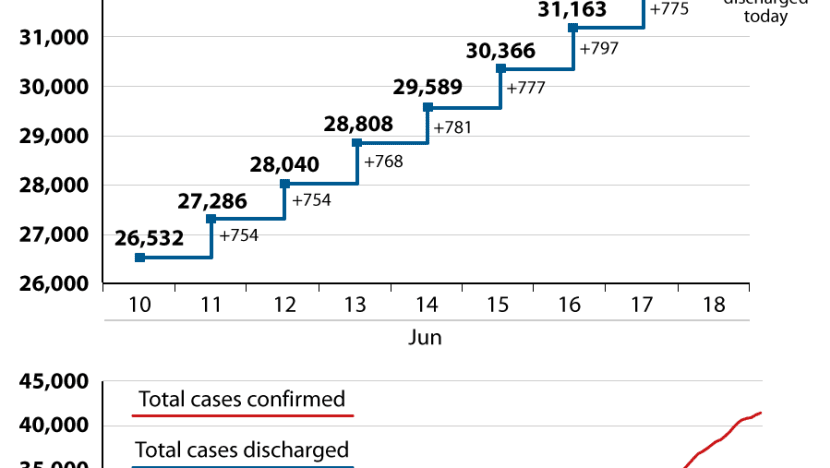 From next week, patients diagnosed with acute respiratory infection (ARI) who are aged 45 and above will be tested for COVID-19, MOH said on Thursday.

Close contacts of confirmed COVID-19 cases will also be tested before the start of their quarantine, and more regional screening centres will be set up to make testing more convenient.  

The measures are part of the ministry's plan to expand its testing strategy as the economy reopens.

Phase 2 of Singapore's reopening will begin on Friday. Dining in at food and beverage outlets will be allowed and massage parlours and spas may resume services but with added precautions. 
All sports and physical activities may also resume under specific conditions.
Playgrounds and beaches will reopen while libraries, museums, barbecue pits and camping sites will remain closed at the start of Phase 2 and "progressively open later".

All indoor and outdoor performance venues, such as theatres, performance halls and blackboxes, will also remain closed - except for workplace activities and training or workshops, subject to safe management measures. 

A list of public facilities and services that will reopen in Phase 2 can be found here.

Download our app or subscribe to our Telegram channel for the latest updates on the COVID-19 outbreak: https://cna.asia/telegram