58-year-old woman dies of COVID-19 complications; 92 new locally transmitted cases in Singapore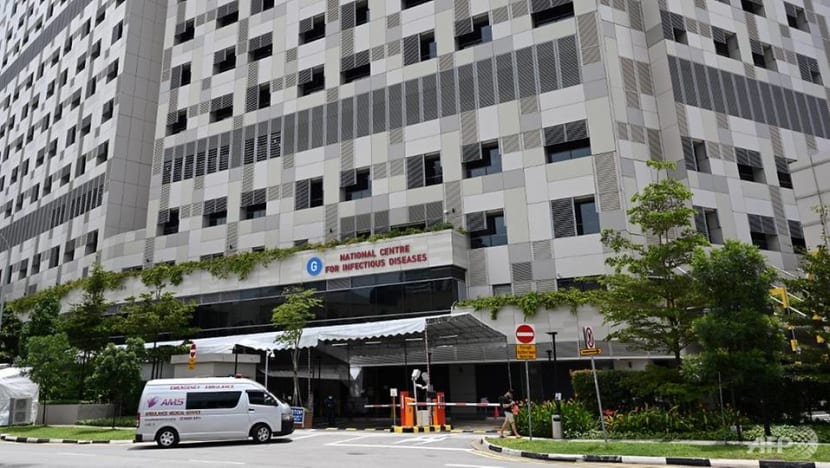 SINGAPORE: A 58-year-old woman has died of COVID-19 complications, becoming Singapore's 39th fatality from the disease, said the Ministry of Health (MOH) on Wednesday (Aug 4).
The Singaporean woman, identified as Case 66894, died on Aug 2. She had not been vaccinated against COVID-19 and had no underlying medical condition.
She was a household contact of a positive case who visited Samy's Curry Restaurant, and was confirmed to have the infection on Jul 29. The cluster at Samy's Curry Restaurant at Dempsey was identified on Jul 24 and has 55 infections.
This is the second death from COVID-19 in August. A 34-year-old Ukrainian seaman, who was unvaccinated, died from complications from the disease on Aug 1.
92 NEW LOCALLY TRANSMITTED COVID-19 CASES
Singapore reported 92 new locally transmitted COVID-19 infections as of noon on Wednesday, including 30 infections with no links to previous cases.
Fifty-four infections were linked to previous cases and had been placed on quarantine. Another eight linked infections were detected through surveillance testing.
Among the new cases, one is a senior above the age of 70 who is unvaccinated and at risk of serious illness, said MOH.
There were also three imported cases, who were placed on stay-home notice or isolated upon arrival. One infection was detected upon arrival while two developed the illness during the stay-home notice or isolation period.
In total, Singapore reported 95 new COVID-19 cases on Wednesday.
This is the first time in more than two weeks that the daily number of cases has fallen below 100. There were 92 new infections reported on Jul 18.
12 NEW CLUSTERS, YUHUA HAWKER CENTRE TO CLOSE
Twelve new clusters were identified on Wednesday, bringing the number of active clusters in Singapore to 112.
Nine cases were added to the Jurong Fishery Port/Hong Lim Market & Food Centre cluster, which has now grown to 1,115 infections. It remains the largest active cluster in Singapore.
YUHUA HAWKER CENTRE TO CLOSE AFTER COVID-19 CASES FOUND
Yuhua Hawker Centre in Jurong East will be closed to the public for two weeks after seven COVID-19 cases were detected among people who worked in or visited the food centre.
The cases were detected as part of investigations into infections involving markets and food centres, likely seeded by fishmongers who visited Jurong Fishery Port, said MOH.
The closure of the hawker centre from Aug 5 to Aug 19 will allow the chain of transmission to be broken and enable deep cleaning of the premises, said MOH.
All workers at the hawker centre have been placed on quarantine and will be tested during the quarantine period, the ministry added.
Free testing will also be extended to people who visited Yuhua Market and Hawker Centre between Jul 21 and Aug 4.
Visitors are advised to monitor their health closely and minimise social interactions for 14 days from the date of their visit.
7 IN CRITICAL CONDITION
MOH said in its release that the number of new COVID-19 cases in the community has decreased from 915 cases in the week before to 758 cases in the past week.
However, Singapore is likely to continue to see a high number of cases in the coming days amid efforts to detect them and contain their spread in the community.
The number of unlinked cases in the community increased from 202 in the week before to 235 in the past week.
As of Wednesday, 555 COVID-19 cases were warded in hospital, with most of them well and under observation, said MOH.
Seven cases were in critical condition in the intensive care unit (ICU), and 42 cases required oxygen supplementation.
Of these 49 cases, eight were fully vaccinated, said MOH. Among the fully vaccinated, 6 required oxygen supplementation, while two were in ICU care because of underlying medical conditions.
There were 37 people aged above 60 years who have fallen very ill, said MOH. Of these, 31 were unvaccinated or partially vaccinated.
"There is continuing evidence that vaccination helps to prevent serious disease when one gets infected," said MOH.
Over the last 28 days, there were 77 local cases who required oxygen supplementation, were admitted to the ICU or died.
Of these, 45 were unvaccinated, 24 were partially vaccinated and eight were fully vaccinated. 
64% OF POPULATION FULLY VACCINATED
As of Aug 3, 64 per cent of Singapore's population has completed the full regimen of their COVID-19 vaccination or been fully vaccinated under the national vaccination programme.
About 77 per cent of the population has received at least one dose of a vaccine.
In addition, 113,767 doses of the Sinovac vaccine have been administered, covering 76,571 people.
NO HOSPITAL VISITS
Visits to all hospital wards will be suspended for two weeks from Thursday to Aug 18, with some exceptions, in order to reduce potential COVID-19 transmission in hospitals.
This comes after more COVID-19 community cases were detected recently, including staff members and patients of hospitals, MOH said in a separate announcement on Wednesday.
Exceptions will be made on a case-by-case basis for some patients, including those who have turned very ill, paediatric patients, birthing or postpartum mothers and those requiring additional care support.
MOH APOLOGISES FOR DELAYS, LAPSES OVER QUARANTINE ORDERS
MOH on Tuesday apologised for the delays in taking people under quarantine orders to government facilities, following complaints about the process and confusion over the information given to affected individuals.
"We have been getting a lot of feedback on quarantine operations and its related ground coordination and communications lapses," said the ministry in a Facebook post. 
"We are doing the best we can to ramp up resources. Our sincere apologies to affected individuals and their families for the delays and lapses." 
MOH said that the number of people on quarantine has increased "many fold", with the outbreak of the KTV, Jurong Fishery Port and other smaller clusters - explaining the "slower conveyance" to government quarantine facilities. 
As of Wednesday, Singapore has reported a total of 65,410 COVID-19 cases and 39 deaths.