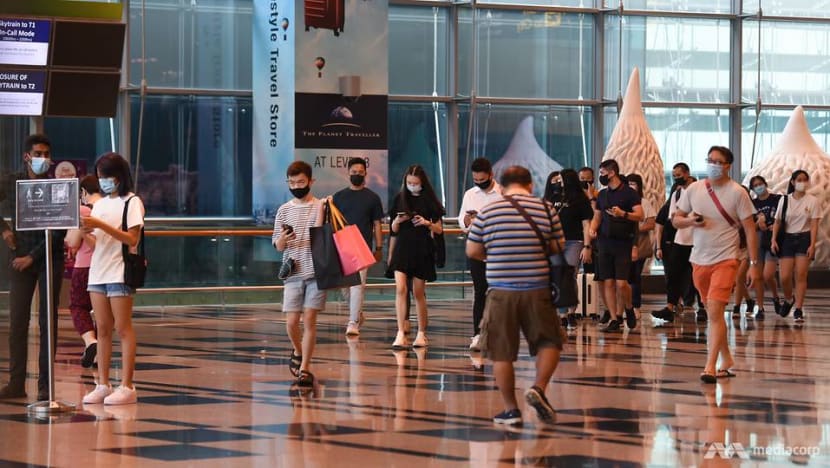 SINGAPORE: There were 17 new COVID-19 cases in Singapore as of noon on Monday (Apr 5), the Ministry of Health (MOH) said in its preliminary daily update.
All the new infections were imported and were placed on stay-home notice or isolated upon arrival in Singapore.
Four cases are permanent residents who returned from India, Indonesia and Malaysia.
Two other cases - a dependant's pass holder and a work pass holder - arrived from India.
Another case is a long-term visit pass holder who arrived from the UK. 
Six cases are work permit holders who arrived from Bangladesh, India, Indonesia and Malaysia, of whom one is a foreign domestic worker. 
The four remaining cases are short-term visit pass holders: Three arrived from Brazil, Canada and Serbia to participate in a sporting event; the remaining case arrived from the US with her child who is studying in Singapore. 
Epidemiological investigations are in progress. 
All the identified close contacts of the cases have been isolated and placed on quarantine, and will be tested at the start and end of their quarantine period so that MOH can detect asymptomatic cases.
MOH will also conduct serological tests for the close contacts to determine if the cases could have been infected by them.
Twelve more cases have been discharged from hospitals or community isolation facilities, bringing Singapore's total recoveries to 60,214.
There are 46 cases still in hospital. Most of them are stable or improving, and one is in critical condition in the intensive care unit. Another 205 people are being isolated and cared for at community facilities.
The number of new cases in the community has remained stable at 2 cases per week in the past 2 weeks, said MOH. The number of unlinked cases in the community has also remained stable at 2 cases per week in the past 2 weeks.

Of the 174 confirmed COVID-19 cases reported between Mar 30 and Apr 5, 73 cases have tested positive for their serology tests, 83 have tested negative and 18 serology test results are pending.
VACCINATION FOR PEOPLE UNDER 45 YEARS OLD
From June, the Government plans to invite people under the age of 45 to book slots for their COVID-19 vaccination.
Singapore continues to make "steady progress" with its vaccination programme, said Senior Minister of State for Health Janil Puthucheary in Parliament on Monday.

He added, however, that Singapore's supply of vaccines remains limited by the ability of vaccine manufacturers to deliver, given the high levels of global demand.
"This has resulted in limited booking slots in recent days. I apologise for the inconvenience caused to those who have not been able to book earlier. As more supplies arrive, we will progressively open more slots," he said.
Responding to questions about a digital vaccine passport system, Dr Puthucheary said more data is needed to assess if changes to border measures can be made for people who have been vaccinated.

Border measures will also have to take into consideration other factors such as the number of COVID-19 cases and infection control measures implemented in source countries, he said.
"Hence progress on cross-border recognition of vaccine certification may take some time. We will provide further updates when there is significant progress," Dr Puthucheary added.
As of Monday, Singapore has reported a total of 60,495 COVID-19 cases.
Download our app or subscribe to our Telegram channel for the latest updates on the coronavirus outbreak: https://cna.asia/telegram