79-year-old man dies of COVID-19 complications; 96 new locally transmitted cases in Singapore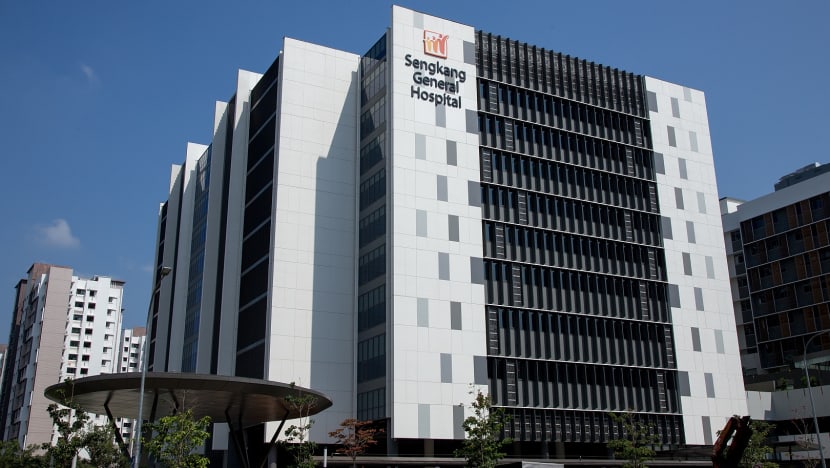 SINGAPORE: A 79-year-old man has died from complications due to COVID-19, taking Singapore's death toll from the virus to 40.
The Singaporean man, identified as Case 67610, was not vaccinated against COVID-19. He had a history of heart disease, chronic obstructive pulmonary disease and hypertension, said the Ministry of Health on Thursday (Aug 5).
The man died on Wednesday. He had sought treatment at Sengkang General Hospital the same day for shortness of breath and low blood pressure, and was subsequently confirmed to have COVID-19.
This is the third fatality from COVID-19 in August.
96 NEW LOCALLY TRANSMITTED CASES
Singapore reported 96 new locally transmitted COVID-19 infections on Thursday, including 38 with no links to previous cases.
Thirty-eight infections were linked to previous cases and had been placed on quarantine. Another 20 linked infections were detected through surveillance testing.
Among the new cases, two were people above the age of 70 who are unvaccinated or partially vaccinated, and at risk of serious illness, said MOH.
There were also two imported cases, who were placed on stay-home notice or isolated upon arrival. One infection was detected upon arrival while one developed the illness during the stay-home notice or isolation period.
In total, Singapore reported 98 new COVID-19 cases on Thursday.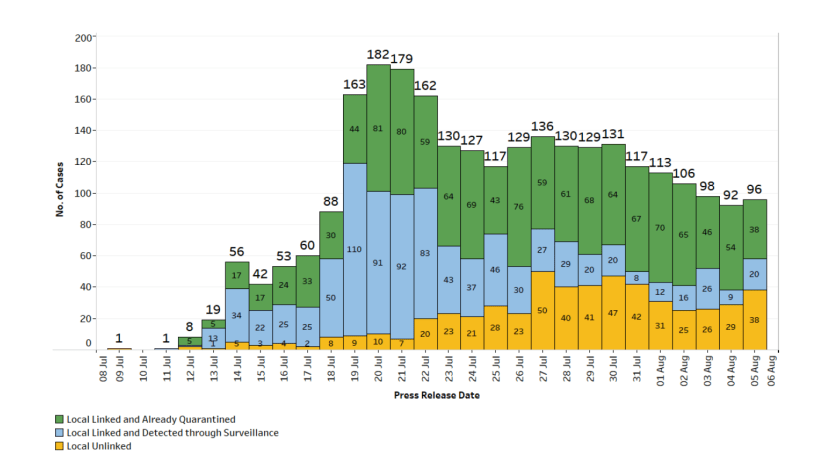 TEN NEW CLUSTERS
Ten new COVID-19 clusters were reported on Thursday, bringing the number of active clusters in Singapore to 122.
Another 12 cases were linked to the cluster at Jurong Fishery Port/Hong Lim Market and Food Centre, which remains the largest active cluster in Singapore with 1,127 infections.
Two markets - Clementi 448 Market and Food Centre and Haig Road Market and Food Centre - were removed from a list of clusters linked to Jurong Fishery Port.
MOH said that the number of new cases in the community decreased to 723 cases in the past week, from 881 in the week before.
Unlinked community cases rose to 228 infections in the past week, from 223 in the week before.
EIGHT IN CRITICAL CONDITION
There were 577 cases warded in hospital as of Thursday, with most well and under observation.
Eight people were in critical condition in the intensive care unit (ICU), while 40 cases of serious illness required oxygen supplementation.
Of these 48 cases, seven were fully vaccinated - five required oxygen supplementation while two required ICU care because of underlying medical conditions.
There were 36 people above the age of 60 who have fallen very ill, said MOH, out of whom 31 were unvaccinated or partially vaccinated.
MOH said there was continuing evidence that vaccination helped to prevent serious disease after infection.
Over the last 28 days, 80 local cases required oxygen supplementation, were admitted to the ICU or died. Of this number, 48 were unvaccinated, 24 were partially vaccinated and eight were fully vaccinated.
65% OF POPULATION VACCINATED
As of Wednesday, 65 per cent of Singapore's population has completed their full vaccination regimen or received two doses under the national vaccination programme.
About 78 per cent have received at least one dose of a vaccine.
More than 7.8 million doses of COVID-19 vaccines have been administered under the national vaccination programme, covering 4,337,397 people. Of those, 3,618,488 have completed the full vaccination regimen.
In addition, 115,970 doses of Sinovac vaccines have been administered as of Wednesday, covering 77,095 people.
VISITS TO ALL HOSPITAL WARDS TO CEASE FOR 2 WEEKS
Visits to all hospital wards will cease for two weeks from Thursday as an interim measure to reduce potential COVID-19 transmission in hospitals, MOH reported earlier this week. 
This comes after more COVID-19 community cases were detected recently, which include staff members and patients of hospitals, said the ministry on Wednesday. 
On Tuesday, MOH reported that Changi General Hospital was among one of eight new clusters in Singapore.
The interim measure banning visitors will not apply to certain groups of patients, such as those who are very ill, paediatric patients, birthing or post-partum mothers, as well as those requiring additional care support from caregivers. 
As of Thursday, Singapore has reported a total of 65,508 COVID-19 cases.