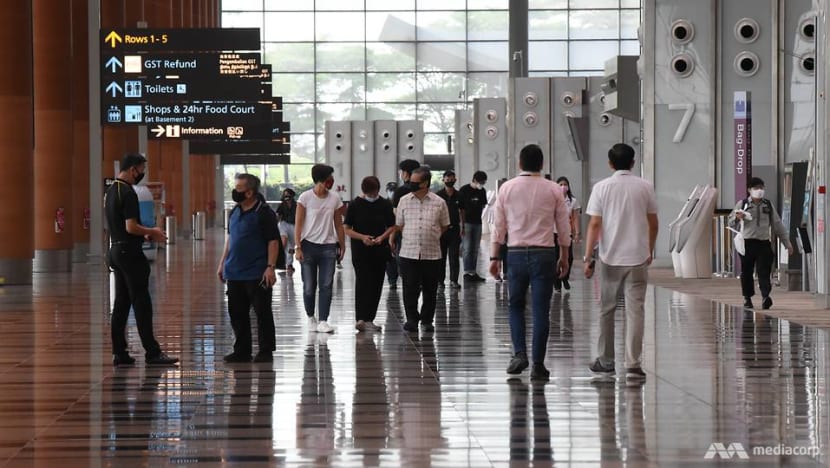 SINGAPORE: Twenty-eight new COVID-19 cases were reported in Singapore as of noon on Tuesday (Jan 5), said the Ministry of Health (MOH).
Two of the new cases are local transmissions in the community. 
CASES ABOARD THE NEWOCEAN 6
One of them, a 55-year-old Singaporean man, is a close contact of a previously reported case, Case 58812, who is a crew member of a vessel that arrived from Indonesia on Dec 17. 
A cargo officer, he was on board the bunker tanker NewOcean 6 from Dec 21 to Dec 23 and from Dec 28 to Jan 2. The time in between from Dec 23 to Dec 28 was spent at his home at Tah Ching Road.
Earlier tests from scheduled testing - the last of which took place on Dec 23 - had been negative for COVID-19 infection.
On Dec 31, he was placed on quarantine after he had been identified as a close contact of Case 58812, a crew member aboard the NewOcean 6.
The man was taken to a government quarantine facility on Jan 2 and tested positive for COVID-19 the next day. He was then taken to the National Centre for Infectious Diseases. 
"His serological test result has come back negative, indicating that this is likely a current infection," said MOH.
All remaining crew members aboard the NewOcean 6 have been placed on quarantine since Dec 31, while all identified close contacts of the cases, including their family members and co-workers, have been isolated and placed on quarantine.
They will be tested at the start and end of their quarantine period in order to detect asymptomatic cases.
The 55-year-old man joins Case 58812, five newly confirmed cases and two previous cases to form the NewOcean 6 cluster.
The other community case reported on Tuesday is a 49-year-old Indian man, who holds a short-term visit pass. 
He arrived from India on Dec 10 to visit his Singaporean spouse, and served his stay-home notice at a dedicated facility until Dec 24. 
"His pre-departure test taken in India on Dec 6 was negative for COVID-19 infection, and his test on Dec 21 during SHN came back negative as well," said MOH.
He is asymptomatic, and his COVID-19 infection was detected when he took a pre-departure test on Jan 3 in preparation for his return to India. His result came back positive the next day and he was conveyed to Mount Elizabeth Hospital.
His serological test result returned a positive result, indicating a likely past infection.
IMPORTED CASES
There were 26 imported cases, who were placed on stay-home notice or isolated upon their arrival in Singapore, said the ministry.
Amongst them are four Singaporeans or permanent residents who returned from the United States, the United Kingdom and India.
Two of the imported cases are work pass holders arriving from the UAE, with the rest being work permit holders arriving from Bangladesh, Indonesia, Myanmar and the Philippines.
Among the work permit holders are 13 foreign domestic workers and five Indonesian men who are crew members aboard the NewOcean 6.
They boarded the vessel in March or September 2020, were placed on quarantine on Dec 31, and conveyed to a government quarantine facility on Jan 2.
They tested positive for COVID-19 on Jan 4. Prior to that, they had not disembarked from the vessel.
No new cases were found in foreign workers' dormitories.
Twenty more cases have been discharged from hospitals or community isolation facilities, bringing Singapore's total recoveries to 58,517.
There are 60 cases still in hospital. Most of them are stable or improving, and one is in the intensive care unit. Another 143 are being isolated and cared for at community facilities.
COVID-19 DISCUSSED IN PARLIAMENT
The COVID-19 pandemic continued to be discussed on the second day of Singapore's first Parliament session of the year.
On Tuesday, Minister-in-charge of the Smart Nation Initiative Vivian Balakrishnan clarified that while police could obtain TraceTogether data for criminal investigations, they can only do so by requiring a person involved in the probe to produce their TraceTogether token or mobile smartphone.
The issue of the police being able to obtain such information emerged in Parliament on Monday, raising privacy concerns over the national contact tracing tool for COVID-19. 
Minister of State for Home Affairs Desmond Tan told the House then that the police have the power to order anyone to produce any data, including TraceTogether data, for the purpose of a criminal investigation.
Separately, about 1,000 self-employed individuals have been made to refund their Self-Employed Person Income Relief Scheme (SIRS) payments due to erroneous declarations of income and property information. 
These individuals made up 0.5 per cent of all SIRS recipients, Manpower Minister Josephine Teo said in Parliament.
SIRS is a financial assistance grant of up to S$9,000 to help self-employed persons tide through the pandemic.
As of Tuesday, Singapore has reported a total of 58,749 COVID-19 cases and 29 fatalities from the disease. 
Download our app or subscribe to our Telegram channel for the latest updates on the coronavirus outbreak: https://cna.asia/telegram