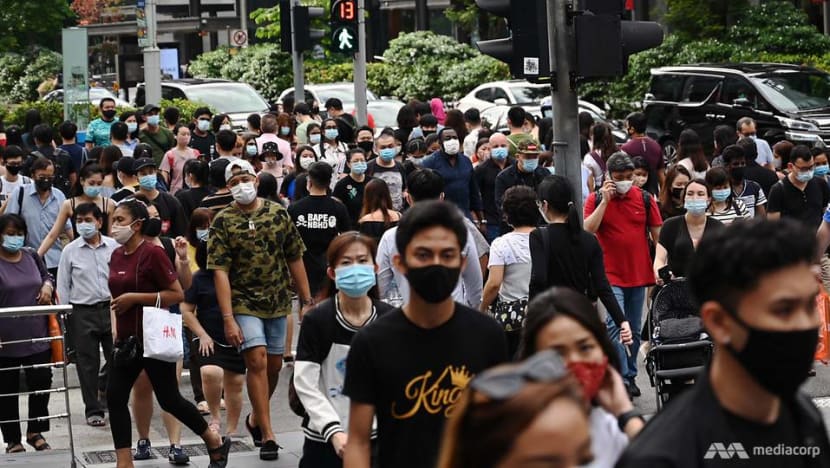 SINGAPORE: Singapore reported 3,277 new COVID-19 cases as of noon on Tuesday (Oct 26) as 10 more people died from complications due to the virus.
The fatalities were aged between 66 and 98. All but one unvaccinated case had various underlying medical conditions. The Ministry of Health (MOH) did not specify what these conditions were.
This brings Singapore's death toll from the coronavirus to 339.
The number of new COVID-19 infections is an increase from the daily count of 3,174 reported on Monday.
Among Tuesday's cases, 3,272 infections are locally transmitted, comprising 2,984 in the community and 288 in migrant workers' dormitories.
Five are imported cases, MOH said in its daily update released to media at about 11.43pm.
The weekly infection growth rate is 1.11 as of Tuesday. This refers to the ratio of community cases for the past week over the week before.
As of Tuesday, Singapore has reported a total of 179,095 COVID-19 cases since the start of the pandemic.
MOH said it has been working with hospitals to set aside more ICU beds for COVID-19 patients. In view of the current ICU occupancy rates, the next 100 beds have been "triggered", and they will be ready next week. 
"While we are able to stand up ICU beds at short notice, the increased load of patients adds strain and pressure on the healthcare system and our healthcare workers," said the health ministry. 
It encourages those who have not been vaccinated to do so to protect themselves and ease the patient load on the healthcare system. Those unvaccinated are also urged to minimise unnecessary movement and social interactions. 
HOSPITALISATIONS AND HOME RECOVERY
Among all COVID-19 community cases that have been onboarded or admitted, 19,013 patients, or 72.4 per cent, are undergoing home recovery.
Another 4,570 are in community care facilities and 878 are in COVID-19 treatment facilities.
The remaining 1,787 patients are warded in hospital, mostly for observation, said MOH. Of these, 289 patients need oxygen supplementation in general wards.
In the intensive care unit (ICU), 79 cases are unstable and under close monitoring to prevent further deterioration, and 67 are critically ill and intubated.
A total of 2,856 cases were discharged on Tuesday, of which 435 are seniors aged above 60.
ACTIVE CLUSTERS
MOH said it is closely monitoring six active clusters.
There are four new cases in the cluster at the Institute of Mental Health (IMH), bringing the total number of infections there to 138. 
Fourteen cases are linked to Maple Bear Loyang, a pre-school, with two new infections on Tuesday. Of the cases, 12 are students and two are staff members. 
Bukit Batok Home for the Aged - the largest of the clusters on the list - has 156 cases after two more are added to the cluster.
Six cases were added to the cluster at Banyan Home at Pelangi Village, taking the total number of infections there to 77.
AWWA Community Home for Seniors Citizens now has 79 cases after eight more patients were added to the cluster.
The remaining cluster is at NTUC Health (Jurong West) Nursing Home, with 15 COVID-19 cases.
NTUC Health said in a statement on Facebook on Wednesday that all of the infections in the Jurong West home are residents. There have been no cases among ward staff, it said.
"After the cases were detected, we conducted testing for all the remaining 230 residents, and staff. ​This is in addition to the regular surveillance testing for all staff. ​So far, none of our staff working in the wards have tested positive," said NTUC Health.
As a precautionary measure, the nursing home has isolated the affected areas and increased its cleaning regimen.
It is also working with the authorities on measures to further minimise the spread of COVID-19.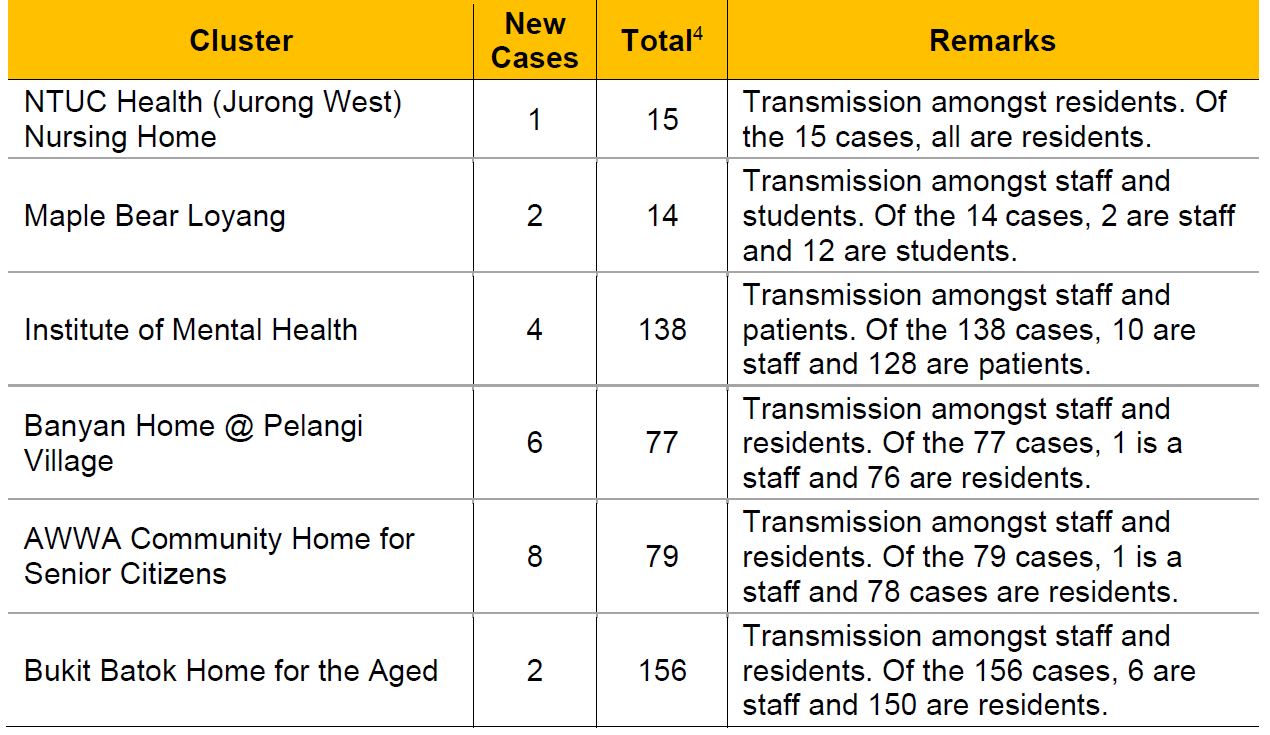 QUARANTINE-FREE TRAVEL TO AUSTRALIA, SWITZERLAND
Singapore will extend its quarantine-free vaccinated travel lane (VTL) scheme to Australia and Switzerland from Nov 8, announced the Civil Aviation Authority of Singapore on Tuesday.
For Australia, however, two-way travel applies only to fully vaccinated Australian citizens, permanent residents and their immediate families due to its current border measures.
Under the vaccinated travel lane scheme, travellers must have remained in one or more of the VTL countries in the last 14 days before departure to Singapore.
They must take two polymerase chain reaction (PCR) tests - before departure and on arrival at Changi Airport - and enter Singapore via designated flights.
Singapore has now announced vaccinated travel lanes with 13 countries.