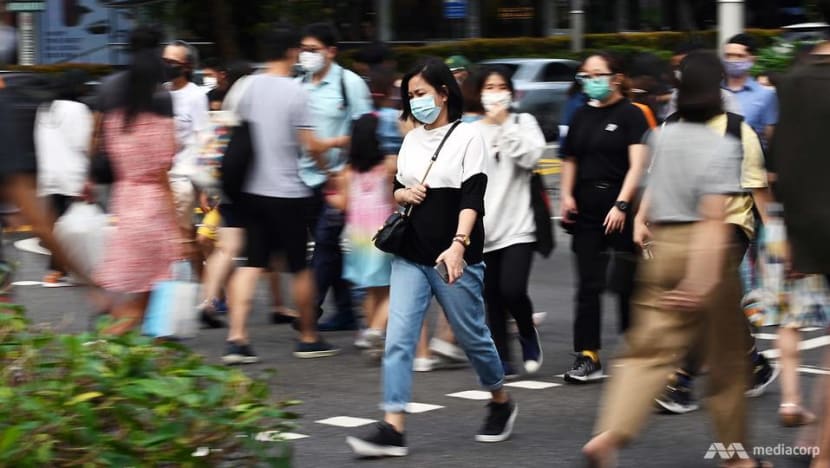 SINGAPORE: Singapore reported 3,439 new COVID-19 cases as of noon on Thursday (Oct 21) and 16 more deaths from complications due to the virus.
Among the new cases, 3,437 are locally transmitted, comprising 2,937 infections in the community and 500 in migrant workers' dormitories.
Two are imported cases, MOH said in its daily update released to media at about 11.15pm.
The fatalities are 12 men and 4 women aged between 61 and 93. Eight of them were unvaccinated against COVID-19, one was partially vaccinated and seven were fully vaccinated.
Among the men are 11 Singaporeans and permanent residents, and one Malaysian work permit holder. All the women were Singaporean.
Fifteen of the fatalities had various underlying medical conditions. MOH did not specify what these conditions were. One vaccinated case had no known medical conditions.
This brings Singapore's death toll from the coronavirus to 280.
As of Thursday, Singapore has reported a total of 162,026 COVID-19 cases since the start of the pandemic.
HOSPITALISATIONS AND HOME RECOVERY
Among all COVID-19 community cases that have been onboarded or admitted, 17,617 patients, or 72.4 per cent, are undergoing home recovery.
Another 4,223 are in community care facilities and 880 in COVID-19 treatment facilities.
The remaining 1,613 patients are warded in hospital, mostly for observation, said MOH. Of these, 346 patients need oxygen supplementation and 61 are in intensive care.
Over the last 28 days, out of 78,985 infected people, 1 per cent needed oxygen supplementation and 0.1 per cent were in intensive care.
Among those who needed oxygen supplementation or intensive care, 47.1 per cent were fully vaccinated and 52.9 per cent were unvaccinated or partially vaccinated.
ACTIVE CLUSTERS
MOH said it is "closely monitoring" eight active clusters.
Among them is a cluster of 42 cases at Banyan Home at Pelangi Village, with two new cases added on Thursday. Most of the cases are residents.
Three infections were added to a cluster linked to PCF Sparkletots at Zhenghua, taking it to 17 cases. These comprise five staff, 11 students and one household contact of a case.
A cluster of 12 cases is also being monitored at Bo Tien Home for the Aged, with one new case added on Thursday. All cases are residents.
Among the previously reported clusters, 17 more infections were identified at the Bukit Batok Home for the Aged. This takes the cluster's tally to 109 cases, most of whom are residents.
Three more cases were added to the MWS Christalite Methodist Home cluster, taking its total to 118 infections.
Two cases were added to the Apex Harmony Lodge cluster for a total of 15 infections.
The clusters at AWWA Community Home for Senior Citizens and ECON Medicare Centre and Nursing Home each added one new case.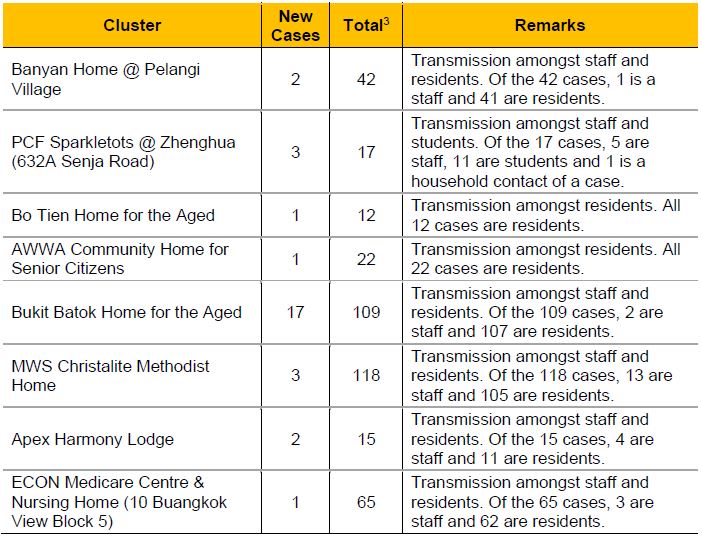 HOSPITAL, RESIDENTIAL CARE HOME VISITS REMAIN SUSPENDED
Separately, MOH said that visits to hospital wards and residential care homes will remain suspended until Nov 21. The suspension of visits were due to end this weekend as part of tighter measures to curb the spread of the coronavirus.
"This will protect healthcare capacity and vulnerable seniors during this period when COVID-19 cases in the community are rising," the ministry said.
The announcement came a day after Singapore extended current restrictions under the "stabilisation phase" for another month to Nov 21, originally scheduled to last until Oct 24.
This means social gatherings and dining-in will continue to be capped at two people, while work-from-home will remain the default arrangement, among other measures.