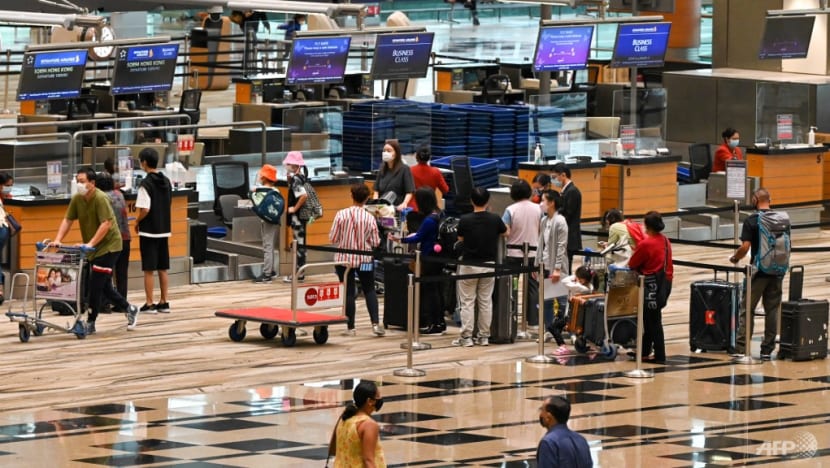 SINGAPORE: Singapore reported 311 new COVID-19 cases as of noon on Thursday (Dec 30), including 114 imported infections.
There was also one fatality, taking the country's death toll from coronavirus complications to 827, according to the latest infection statistics on the Ministry of Health's (MOH) website.
Thursday's case count was down from the 341 infections reported on Wednesday.
Among the new cases reported on Thursday, 197 were locally transmitted, comprising 193 in the community and four in migrant worker's dormitories.
Separately, MOH's website also showed that 103 new Omicron variant infections were confirmed on Thursday, comprising 70 imported cases and 33 local cases.
The daily new COVID-19 cases and new confirmed Omicron cases are presented as two separate sets of data on MOH's website.
The weekly infection growth rate on Thursday was 0.73, up from Wednesday's 0.71. This refers to the ratio of community cases for the past week over the week before.
The growth rate has remained below 1 since Nov 13. A figure below 1 means that the number of new weekly COVID-19 cases is falling.
As of Thursday, Singapore has recorded 279,061 COVID-19 cases since the start of the pandemic.
HOSPITALISATIONS AND VACCINATIONS
The intensive care unit (ICU) utilisation rate was 49.9 per cent, down from the 50.7 per cent reported on Wednesday. 
There were 279 patients in hospital, with 45 requiring oxygen supplementation.
In the ICU, four patients required close monitoring while 16 patients were critically ill.
As of Wednesday, 91 per cent of Singapore's eligible population have completed their full vaccination regimen under the national vaccination programme.
This figure has been updated to include children aged five to 11, after vaccination for this age group started on Monday.
About 40 per cent of the total population have received their vaccine booster shots.