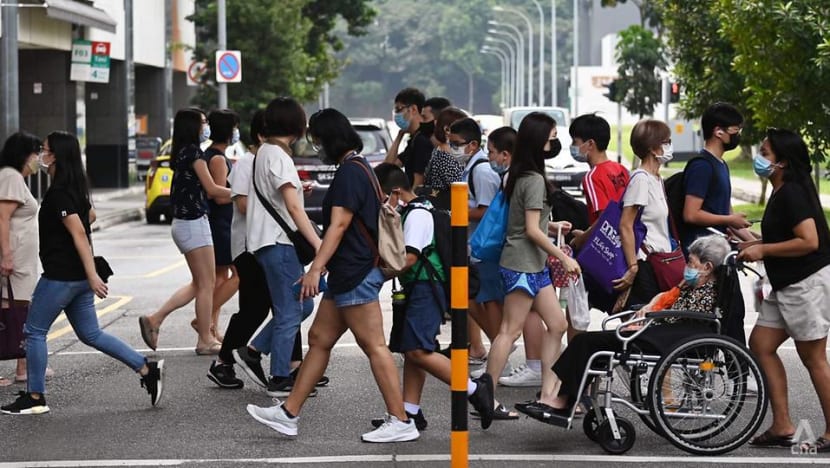 SINGAPORE: Singapore reported 3,099 new COVID-19 cases as of noon on Friday (Nov 12) as 14 more people died from complications due to the coronavirus.
The fatalities were aged between 35 and 102. All of them, except for an unvaccinated case, had various underlying medical conditions. The 35-year-old was not vaccinated and had multiple comorbidities, the Ministry of Health (MOH) said. 
This brings Singapore's death toll to 562.
The number of new cases reported on Friday is up from the 2,396 infections reported on Thursday.
The weekly infection growth rate was 1.04 as of Friday, higher than the 0.87 reported on Thursday. This refers to the ratio of community cases for the past week over the week before.
The last time the weekly infection growth rate was above 1 was on Nov 2.
"The week-on-week ratio has increased due to the relatively low number of cases during the Deepavali public holiday last week," said MOH.
Of the new cases reported on Friday, 3,093 infections were locally transmitted, comprising 2,965 cases in the community and 128 infections in migrant workers' dormitories.
There were six imported cases, MOH said in its daily update released to the media at about 11.40pm. 
As of Friday, Singapore has reported 233,176 COVID-19 cases since the start of the pandemic.
HOSPITALISATIONS
A total of 1,616 cases were warded in hospital, with 280 patients requiring oxygen supplementation in general wards.
Thirty-one cases were unstable and under close monitoring in the intensive care unit (ICU), and 75 were critically ill and intubated. The current overall ICU utilisation rate was 67 per cent.
A total of 2,979 cases were discharged over the past day, of whom 456 were seniors aged above 60.
"Seniors 60 years old and above, especially if unvaccinated, continue to be more adversely affected by COVID-19," said MOH.
Of the 91,231 cases over the last 28 days, 98.7 per cent had mild symptoms or were asymptomatic, while 0.8 per cent required oxygen supplementation in the general ward, 0.3 per cent were in the ICU and 0.2 per cent died.
VACCINATIONS
As of Thursday, 85 per cent of Singapore's population has completed their full regimen or received two doses of COVID-19 vaccines.
About 86 per cent have received at least one dose, while 19 per cent have received booster shots.
CLUSTERS
MOH said it is "closely monitoring" four large clusters. 
The cluster at the Institute of Mental Health added one more case, taking its total to 412. Of these, 27 were staff members and 385 were patients. 
There were 11 cases in total at Safari House Preschool (Toa Payoh), comprising two staff members and nine students.
The clusters at NTUC Health Nursing Home (Geylang East) and Surya Home each grew to 23 cases.
MEDICAL BILLS FOR COVID-19 PATIENTS WHO ARE UNVACCINATED "BY CHOICE"
COVID-19 patients who are voluntarily unvaccinated and require intensive care could be looking at a bill of about S$25,000, said MOH in a separate statement earlier on Friday.  
This comes after it was announced on Monday that from Dec 8, all COVID-19 patients who are unvaccinated "by choice" will have to pay their own medical bills if they are admitted to hospitals or COVID-19 treatment facilities.
The bill would vary depending on the severity of the patient's condition as well as the type of facility where care is rendered.
"Generally, the median bill size for COVID-positive patients receiving treatment in acute hospitals who require both ICU care and COVID-19 therapeutics is estimated to be about S$25,000," said MOH.
"Means-tested government subsidies and MediShield Life coverage can reduce the bill to about S$2,000 to S$4,000 for eligible Singaporeans in subsidised wards," the ministry added, noting that patients may choose to use their MediSave balance to help fund this remaining amount.
MOH also said that the bill for COVID-19 patients who receive treatment in a COVID-19 treatment facility is expected to be around S$4,500 for a seven-day stay.
"For Singapore citizens, after subsidies and MediShield Life where applicable, the co-payment is around S$1,000," it added.