Singapore reports 422 new COVID-19 cases; JEM, Pioneer Mall added to list of places visited by infectious cases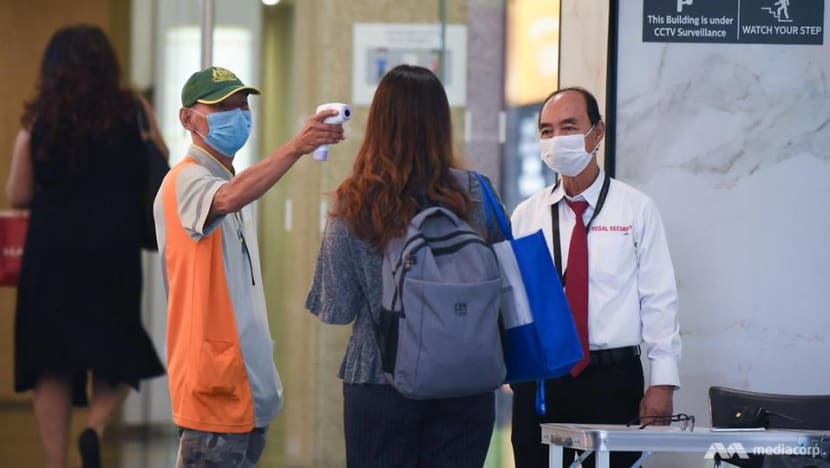 SINGAPORE: Singapore reported 422 new cases of COVID-19 as of noon on Thursday (Jun 11), including five cases in the community. 

This brings the total number of COVID-19 cases in Singapore to 39,387. 

The vast majority of the cases are work permit holders residing in foreign worker dormitories, said the Ministry of Health (MOH) in its daily preliminary release. 

In an evening update, MOH said a 44-year-old Indian national who died on Jun 8 was posthumously found to have COVID-19. He had sought medical treatment at a general practitioner clinic after developing chest and epigastric pain on May 28. 
His cause of death was identified as ischaemic heart disease. 

MOH also added two places to its list of venues visited by COVID-19 cases during the infectious period: A FairPrice Xtra outlet at shopping mall JEM, as well as Pioneer Mall. 
The full list of places: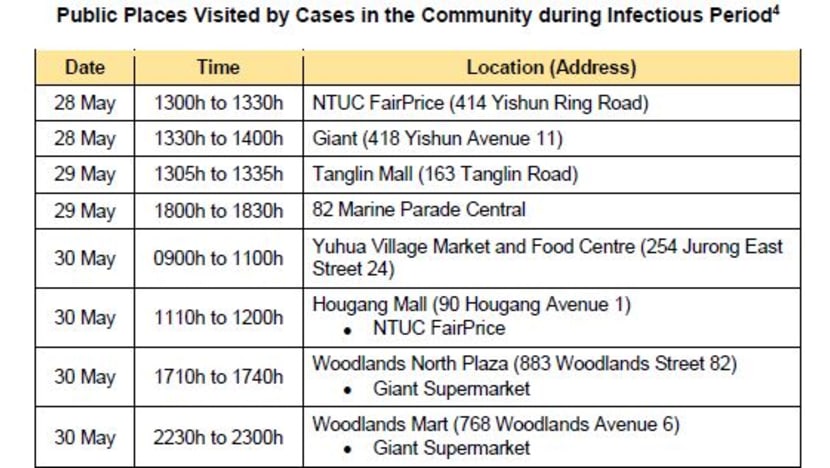 COMMUNITY CASES
Among the community cases, one is a Singaporean, two are work pass holders and two are work permit holders, MOH said in its nightly update. They were identified to be nationals from Malaysia, India and Myanmar.

One of them is a security guard at a dormitory at Tampines Street 62. 
Another is an essential worker, while the remaining two are housemates of previously confirmed cases, and had already been quarantined earlier. They were swabbed while in quarantine to verify their status, MOH said.

"Of the five cases in the community, two had been picked up as a result of our proactive surveillance and screening, and two had already been placed on quarantine," MOH said, noting that all the work pass and work permit holders were asymptomatic.

"Overall, the number of new cases in the community has increased, from an average of six cases per day in the week before, to an average of eight per day in the past week.
"The number of unlinked cases in the community has also increased, from an average of one case per day in the week before, to an average of four per day in the past week."

SIX NEW CLUSTERS AT DORMITORIES
A total of 754 more cases of COVID-19 infection have been discharged from hospitals or community isolation facilities.
In all, 27,286 have fully recovered from the infection and have been discharged, MOH said.

There are currently 227 confirmed cases who are still in hospital. 
Of these, most are stable or improving, and two are in critical condition in the intensive care unit. A total of 11,849 have been isolated and are being cared for at community facilities.

Six new clusters were announced on Thursday, in dormitories at 15 Kaki Bukit Crescent, 9 Kian Teck Drive, 1A Pioneer Sector Walk, 214 Tagore Lane, Potong Pasir Avenue 1 and 200A Tuas South Boulevard.
CLINICAL SAFETY TRIALS, EBOLA DRUG APPROVED 
Singapore-based company Tychan on Wednesday announced that it will start human clinical trials next week for a treatment that could slow down the progression of COVID-19 in patients. 
The treatment would also help patients recover faster, and provide temporary protection against the coronavirus.

Separately, antiviral drug remdesivir was also granted conditional approval by the Health Sciences Authority to be administered to COVID-19 patients in Singapore who are severely ill. 

The drug, which was first created to treat Ebola, has been used as part of clinical trials in Singapore for COVID-19 patients.

Doctors can now use remdesivir to treat adult COVID-19 patients who require supplemental oxygen or require more intensive breathing support, such as the use of ventilators or life support machines.

Patients who have oxygen saturation levels of 94 per cent or less can also be given the antiviral drug.
Download our app or subscribe to our Telegram channel for the latest updates on the COVID-19 outbreak: https://cna.asia/telegram