Unvaccinated 93-year-old woman dies of COVID-19 complications; 347 new locally transmitted infections in Singapore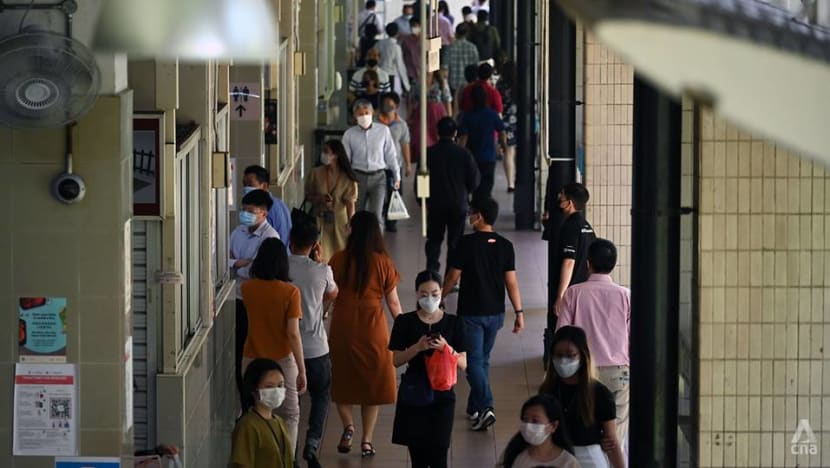 56 people in Singapore have now died from coronavirus-related complications
Health Ministry revamps its daily reports, with some information like the number of linked and unlinked cases no longer provided
From Sep 9, updates will be cut from twice to once a day
SINGAPORE: A 93-year-old woman died of COVID-19 complications on Wednesday (Sep 8), becoming Singapore's 56th fatality from the disease. 
The Singaporean woman, known as Case 71194, had not been vaccinated against COVID-19 and had a history of diabetes mellitus, chronic kidney disease, hypertension and hyperlipidaemia, said the Ministry of Health (MOH) in its daily update.
She had developed symptoms on Sep 2 and was taken to the National Centre for Infectious Diseases on Sep 5, where she tested positive for COVID-19. 
Singapore reported 347 new locally transmitted COVID-19 infections on Wednesday.
Data from MOH's Situation Report on its website showed that there were 329 community cases and 18 dormitory cases among the new local infections. The number of community cases on Wednesday is a new daily high.
Of the new cases reported, three people are above the age of 70 who are unvaccinated or partially vaccinated. All three are at risk of serious illness, said MOH in its evening update.
Among the local cases today are 84 seniors who are above 60 years.
There were two imported cases on Wednesday, taking Singapore's daily count to 349.
The Health Ministry said it is "closely monitoring" nine large clusters, five of which involve the bus interchanges at Toa Payoh, Bishan, Clementi, Tampines and Boon Lay. In total, 19 new COVID-19 cases have been linked to these bus interchanges. 
The other large clusters include Bugis Junction, Changi General Hospital, North Coast Lodge and a construction site at 30 Sunview Way. Between two and nine new infections have been added to these clusters. 
NEW REPORT FORMAT
In a statement accompanying the daily press release, MOH said it had "revamped" its daily COVID-19 reports to "reflect the salient issues that we are facing in this new phase of the battle".
As part of this, the number of linked and unlinked new cases would no longer be included in the reports. MOH said this was "no longer as relevant as before given our current strategy of living with COVID-19".
"We are closely tracking the number of cases hospitalised with severe illness, and in the intensive care unit, to ensure that our hospital capacity is not overwhelmed," MOH said.
Going forward, the ministry said it would provide information on "large emerging" clusters only, "so that the public can avoid certain places, or regulate their own activities". 
The Health Ministry added that it would stop releasing detailed reports on Singapore's vaccine progress daily, and that from Sep 9, daily updates on the COVID-19 situation would be issued once a day, instead of the current twice a day.
"Today, we are one of most highly vaccinated countries in the world, with 81 per cent of our population having fully completed their vaccinations," MOH said. "With a high vaccination rate, we have adjusted our measures to transit to a COVID-19 resilient nation."
Last Friday, Health Minister Ong Ye Kung said it was "timely" for MOH to revamp its daily COVID-19 reports. "(We) are not chasing down every single case, which means unlinked numbers are also not as relevant as before," said Mr Ong during a press conference by the COVID-19 multi-ministerial task force.
23 SERIOUSLY ILL, 6 IN CRITICAL CONDITION
There are 664 cases currently warded in hospital.
Twenty-three cases are seriously ill and require oxygen supplementation, and six are in critical condition in the intensive care unit.
Of those who are very ill, 23 are seniors above the age of 60.  
"Over the last 28 days, the percentage of unvaccinated who became severely ill or died is 6.1 per cent, while that for the fully vaccinated is 0.7 per cent," MOH said. 
81 PER CENT OF POPULATION COMPLETED FULL VACCINE REGIMEN
As of Tuesday, more than 8.8 million doses of COVID-19 vaccines have been administered under the national vaccination programme. This covers more than 4.5 million individuals, with 4.3 million having completed the full vaccine regimen.
Another 174,435 doses of other vaccines recognised in the World Health Organization's emergency use listing have been administered, covering 86,319 individuals.
In total, 81 per cent of Singapore's population have completed their full regimen or received two doses of a COVID-19 vaccine, and 83 per cent have received at least one dose. 
As of Wednesday, Singapore has reported 69,582 COVID-19 cases.